Barbie has launched four new Star Wars dolls today, in honor of May the 4th—better known as Star Wars Day. The new Star Wars Barbie dolls are Rey, C-3PO, Chewbacca, and a new Stormtrooper Barbie. They join Barbie's existing Star Wars range, featuring Princess Leia, Darth Vader and R2D2, which launched in November 2019.
Barbie describes the collection as "an homage to the Star Wars movies," saying they are "inspired by original concept art, this collection re-imagines iconic characters through a distinctive Barbie high-fashion filter, turning their legendary looks into runway-ready silhouettes."
In a statement, Robert Best, senior director of Barbie design, said: "The new series of dolls needed to maintain the same feeling as the first series, but also offers enough new details and surprises to keep fans excited about the new additions.
"For this second series, I really wanted to push the fashion elements even further. There are amazing shoe designs, great accessories, and jewelry that would be at home in a runway show or a high fashion editorial photoshoot."
The Rey doll wears an outfit inspired by the character's gauzy crosspiece, a crystal pleated chiffon gown with a crossover neckline and draped hood, accessorized with gold and copper ombre boot-leggings.
The C-3PO-inspired Barbie is dressed in a liquid gold look with accents of sheer organza and golden sequins. The outfit's details include a golden necklace, bangles, and C-3PO-inspired glasses.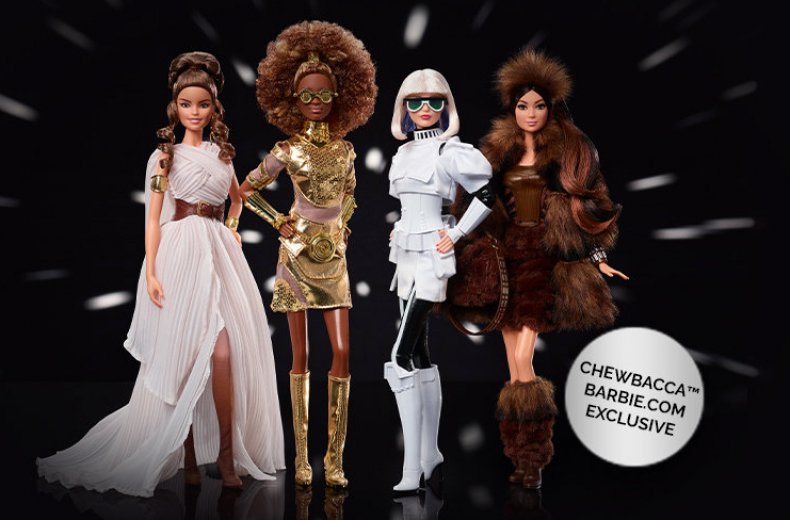 Barbie's take on Chewbacca sees the doll dressed in a faux fur coat over a strapless dress with a fur skirt and bodice of vinyl and sheer organza. The doll wears a furry headband and knee-high boots, plus cuff bracelets, and a handbag inspired by Chewbacca's bandolier and satchel.
Finally, the Stormtrooper Barbie wears a head-to-toe white outfit over a black bodysuit. She's accessorized with a platinum bob, dark glasses, cuffs, a utility belt, and boots with a knee protector plate.
Where to buy the Star Wars x Barbie collection
The Star Wars Barbie dolls cost $100 each, except for the Chewbacca doll which costs $150, and are available to pre-order now on the Barbie website. The Rey Barbie doll and the Stormtrooper Barbie doll will be available to ship on June 5, the Chewbacca Barbie doll on June 5, and the C-3PO Barbie doll on June 15.
Each doll comes with specially designed packaging, a Star Wars doll stand and certificate of authenticity.
Star Wars fans also have the option of buying multiple dolls in a bundle to get a discount. A bundle including Rey, C-3PO and a Stormtrooper costs $270, with 10 percent off the cost of three dolls sold individually.
Additionally, The Darth Vader, Princess Leia, and R2R2 set from the original collection is on sale for $240, with 20 percent off the cost of the individual dolls.
Star Wars fans looking to complete their collection could opt for the bundle of six dolls, excluding the Chewbacca doll, on sale for $480 down from $600.
According to the Barbie website, there are limited quantities of the Darth Vader and Princess Leia dolls. The dolls are limited to two of each character per customer.
The Rey, C-3PO, and Stormtrooper Barbie dolls are also available on Amazon, though the Chewbacca doll is exclusive to Barbie.com.
Newsweek has affiliate partnerships. If you make a purchase using our links, we may earn a share of the sale.