'Star Wars Battlefront 2' DLC Roadmap Revealed - Clone Wars Due in Fall
Star Wars Battlefront 2 finally has an official DLC roadmap after many months of fan demand. The image, tweeted by Electronic Arts Community Manager Ben Walke, features highlights like Clone Wars Heroes coming this fall.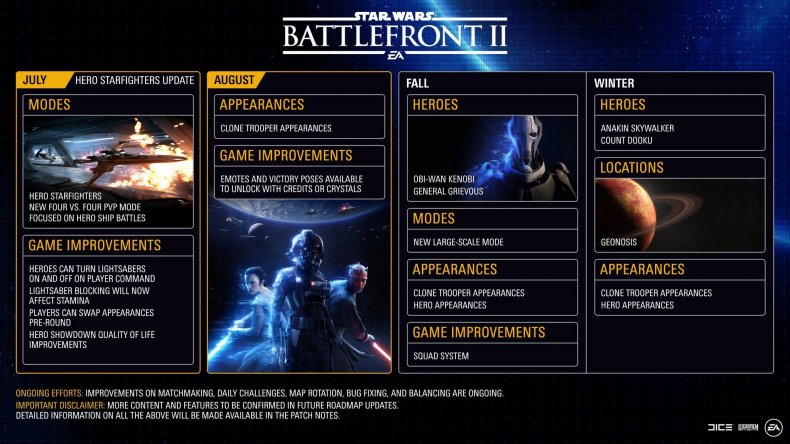 For those who can't see the picture, here's a recap of what we know.
JULY
Hero Starfighter: New 4v4 PvP mode focused on Hero ships
Heroes can toggle lightsabers on command.
Lightsaber blocking will impact stamina.
Players can swap Appearances pre-round.
Hero Showdown QOL improvements
AUGUST
Clone Trooper Appearances
Emotes and Victory Poses available to unlock with Credits
FALL
Obi-Wan Kenobi Hero
General Grievous Hero
New large-scale game mode
Clone Trooper and Hero Appearances
Squad gameplay system
WINTER
Anakin Skywalker Hero
Count Dooku Hero
Geonosis Map
Clone Trooper Appearances
Hero Appearances
While presentations during the EA Play press conference earlier this month suggested fans will be able to enjoy Clone Wars DLC this summer, this roadmap suggests the truly important parts of it will arrive later than expected. That being said, it's nice to know future developments of Star Wars Battlefront 2 have a clear direction and release windows. It should also be noted that today's roadmap is not the final one. DICE promises to fill in the chart with more details as they become available.
In addition to revealing the roadmap to his followers, Walke also promised Battlefront 2's next update will be detailed soon via a Community Transmission blog post. The content will be made available for free shortly thereafter. It's unclear if the update features the new Hero Starfighter mode, or if this is a supplementary patch meant to fix bugs associated with the Han Solo Season.
Star Wars Battlefront 2 is available now on PS4, Xbox One and PC.
What's your take on the 2018 roadmap for Star Wars Battlefront 2? Which free DLC are you looking forward to most? Tell us in the comments section!