'Star Wars Battlefront 2' DLC Roadmap Update Reveals 2019 Hero Release Plans
Star Wars Battlefront 2 will get more DLC in 2019, according to the latest development Roadmap revealed by the game's developers. DICE provided more defined release dates for Heroes like Anakin Skywalker and Count Dooku, as well as a sneak peek at upcoming modes. The full details are recapped below.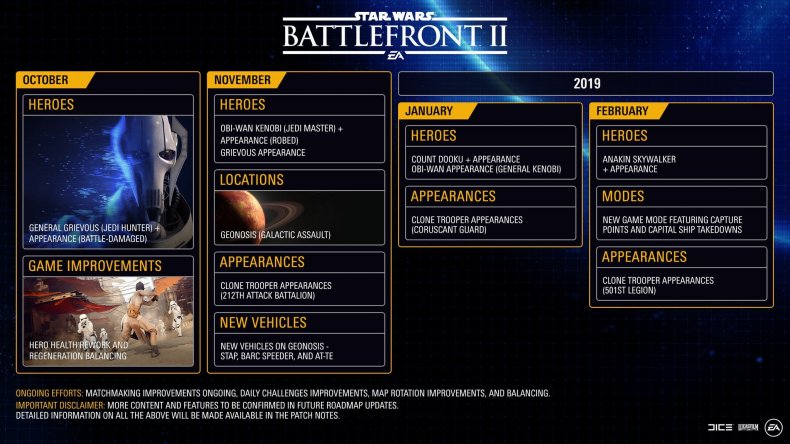 'Star Wars Battlefront 2' Roadmap Oct. 2
October
General Grievous Hero (with Jedi Hunter and Battle Damaged Appearances)
Hero Health Rework
Regeneration balancing
November
Obi-Wan Kenobi Hero (with Jedi Master and Robed Appearances)
Grievous Appearance
Geonosis Galactic Assault map
212th Attack Battalion Appearances
STAP, BARIC, SPEEDER and AT-TE vehicles for Geonosis
January
Count Dooku Hero with Appearance
General Kenobi Obi-Wan Appearance
Coruscant Guard Appearances
February
Anakin Skywalker Hero with an Appearance
New mode with capture points and Capital Ship takedowns
501st Legion Appearances
This is the first time we've received a concrete estimate of the Battlefront 2 content release schedule for 2019. Previously, Anakin and Dooku had vague winter release windows, but now we know both conflicted characters will make their debuts early next year. Considering Obi-Wan will arrive first, he'll once again be able to claim the higher ground against his troubled padawan learner.
Speaking specifically to the health changes due later this month, DICE has also posted a Community Transmission blog post alongside the Roadmap. It suggests underused Hero Star Cards will be replaced by Health Star Cards, with varying impacts depending on the Hero in play. While some Heroes will be able to recharge health after defeating an enemy, others will only be able to regen if players are defeated using specific abilities. It doesn't appear these changes will have any effect on standard troopers.
While this content may not exactly be the massive DLC blowout diehard fans were hoping for, today's Roadmap update is far from the last one DICE will prepare. As release dates draw closer, subsequent revisions will be made to offer more detailed information.
Star Wars Battlefront 2 is available now on PS4, Xbox One and PC. All above-listed DLC is free on all platforms.
What's your take on the latest development Roadmap for Star Wars Battlefront 2? Is there enough DLC here to keep you interest? Tell us in the comments section!