'Star Wars Battlefront 2' May 4th Star Wars Day Event Offers Free Leia Skin
Star Wars Battlefront 2 has a new event on the horizon heading into Star Wars Day on May 4. Just capture a Command Post to contribute toward unlocking a special Leia skin on May 6. The news was revealed on the game's official subreddit Tuesday afternoon.
The event is set to run April 30 at 7 p.m, EDT through 7 p.m. EDT May 6. The only requirement is capturing Command Posts in the new Capital Supremacy game mode. As long as 4 million Command Posts are captured during the event period, all players who log into the game on May 6 will get the Leia Organa: Princess Appearance, inspired by her look in A New Hope. The skin was added as a purchasable cosmetic last week, but it's assumed most players will soon get it for free.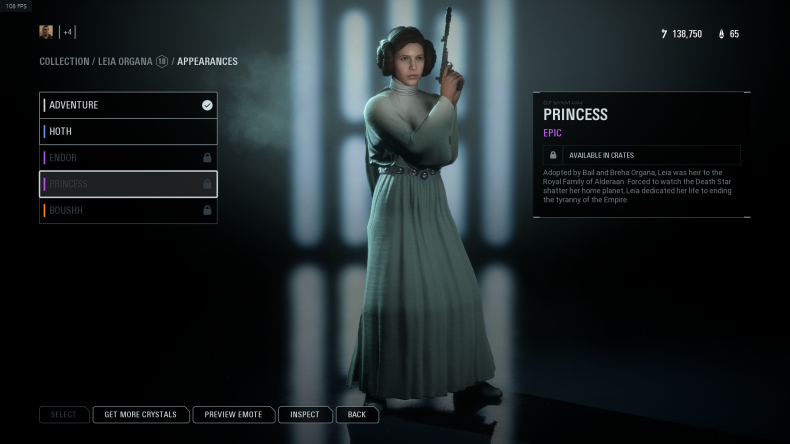 While any opportunity to get a free skin in Battlefront 2 is worth taking advantage of, 2019's Star Wars Day event is slightly less exciting than the previous one. Last May, players of Star Wars Battlefront 2 were privy to Double XP rewards, the return of the Ewok Hunt mode and a Hoth Leia skin unlock. This year we still get a Leia skin, but without the additional perks.
Newsweek subscription offers >
That being said, given that Star Wars Battlefront 2 has been on the market for about two years, it makes sense for its festivities to be toned down as the title enters the twilight stages of development. Over the next few months, fans can look forward to more maps being added to the Capital Supremacy rotation, as well as a mechanics rework of the Heroes Vs. Villains game mode.
Star Wars Battlefront 2 is available now on PS4, Xbox One and PC.
What are your thoughts on the Star Wars Day event for Star Wars Battlefront 2? Is the free Leia skin worth the effort? Tell us in the comments section!
'Star Wars Battlefront 2' May 4th Star Wars Day Event Offers Free Leia Skin | Gaming