'Star Wars Battlefront 2' Servers Not Down - How to Xbox Fix Connect Error 721
Star Wars Battlefront 2 got its big Squad system update Tuesday morning, and it's having some weird side effects on Xbox. Luckily, a post on the game's official subreddit explains a workaround to fix recent connectivity issues. If you're seeing Error Code 721 a lot, here's how to get back online.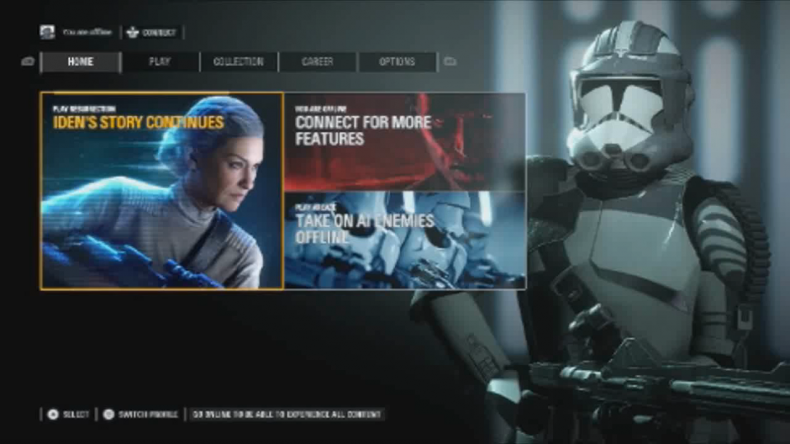 Load the game as usual
Connect by pressing down on the right stick
This is when you'll see the Error Code 721 "Unable to Connect" message
Try to connect again by pressing in on the right stick. This time there should be no error message and you should be able to log in.
If this method doesn't work for you, others have had luck by connecting at the Collection screen instead of the main menu.
These issues became prevalent after Battlefront 2's 1.19 update went live on the morning of Sept. 25, but this temporary fix may be applicable if Error Code 721 happens to appear again in the future. While a more formal fix for the problem is in the works for Xbox One users, a full resolution has not been found. As a result, this workaround might be the only way to play Battlefront 2 online on Microsoft's console. After connecting, you may also experience problems inviting others to matches via the in-game friends list.
If you're able to look past these shortcomings, the most recent update for Star Wars Battlefront 2 is a fairly substantial one. With the new Squad system, it's possible to group up with friends and continue playing alongside them for the duration of a match. The patch also includes a nerf for Heavy-class turrets that has been majorly appreciated by the multiplayer community.
While the Star Wars Battlefront 2 servers have been mostly stable since the game's launch last November, diehard fans will recall this isn't the game's first major network problem in recent months. Back in April, servers were unexpectedly pulled for nearly a full day across all platforms. Today's issues aren't nearly as serious because they impact far fewer players, but the fact that a fix still hasn't been found is definitely frustrating.
We'll do our best to keep you informed of this situation as it develops.
Star Wars Battlefront 2 is available now on PS4, Xbox One and PC. The above-described connection errors should only be happening on Xbox One.
Did you experience server connection issues after installing the most recent update for Star Wars Battlefront 2? Did this workaround fix them? Tell us in the comments section!