'Star Wars Battlefront 2' Update 1.29 Fixes Capital Supremacy - Patch Notes
Star Wars Battlefront 2 got a hotfix Wednesday morning that's largely designed to fix bugs in the new Capital Supremacy game mode. Anakin Skywalker also got a pretty sizable nerf as well. Read the full patch notes below courtesy of a DICE forum post.
Star Wars Battlefront 2 Update 1.29 Patch Notes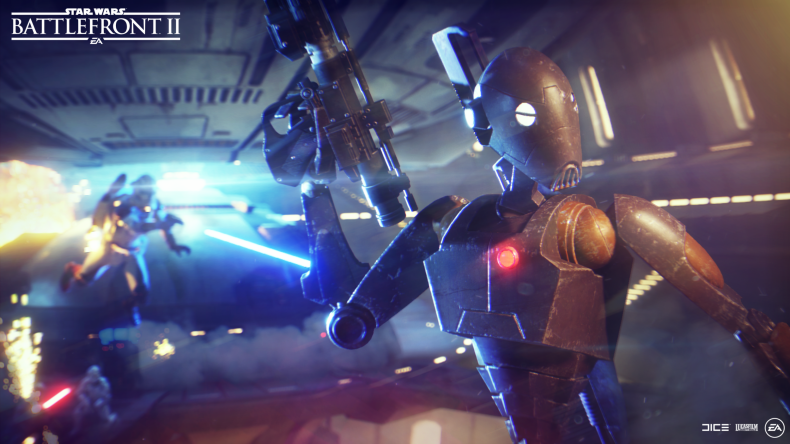 Added fail-safe scripts to reduce the chances of unreactive spawning when transitioning between Ground and Capital Ship phases in Capital Supremacy. Additional server logging has been implemented to further diagnose spawning issues.
Added tentative fixes for online AI causing server crashes on Capital Supremacy.
Fixed a rendering issue that would occasionally cause the client to crash.
Balanced damage and cooldown values for Anakin's abilities:
Reduced Retribution choke damage (86->75 points per second)
Reduced Retribution push damage (80->75 points per second)
Reduced Passionate Strike first damage (50->40)
Reduced Passionate Strike last damage (150->130)
Increased Passionate Strike cooldown (12->13)
Reduced Heroic Might base damage (100->70)
Balanced damage values for Infiltrator weapons:
Lowered Power Blast damage (150->140) to prevent One-Hit Kills against Assault, Officer & Specialist
Raised E-5 end damage (21->30) to increase the weapon's effective range
Fixed an issue where players who join an ongoing match would occasionally get no audio during the boarding cinematic in Capital Supremacy.
Fixed an issue that would prevent the ARC Trooper from gaining progress when playing on Phase 1 maps (Kamino and Geonosis - Trippa Hive).
Fixed an issue where Darth Maul's Choke Hold ability would occasionally be inaccurately activated from a distance when being used at the same time as another Hero's ability.
Fixed an issue that prevented players from completing the Scoped achievement when playing as a Specialist, when fulfilling the criteria against AI on Capital Supremacy.
Fixed an issue where Rey and Finn's ability UI for the Insight and Undercover abilities would not always be fully visible.
Revised the ping color of the ARC Trooper's Helmet Scanner ability for consistency.
Fixed an issue where Geonosians would occasionally be seen flying through the ground on Geonosis - Pipeline Junction West.
The Capital Supremacy mode for Star Wars Battlefront 2 didn't end up being quite as exciting as some fans had hoped, but it also didn't help that its release was marred by a few very frustrating bugs. The deployment issues listed at the top of the notes were one of the most troublesome glitches of all, so it's good to know those problems have finally been fixed. As for Anakin, he was buffed during last month's major update alongside several other saber wielders. These changes are a slight course correction to ensure the Chosen One doesn't become too overpowered.
Today's hotfix for Star Wars Battlefront 2 is the latest pitstop in DICE's evolving roadmap for this controversial game. In an official roadmap update Tuesday morning, developers confirmed that several new locations will be added to the Capital Supremacy rotation alongside a mechanical rework in May. Other major features are also expected but not yet announced.
Star Wars Battlefront 2 is available on PS4, Xbox One and PC. The latest update is rolling out on all platforms.
What are your thoughts on the 1.29 update for Star Wars Battlefront 2? Are you enjoying Capital Supremacy more after these fixes? Tell us in the comments section!