'Star Wars Battlefront 2' Update 1.31 Nerfs Anakin - Patch Notes
Star Wars Battlefront 2 update 1.31 is going live on PS4 with some major nerfs for Anakin. All of his abilities have gotten weaker, and a few minor bugs were also fixed along the way. Read the full patch notes below, courtesy of the latest Community Transmission blog post.
Star Wars Battlefront 2 Update 1.31 Patch Notes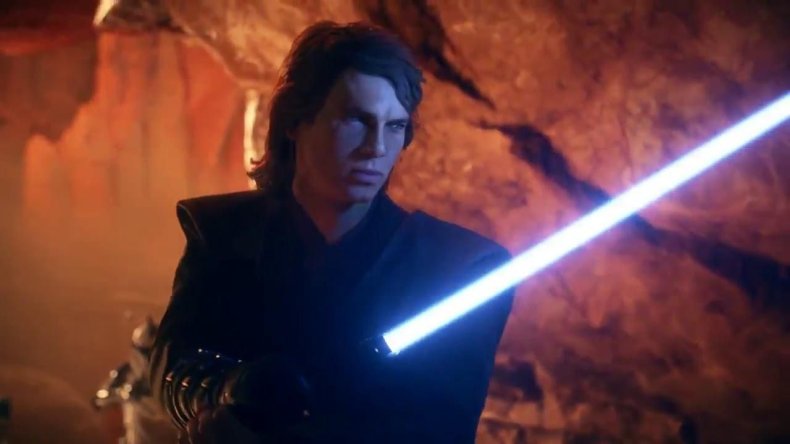 Increased the recharge time of Heroic Might from 14 to 18 seconds
Reduced the friendly damage charge-up speed of Retribution from two percent per 100 damage to 1.33 percent per 100 damage
Reduced the Health Increased stats of the TENACIOUS Star Card from 50-100-150-200 to 25-50-75-100
Reduced Anakin's lightsaber damage from 140 to 130 points
Reduced Anakin's MASSIVE STRIKES Star Card bonus damage from 10-15-20-25 to five-10-15-20
Delayed the effect of Retribution by five frames
Fixed an issue where damage from sources other than enemy players caused Anakin's Retribution ability to charge up.
Anakin's Retribution ability now has a maximum value increase per damage event.
Fixed an issue where Count Dooku's Expose Weakness had no cooldown period when activated while dashing.
Fixed an issue that prevented Darth Maul from blocking, when under Obi-Wan's Restrictive Mind Trick ability.
Fixed an issue where Bossk could defeat other heroes in one shot, if the player zoomed out right before Bossk's weapon was fully charged.
The central feature of the latest update for Star Wars Battlefront 2 is the major nerf to Anakinn's abilities. The game's developers at DICE have had a hard time bringing this Hero into balance since he released at the end of February, and this patch is yet another attempt to ensure the character doesn't dominate the multiplayer meta. With these changes pretty much everything about Anakin has been weakened, which should at alleviate frustration for those fighting against him. To put things in Star Wars terms, the goal of this patch is to give everyone else around Anakin the higher ground.
While not an especially meaningful update, this latest build of Star Wars Battlefront 2 continues the evolution of EA's controversial shooter. Over the next two months, DICE plans to rework Heroes Vs. Villains mechanics while adding more maps to the Capital Supremacy playlist.
Star Wars Battlefront 2 is available now on PS4, Xbox One and PC. The 1.35 update is rolling out now.
What are your thoughts on this big Anakin nerf? Does the latest update make Battlefront 2 a better game? Tell us in the comments section!