'Star Wars' Fans Celebrate 'Game of Thrones' Duo David Benioff and D.B. Weiss' Exit From Planned Trilogy
David Benioff and D.B. Weiss, the masterminds behind HBO's award-winning series Game of Thrones, have exited their deal with Disney's Lucasfilm in which they were to create a Star Wars trilogy.
The directors had signed on with the film studio to develop a fresh-start story based on the Star Wars universe post–Luke Skywalker. The film was set for a December 2022 release, following the upcoming Star Wars: Rise of Skywalker, helmed by filmmaker Rian Johnson, which is supposed to be the final movie of the Skywalker saga. However, Benioff and Weiss announced on Thursday they would step away from the project to better focus on developing content for Netflix.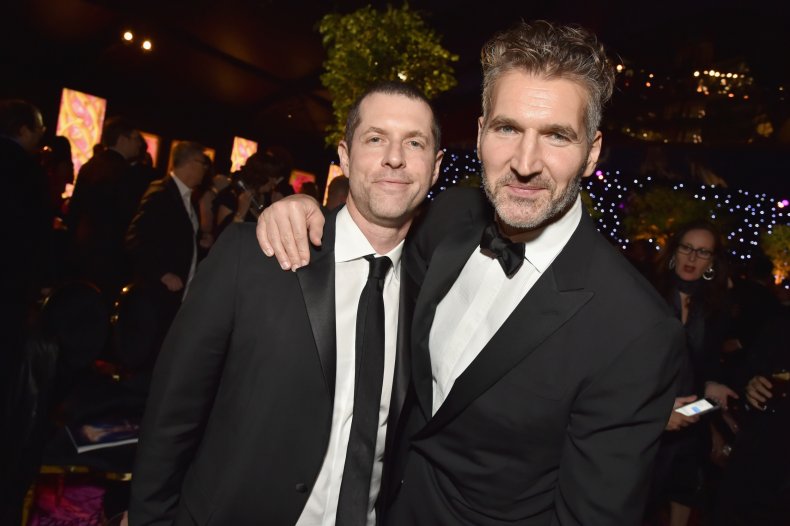 "We love Star Wars. When George Lucas built it, he built us too. Getting to talk about Star Wars with him and the current Star Wars team was the thrill of a lifetime, and we will always be indebted to the saga that changed everything," the men wrote in a statement. "But there are only so many hours in the day, and we felt we could not do justice to both Star Wars and our Netflix projects. So we are regretfully stepping away."
Benioff and Weiss reportedly signed a $200 million exclusive deal to write, produce and direct new original films and series for Netflix, Deadline reported in August.
In May,Star Wars fans weren't thrilled when the directors became attached to the planned films, so it wasn't surprising to see many people voicing their contentment at Benioff and Weiss's exit from the trilogy. On social media, some people, particularly Game of Thrones fans, were happy the pair would not rush through a Star Wars trilogy as they did with the final season of the HBO show.
"They really did rush the last season of Game of Thrones even when they were offered more episodes and money to finish it so they could hurry up and work on Star Wars, only to get fired from working on Star Wars for being just really bad at their jobs…so delicious, so good," one user wrote on Twitter.
Then there were others who spouted conspiracies of the directors possibly being ousted from the Star Wars project after they seemed to admit how unprepared they were when making Game of Thrones while appearing at the Austin Film Festival earlier in the week.
"What a week it's been for Benioff and Weiss. They flat out admitted they didn't know what they were doing on Thrones and then they lost Star Wars. I'd imagine it's not a good idea to admit you don't know how to do a fantasy epic when you've signed on to do Star Wars," another user wrote.
Regardless of what sparked the filmmakers' decision to exit Star Wars, some people on Twitter thought it marked the perfect opportunity to get a more diverse roster of talent to write and direct the new movies—preferably a woman. "Thank the force. Now maybe we could look into a female lead director for the franchise?" one person wrote.
It's unclear what the next steps are for the trilogy, but Lucasfilm president Kathleen Kennedy didn't seem to shut down the idea of working with the duo in the future should timing permit. "David Benioff and Dan Weiss are incredible storytellers. We hope to include them in the journey forward when they are able to step away from their busy schedule to focus on Star Wars," she said in a statement.
See a few more reactions to Benioff and Weiss's exit from Star Wars below.