On Friday Lucasfilm announced the cast for Star Wars: Episode IX, which includes returning characters, new cast members Naomi Ackie (Lady Macbeth), Richard E. Grant (Withnail and I) and Keri Russell (The Americans), plus some long-rumored additions, like Billy Dee Williams' return as Lando Calrissian. But the announcement included a few major surprises, particularly the return of the late Carrie Fisher as General Leia Organa, using unreleased footage originally shot for Star Wars: The Force Awakens.
While little is known about the role Leia will play in the plot of Episode IX—the use of old footage suggests little more than a cameo—people close to Fisher have offered surprising insights into how her legacy will be honored in the next Star Wars.
Her brother, Todd Fisher, credited the return of Leia to Star Wars: The Force Awakens and Episode IX director J.J. Abrams, telling The Hollywood Reporter, "J.J. really made this happen."
"We desperately loved Carrie Fisher," Abrams said as part of the casting announcement. "Finding a truly satisfying conclusion to the Skywalker saga without her eluded us. We were never going to recast, or use a CG character. With the support and blessing from her daughter, Billie, we have found a way to honor Carrie's legacy and role as Leia in Episode IX by using unseen footage we shot together in Episode VII."
"My sister and Princess Leia are the same thing. And the idea of that story stopping and her not carrying forward is very disturbing to me," Fisher told Entertainment Tonight. "I kept saying to people, 'No, no, this needs to continue.' I know I was even a little annoying to Disney."
"They have arranged it in the script and what was shot to bring her into the story, in a way, as if they filmed it yesterday," he said. "Isn't that magical, that the things that she shot a few years ago are frozen in time, so to speak, and been reborn into the final Star Wars where she is the character that needed to continue?"
Fisher went on to describe the time-consuming process of searching through outtakes and material from "the cutting room floor," then finding a way to weave that existing footage into the script. But how it fits together, he refused to tell.
"There are things we know but can't say," Fisher said. "My sister was in trouble every other day because she would know things and she just couldn't keep a secret to save her life."
But while Fisher refused to reveal any "specifics," he did suggest looking back at Episode VII, telling Entertainment Tonight, "If you look at all the scenes in The Force Awakens you can imagine the things that were made available."
Several moments that appeared in trailers for The Force Awakens but not the final movie could point to Fisher's role in Episode IX . Not only did Fisher have a longer scene with Rey (Daisy Ridley), she was also more involved in retrieving Luke Skywalker's lost lightsaber. Here she is taking the weapon from Maz Kanata (Lupita Nyong'o) in a scene cut from The Force Awakens: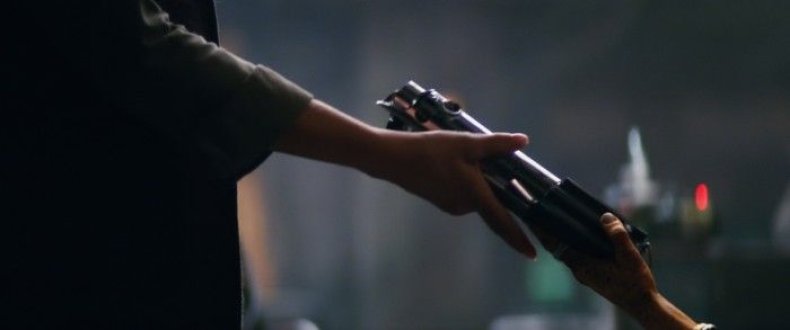 One of the other surprises in the Star Wars: Episode IX casting announcement was the return of Mark Hamill as Luke Skywalker, presumably appearing as a Force ghost after his death at the end of Star Wars: The Last Jedi. In a tweet, he described his return to the series as "bittersweet" without Fisher.
Hamill's mention of his "final chapter" echoes Abrams' description of Episode IX as the "conclusion to the Skywalker saga," suggesting the movie will be a send-off, not just for Leia, but for the rogues, flyboys and rebels who, in 1977, changed movies forever.