'Star Wars: Episode IX' Set Photo Leak Evokes Old Locations and Characters
A leaked photo purportedly from the set of Star Wars: Episode IX could suggest a return to Naboo … or could mean nothing at all. As far as set leaks go, this one is simultaneously mysterious and incredibly evocative.
The photo depicts overgrown ruins, with curved marble topping columns arranged—Stonehenge style—around a statue of a woman. A huge, fake tree looms in the background.
The image was posted to imgur by a recently activated account, kyloknowsbest.
The tangle of vines and broken stone doesn't reveal much, particularly if this set depicts a previously unseen planet. But it's also strikingly evocative of a location we've seen before: Naboo. Could this be a return to the planet where it all began; where Senator Palpatine's machinations would eventually make him Supreme Chancellor of the Galactic Republic and, finally, the Emperor of the Galaxy?
Thanks to comic series Shattered Empire and video game Star Wars Battlefront II, we know Naboo was utterly devastated by attacks after the Empire's collapse. In the event of his death, Palpatine made plans to tear the galaxy down on top of him, with his home planet of Naboo designated as one of the first targets of Operation:Cinder—a planet-killing failsafe plan designed to shatter the Empire in the event of Palpatine's death. Thanks to heroes like Poe Dameron's mother, Shara Bey, Naboo wasn't totally decimated, but it's easy to imagine it not being in its former state of glory by the time of Star Wars: Episode IX.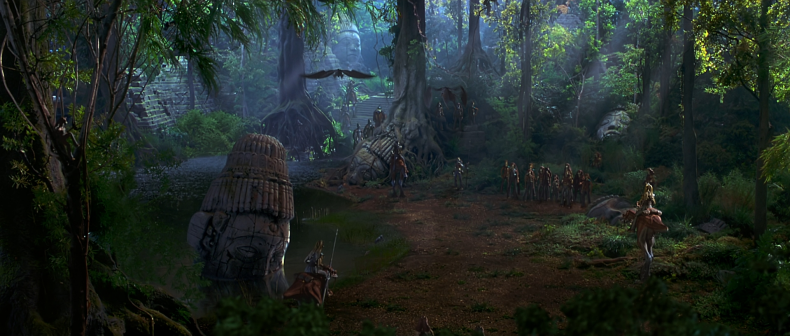 While the top of the statue is covered, it certainly seems possible we could be looking at a statue of Senator Amidala.
If this is indeed Naboo, the leaked set photo jives nicely with another rumored leak, which described Kylo Ren visiting a jungle planet to retrieve blueprints for a new weapon, encountering a "lifelike projection of Emperor Palpatine" in the process.
Star Wars: Episode IX is in theaters Dec. 20, 2019.