'Star Wars: Episode IX' Casting Proves More of Resistance Survives Than 'The Last Jedi' Led Us to Believe
Actor Greg Grunberg, who played X-Wing pilot Snap Wexley, will return in Star Wars: Episode IX. This is surprising, since Wexley, a member of Poe Dameron's elite Black Squadron unit, doesn't appear in Star Wars: The Last Jedi and wasn't among the handful of survivors aboard the Millennium Falcon at the movie's end. Grunberg's return suggests director J.J. Abrams may bring a handful of scattered, previously unknown, Resistance forces back into the fold for Episode IX.
Asked by Yahoo Entertainment's Ethan Alter whether he'd be returning as Wexley in Episode IX, Grunberg said, "We better, or else my wife's going to kill me for growing the beard. I can't officially say anything, but, uh, this is getting itchy."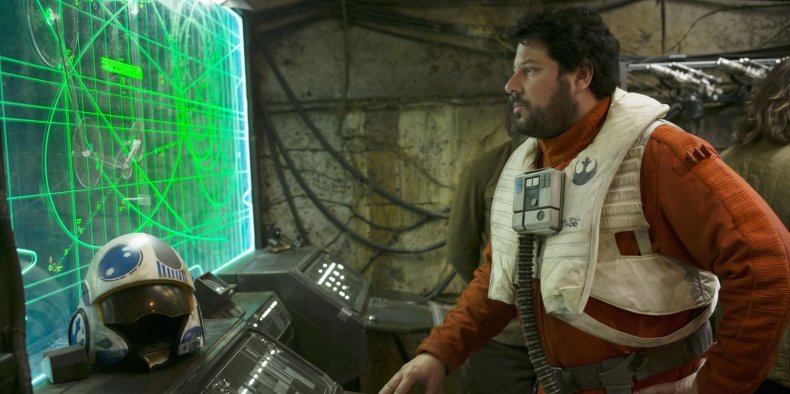 So how did Wexley survive the devastating destruction of The Resistance fleet as the First Order chased the rebels from D'Qar to Crait? Star Wars News Net put together the pieces with the help of the latest issue of Marvel's ongoing comic book series, Star Wars: Poe Dameron.
The issue reveals The Resistance was keenly aware of their dwindling ranks well before General Leia's last emergency call from the abandoned base at the end of The Last Jedi. Before the events of Episode VIII, Wexley lead Black Squadron, minus Dameron, on a mission to find new allies and build up support for The Resistance. While the Star Wars comics are often unrelated to events in the movies, the comic book plotline and the Grunberg's return point to one way J.J. Abrams will be rebuilding The Resistance in Star Wars: Episode IX.
Star Wars: Episode IX will be out in theaters Dec. 20, 2019.