New rumors about Star Wars: Episode IX are popping up on reddit. And while anonymous postings aren't worth much, Star Wars super site Making Star Wars agrees the new leaks track with what they've heard.
"I was able to go to a Star Wars marketing presentation by Disney," anonymous reddit user Xyzsvtabc writes. He goes on to describe details for several upcoming Star Wars releases, including live-action series The Mandalorian. Information on Star Wars: Episode IX was the most scarce, but there's still some interesting possibilities presented, including one change that looks like the next blow in the tit-for-tat dialogue between The Force Awakens and The Last Jedi, which many fans read as repudiating story elements established in the previous movie.
Some of what Xyzsvtabc claims, particularly that Episode IX will be set "about a year" after The Last Jedi, comports with what has long been rumored about the movie. Other claims, such as "the culmination of the movie being a battle between Rey and Kylo," are predictable by just about anyone with a pulse.
But here's where things get funny: "Kylo has his helmet back." It has also, at least according to this anonymous leak, been patched with "some kind of red adhesive," giving it a cracked, red appearance, as if it were about to explode outward at any moment.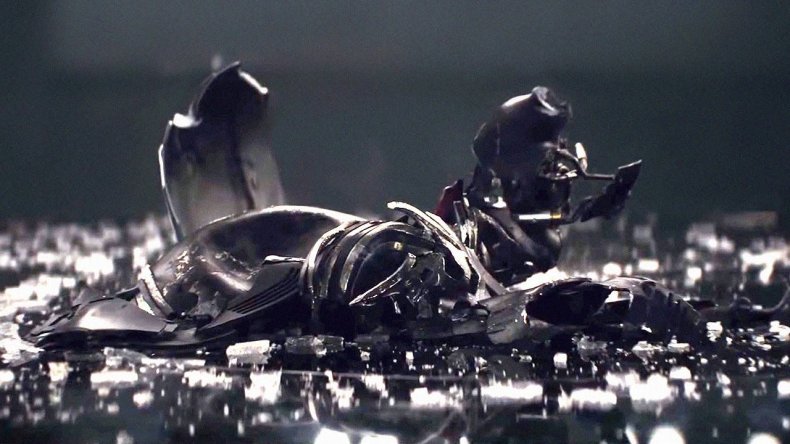 Whether Kylo is primarily a seething, stunted man-child with the emotional maturity of a teenage steroid user, or a black-clad, emotionally dead killer is one of the central tensions within the character, which was as true in The Force Awakens as it was in The Last Jedi . But while Episode VII allowed Ren the dignity of slaughtering Jakku villagers in his full Vader get-up, The Last Jedi focused much more squarely on his vulnerability. Supreme Leader Snoke even mocks Ren's helmet, commanding him to "take that ridiculous thing off."
So there's a good reason for Ren to waffle back and forth when it comes to wearing the helmet. It's the symbol of who he'd like to be and a constant reminder of how he's fallen short, by succumbing to emotional attachment and his more human inclinations. Now that Snoke is dead and Ren is in charge, no one would dare make fun of the helmet.
Still, if this rumor pans out, it will likely be read more on a meta-narrative level, as evidence that Episode IX director J.J. Abrams is somehow rebuffing storytelling choices made by The Last Jedi director Rian Johnson. Let the aggrieved flame wars continue.
Beyond the helmet, Xyzsvtabc also describes a new droid named Dio (or, more likely, D-0 or something), who will be a sidekick to BB-8. So it seems Abrams will not only be sticking it to Johnson (at least in the imaginations of Johnson's haters), but also paying tribute to Ronnie James.
Star Wars: Episode IX is out in theaters Dec. 20, 2019.