Harrison Ford's Jacket from 'The Force Awakens' Brings in $191,000 at Auction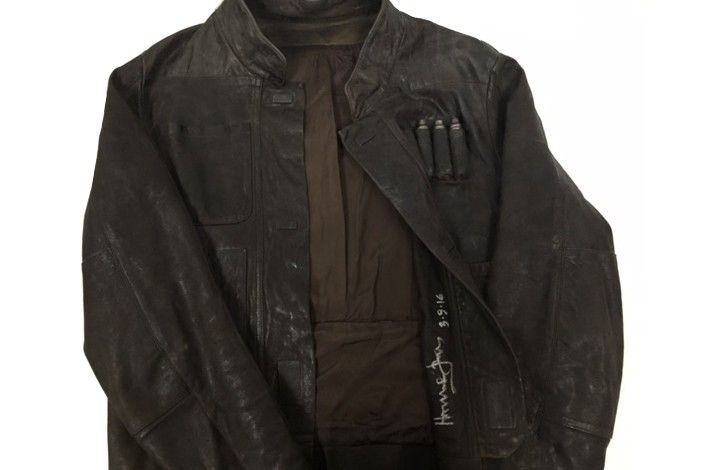 The jacket Harrison Ford wore in Star Wars: The Force Awakens—you know, the brown leather bomber with those three little canister things above the breast—just sold at auction for $191,000.
In March, Ford announced he was donating the Han Solo duds to an auction benefiting Finding a Cure for Epilepsy and Seizures (FACES) and NYU's Langone Medical Center, where Ford's daughter has been undergoing treatment for epilepsy. "I've been very impressed with the work NYU and the FACES team have done in the field of epilepsy research, and I hope this jacket will provide some means to further that exploration," Ford said in a statement at the time. "This is a cause that's near and dear to me, and unlike the cynical Han Solo, I've got a good feeling about this."
The minimum bid on the iconic jacket was a mere $18,000, so NYU and FACES have to be thrilled that the piece of Star Wars history closed at over 10 times where it started. Ford also signed and dated the inside of the jacket, which came with a certificate of authenticity from LucasFilm.
Star Wars memorabilia has a long history of bringing in big bucks at auction. Days before the premiere of The Force Awakens in December, a 600-item cache of rare Star Wars toys sold for $502,000. The lot includes an assortment of original figurines, many of which were released in limited capacities. A few months earlier, the infamous bikini Princess Leia wears as Jabba the Hut's "slave" in Return of the Jedi brought in $96,000. In that same auction, a model of Leia's blockade runner ship, the first craft to fly across the screen in A New Hope, fetched $450,000.
Blasters are also popular items. In 2013, Han Solo's pistol from The Empire Strikes Back and Return of the Jedi sold for $200,000. The version he famously blew away Greedo with in A New Hope surely would have fetched a higher sum, but no one seems to know the whereabouts of that particular laser gun. In January, it was announced that Luke Skywalker's blaster from The Empire Strikes Back would hit the auction block. The market for Star Wars blasters must be more favorable now than it was in 2013, though, as $200,000 is merely the opening bid for Luke's DL-44. This means that not only is it likely to sell for more than Han's blaster, it's likely to sell for more than Luke's lightsaber from A New Hope and The Empire Strikes back, which brought in $242,000 in 2008.
But the most valuable piece of Star Wars memorabilia of them all may be an item that was never even on camera...because it was the camera. In 2011, the camera that filmed A New Hope sold at auction in Beverly Hills for $625,000, besting the $402,500 a miniature TIE fighter model fetched in 2008 to become the most valuable Star Wars-related item of all time.