There's Another New 'Star Wars: The Force Awakens' Commercial and, Yes, It's Awesome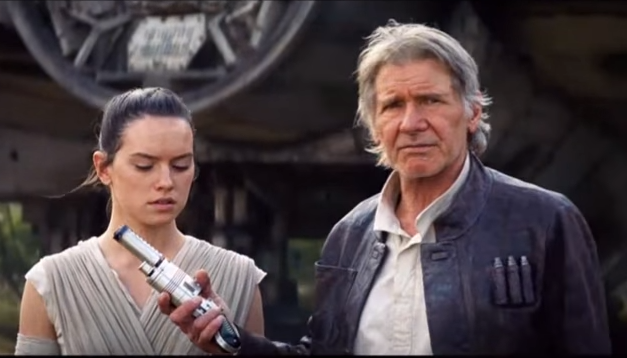 We've seen two teasers. We've seen a full-length trailer. We've seen an international trailer. We've seen a 45-second TV spot. And now, at long last, we have been given a 60-second TV spot for Star Wars: The Force Awakens. We have been assured that a feature-length version of the film will indeed be released in theaters on December 18. For now, here are the fresh 60 seconds of action:
So what's new?
Not a ton. We've been able to surmise through the previous teasers and trailers and commercials that John Boyega's character, Finn, and Daisy Ridley's character, Rey, are the film's two protagonists, and this latest look is the most resounding confirmation yet that this is the case. We see them meet, we see them kick ass—Rey with a staff, Finn with a lightsaber—and we see Han Solo leading them into a temple (as we have in previous teasers).
What we don't see, once again, is any sign of Luke Skywalker—and J.J. Abrams was, once again, asked about the absence of the original trilogy's hero in a recent interview with Entertainment Weekly. "No one forgot about him!" Abrams said. "We were hoping people would care, but there are a lot of things that are not on the poster, as busy as the poster is. Certainly Luke is a very important aspect of the story."
Boyega was able to offer insight into Skywalker's reputation in the universe of the Force Awakens. "[Finn has] been taught about Luke Skywalker, he knows about his history," Boyega said. "For him it's like joining the army and then learning about one of the great enemies of your country. It has that effect on him. But in terms of the Force, and the magical stuff that happens, that is the point where Finn kind of questions what is what. What is the Force, what part does Luke Skywalker play in all of this?"
And that blue lightsaber Finn uses to fend off a stormtrooper in the new commercial, which we saw him activate in the presence of Rylo Ken in the trailer? Yep, that's the same one Luke used in The Empire Strikes Back. We'll have to wait until December 18 to see how he ended up with it.