A New 'Star Wars: The Force Awakens' Commercial Hints at One of the Film's Key Relationships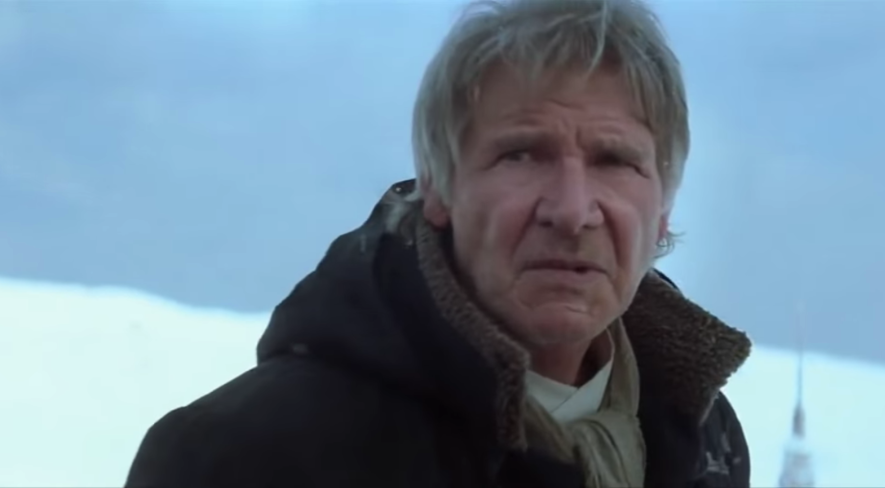 Did you really think the full-length trailer that debuted in October was the last we'd see of new Star Wars: The Force Awakens footage before its premiere December 18? Of course not.
On November 6, we were treated to even more never-before-seen footage by way of the international trailer. Did you think that was going to be it? Of course not, as we now have the first TV spot for the franchise's seventh installment. And though it lasts for only 45 seconds, it offers one of the most interesting glimpses yet of what might be coming.
This new look mainly serves to emphasize that Daisy Ridley's character, Rey, is indeed the film's protagonist (or one of them), but unlike previous teasers, the commercial seems to hint that Rey could be the daughter of Han Solo—or at least that she is at least somehow related to the Millennium Falcon owner.
"I have lived long enough to have seen the same eyes in different people," says a voice, which many have speculated belongs to Lupita Nyong'o's character, Maz Kanata, a pirate—which could explain a connection to Solo. As the line is being read, we see Rey followed quickly by a shot of Solo. We then see Oscar Isaac's character Poe Dameron and John Boyega's character Finn, but the idea of Rey being related to Solo makes sense, especially considering that she appears to be piloting the Millennium Falcon at the end of the 45-second spot.
The commercial isn't the only fresh piece of news to come from a galaxy far, far away. In a long, long interview with Wired, director J.J. Abrams reveals that the script for Episode VIII is already finished. It was written by Rian Johnson, who will also direct the next installment. Abrams also said that he gave Johnson a wealth of access throughout the process of making The Force Awakens so that the torch may be passed as smoothly as possible. "The script for VIII is written," Abrams told Wired. "I'm sure rewrites are going to be endless, like they always are. But what [Force Awakens co-writer] Larry [Kasdan] and I did was set up certain key relationships, certain key questions, conflicts. And we knew where certain things were going.
"We had meetings with Rian and Ram Bergman, the producer of VIII," he continues. "They were watching dailies when we were shooting our movie. We wanted them to be part of the process, to make the transition to their film as seamless as possible. I showed Rian an early cut of the movie, because I knew he was doing his rewrite and prepping. And as executive producer of VIII, I need that movie to be really good. Withholding serves no one and certainly not the fans. So we've been as transparent as possible."
And in case you don't believe Abrams about Johnson having finished the script...