Behind-the-Scenes Details From 'Secrets of the Force Awakens'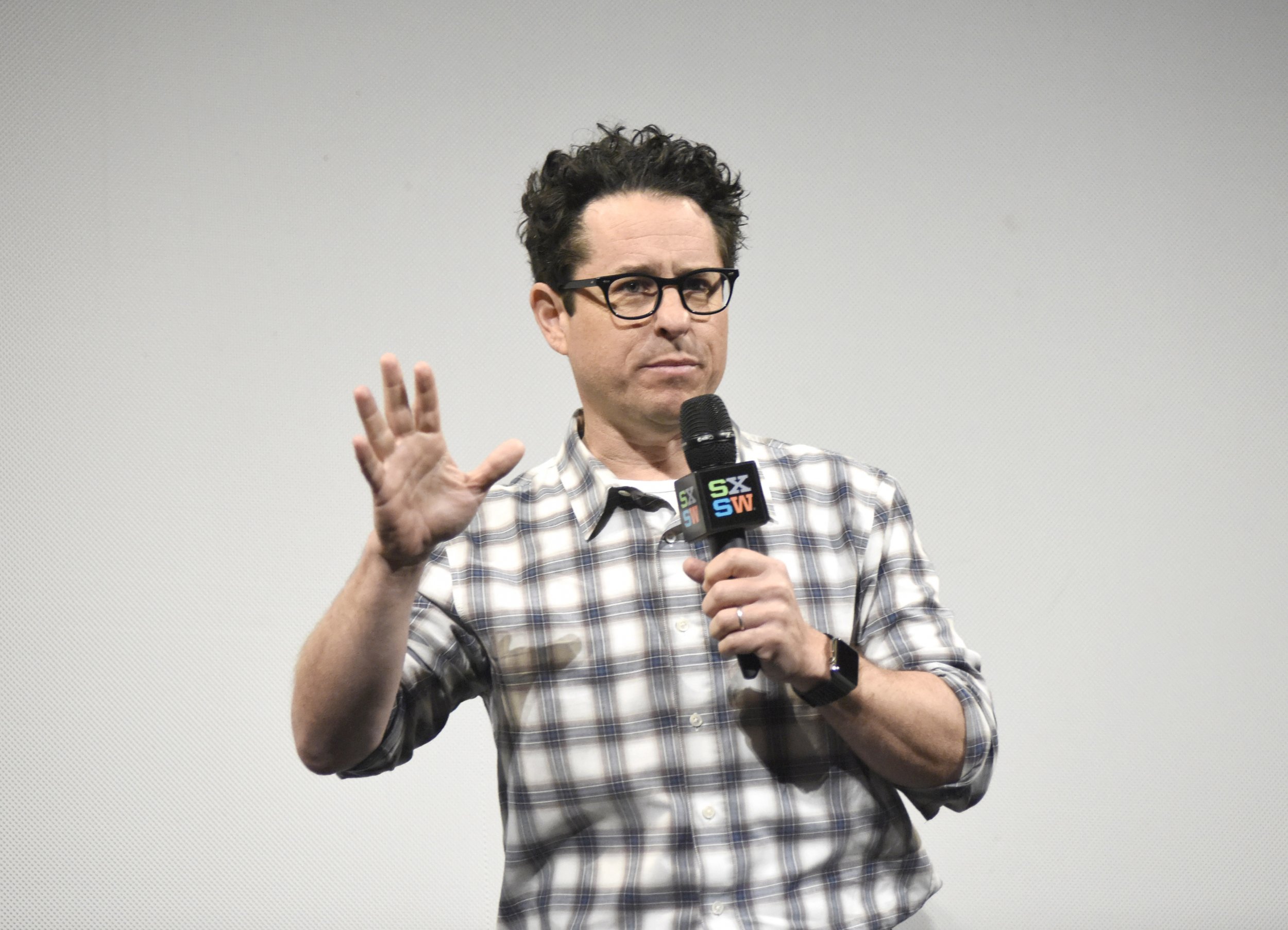 The production of Star Wars: The Force Awakens was one of the most closely guarded operations in movie history. Crew members were given strict orders to keep everything they were privileged enough to witness to themselves, and cast members were frustratingly tight-lipped when it came to promoting the film.
So, to make up for all the pre-release mystery, Disney is releasing an hour-long documentary about the ins and outs of how the most successful movie of all time was produced, from JJ Abrams signing on as director to saying goodbye to Harrison Ford after Han Solo met his demise.
Titled Secrets of the Force Awakens, the film had its premiere Tuesday afternoon at SXSW in Austin, Texas. Abrams himself even stopped by to say a few words before the lights went down. "What's so cool about this is that it shows people who put their heart and soul into making The Force Awakens," Abrams said. "They were the greatest group of filmmakers, of artists, of storytellers, and to get to see behind the scenes was fun, frankly, even for me...and I was there."
Here are nine notable details we learned from Secrets of the Force Awakens.
1. Rey searching for Luke Skywalker helped convince Abrams to sign on to direct
When Disney asked Abrams to direct The Force Awakens, he thought he was going to say no. He felt he'd already done enough work with sequels. But there was one aspect of the prospective biggest undertaking of his life that gave him "the chills": a female hero searching for Luke Skywalker. "It was so titilating, the notion that this character that we all know would be discovered by some new, young heroine," he said. "It was incredibly intriguing. It felt to me like that was a great starting point for a story."
2. Abrams and Lawrence Kasdan took long walks to talk about the script and taped their conversations
The film's script was ultimately written by Abrams and Empire Strikes Back screenwriter Lawrence Kasdan. What they came up with wasn't the result of locking themselves in a room with a few pads of paper and a computer, at least at first. "He kept his iPhone with the recorder on, and we'd walk," remembers Kasdan. "We'd walk for miles and miles and miles."
Because of the film's pre-production, these walks took place all over the world. "It felt good to be in motion, because so much of the movie is in motion," said Abrams.
3. Daisy Ridley's reading of the torture scene convinced Abrams that SHE was the one
Casting Rey was one of the most important decisions made in pre-production. Whomever they chose to play the film's hero would have to be young, unknown, versatile and comfortable bearing the responsibility of fronting the most popular franchise of all time across multiple films.
"When we brought her in, I asked her to do this one scene, this torture scene," Abrams said. "It was very intense. She just blew my mind. She was reaching this depth of struggle and tears were streaming down her face. I thought, 'This is unbelievable.' I asked her to stop and do it again. And she did it again. I thought, 'Oh my God.'"
4. The scenes shot in Abu Dhabi were a combination of grueling and exhilarating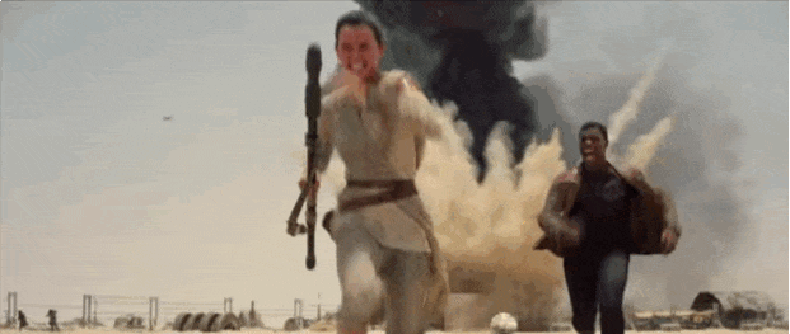 Shooting began in Abu Dhabi, where the scenes on the desert planet of Jakku were filmed. Despite the searing heat—Lucasfilm chief Kathleen Kennedy remembers the 120-degree temperature—the mood was joyous, as they were, you know, filming Star Wars.
Though the entire crew was perpetually drenched in sweat, the heat was especially rough on Ridley and John Boyega because both of their characters spent so much time running across the sandy expanse. To prepare, both actors did plenty of cardio work, specifically interval running, which mimicked what they would have to do on set.
5. There were two versions of BB-8, a remote-controlled version and a "puppet" version
Aside from Ridley and Boyega, the biggest breakout star of The Force Awakens was BB-8, who replaced R2-D2 as the most lovable droid in the galaxy. Making the spherical robot glide across the desert sand wasn't easy, though, and often a puppeteer wearing all-green clothes would propel the BB-8 with two sticks (also covered in green). Not only did this allow the droid to move across the sand, it allowed for more nuanced control of its movements and gestures.
6. Oscar Isaac wasn't going to die early in another film
We knew that an earlier version of the script had Oscar Isaac's character, Poe Dameron, dying early in the The Force Awakens. Isaac objected on the grounds that he had been in a number of films that killed him off in the early going, and didn't want to do another one. Abrams brought Dameron back to life, so to speak—to Isaac's delight.
7. Captain Phasma's costume design was orginally intenDed for Kylo Ren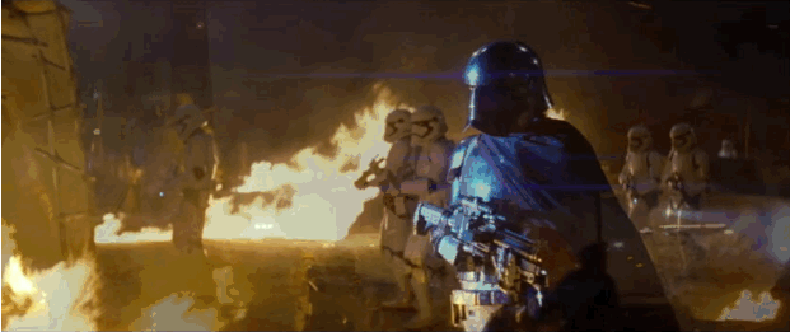 Costume designer Michael Kaplan, who also worked on Blade Runner, said Kylo Ren was "by far the most difficult character to nail down." Some of his early illustrations featured Kylo Ren in silver, which Abrams liked, just not for Kylo Ren. It wound up on Stormtrooper leader Captain Phasma.
And why was she named Captain Phasma?
"The name came because looking at the design of Phasma's uniform, it reminded me of the movie Phantasm," said Abrams. "There's this chrome ball in Don Coscarelli's film, this kind of devil ball with spikes on it. I always loved the design of that."
8. The new "Cantina scene" was necessary, according to Abrams
Many have criticized the inclusion of another "cantina scene" in The Force Awakens. In Secrets of The Force Awakens, Abrams explained his reasoning:
The notion that the Cantina [in "A New Hope"] is one of countless watering holes that exist in various corner of the galaxy...it felt like it was fair game," says Abrams. "On the one hand, people will say, 'Oh, they're just trying to do the Cantina again.' But on the other hand, it's "Star Wars," and if you don't have a version of that, I would leave the film like, 'Well, where is that? How could they not do the Cantina?' So, it was how do we do the Cantina without doing the Cantina?"
9. Filming the final scene made Mark Hamill feel like he was back on the set of A New Hope
"Once you get up there, boy, it's so beautiful and so magical," said Hamill. "There was a point where I was as off to myself as you could be, sort of far down the path with the ocean beyond. A feeling came over me that hadn't happened since Tunisia, on the first one, because I was there out in the desert, and I had this really strong feeling that I was in an otherworldly place. You really felt like, 'I'm there.'"