A Star Wars: Galaxy's Edge Cast Member Said They Don't Say 'Younglings' Because Of The Child Murders
Update (6/7/19 5:20 p.m.): In response to our request for comment, Disneyland says that cast members do not avoid the word "younglings." "Our cast members use that word daily in the new land, Star Wars: Galaxy's Edge, as part of the interaction with guests," Disney officials said in a statement to Newsweek.

A guest to Disneyland's newly opened Star Wars: Galaxy's Edge reports cast members playing Star Wars characters at Disney's Black Spire Outpost don't use the word "younglings" because of all the child murder in Star Wars: Episode III Revenge of the Sith.
There are few bigger Star Wars fans than movie YouTuber Jenny Nicholson, who has already been to Galaxy's Edge twice, including a visit prior to its May 31 official opening in Anaheim, California's Disneyland Resort. (A Disney World version of Galaxy's Edge will open in Orlando, Florida in August.) Nicholson shared impressions of the park on Twitter, where she pointed out a number of characters and creatures populating the new Star Wars theme park, including the dianoga from the Death Star trash compactor (and the sewers of Coruscant) and rocking horses modeled after Canto Bight's racing fathiers, introduced in The Last Jedi.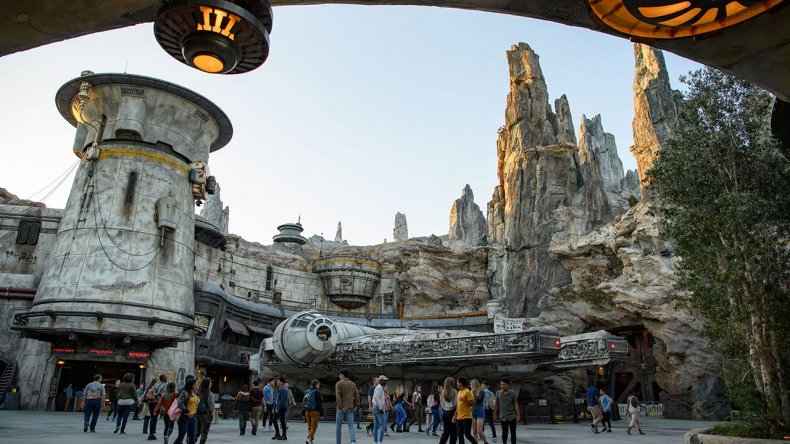 Nicholson also praised Galaxy's Edge's expansive cast, many of whom had elaborate backstories for how their character ended up Black Spire Outpost, a rough-and-tumble spaceport on the planet Outer Rims planet of Batuu. Think of it as a more jungly Mos Eisley, from the original Star Wars.
But one interaction with a Galaxy's Edge cast member reveals the extensive preparation and forethought that goes into being a cast member at Disneyland's new Star Wars attraction. While speaking with a costumed cast member, Nicholson discovered that cast members have been instructed against using the word "younglings"—a generic term for children in the Star Wars galaxy.
It may sound like an arbitrary stricture, but the apparent cast member rule is grounded in a pivotal moment from the Star Wars Prequel Trilogy. The term "younglings" is most often used in the Star Wars movies in reference to trainees at the Jedi Temple who aren't old enough to be a Padawan apprentice to a Jedi Master. Yoda is seen instructing younglings in Star Wars: Episode II Attack of the Clones. But "younglings" likely evokes a very different scene to anyone familiar with the prequels.
In Revenge of the Sith, Anakin Skywalker (Hayden Christensen) is turned to the Dark Side by Supreme Chancellor (soon-to-be Galactic Emperor) Palpatine (Ian McDiarmid). Palpatine's first instruction to the newly christened Darth Vader is to kill every single Jedi. Backed by Clone Troopers, Vader marches into the Jedi Temple, where a slaughter commences. He doesn't spare the young ones, leading to one of the darkest moments in any Star Wars movie:

It's easy to see why Disney would prefer the more generic "kids," a word also used several times throughout the Star Wars movies.
This article has been updated to include comment from representatives from Disneyland and additional context from Nicholson. Both were asked for comment prior to publication. The headline has been altered to more closely reflect the information they provided about cast members' use of the term.