'Star Wars': 'Game of Thrones' Creators David Benioff and D.B. Weiss Quit Trilogy
Game of Thrones creators David Benioff and D.B. Weiss' planned Star Wars trilogy is over it began, as the duo announced Monday they are walking away from a deal with Disney and Lucasfilm to make three movies set in a galaxy far away, with the first set for release in 2022.
Benioff and Weiss wrapped their eight-season run on Game of Thrones earlier this year after the final season aired on HBO and won one last Emmy for outstanding drama series. Presumably, that would clear up the writing duo to work on Star Wars.
But in a statement Monday, Benioff and Weiss said they are exiting their Star Wars deal because of another contract they signed earlier this year with Netflix. The pair signed an exclusive deal with Netflix worth a reported $300 million for original TV shows and movies in August.
"We love Star Wars. When George Lucas built it, he built us too. Getting to talk about Star Wars with him and the current Star Wars team was the thrill of a lifetime, and we will always be indebted to the saga that changed everything," Benioff and Weiss said in a statement to Deadline. "There are only so many hours in the day, and we felt we could not do justice to both Star Wars and our Netflix projects. So we are regretfully stepping away."
Lucasfilm president Kathleen Kennedy said: "David Benioff and Dan Weiss are incredible storytellers. We hope to include them in the journey forward when they are able to step away from their busy schedule to focus on Star Wars."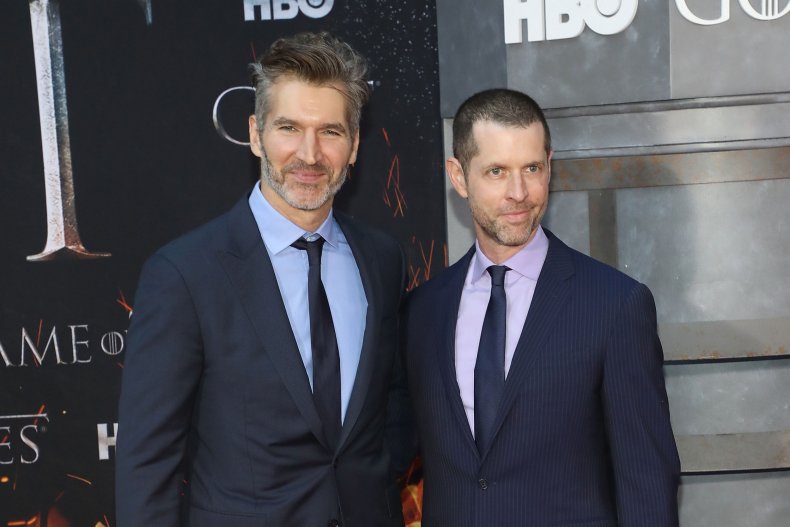 What's next for David Benioff and D.B. Weiss and Star Wars?
For Benioff and Weiss, leaving Star Wars means that they'll produce their own projects for Netflix, which the streaming network hopes will attract the same kind of fan investment as Game of Thrones.
The duo will also maintain a relationship with HBO, the home of Thrones, where they will serve as executive producers on HBO's planned GoT spin-off series. One spin-off, written by Jane Goldman and Game of Thrones author George R.R. Martin, has filmed a pilot.
Benioff and Weiss' deal with Netflix likely means, however, that another planned HBO show, Confederate, is no longer happening. The proposed series, which was announced in 2017, sparked controversy on social media because of its premise—an alternate timeline American Civil War drama in which slavery is alive and well.
The future of the Star Wars film franchise becomes a little more complicated following Benioff and Weiss' exit, however. The first of their planned three films was due for release in 2022 and was expected to be the next big Star Wars cinematic release after Star Wars: The Rise of Skywalker hits theaters in December.
That movie marks the final instalment in the so-called "Skywalker saga"—following the story of Luke Skywalker, Princess Leia and company—and the Thrones creators' trilogy was expected to explore a completely new story set in the Star Wars universe.
How Lucasfilm will plug the hole left by Benioff and Weiss remains to be seen, but the Disney-owned company has other Star Wars cinematic features in development that could be pushed forward.
Star Wars: The Last Jedi director Rian Johnson is also working on a new trilogy of films set in the Star Wars universe. "We're doing something that steps beyond the legacy characters. What does that look like? To me, the blue sky element of it is what was most striking about it," said Johnson earlier this year. "I know the way that I'm coming at it and what's fun about it for everyone in George Lucas' films is figuring out, 'What's the next step?' It really makes you think and figure out what the essence of Star Wars is for me and what that will look like moving forward."
And Marvel Studios' Kevin Feige, the mastermind behind the Avengers movies, is also developing a Star Wars film while continuing to oversee the numerous films on Marvel's slate.
Following The Rise of Skywalker, the focus for Star Wars will be on television for the next few years as Lucasfilm will produce original live-action series for Disney's upcoming Disney+ streaming network. The Mandalorian, created by Jon Favreau, will be available at launch on November 12, while an Obi Wan Kenobi series starring Ewan McGregor is also in the works.