Little Boy Hijacks 'Twinkle Twinkle Little Star' Performance to Sing 'Star Wars'' 'The Imperial March': 'The Dark Side Is Strong In Him'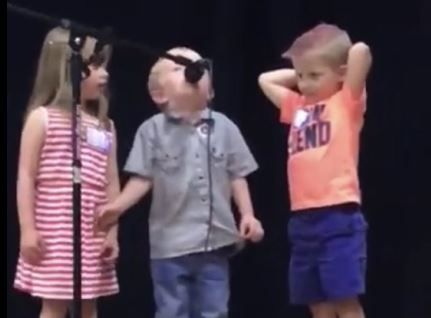 A family talent show in Buffalo, Wyoming, surprisingly went to the dark side when during a rendition of "Twinkle Twinkle Little Star" a young boy began instead to sing "The Imperial March" from Star Wars.
In the adorable footage, posted online by a relative of the family Erin Gibson, a group of three cousins can be seen on stage performing in the talent show, when a little boy in the middle of the group pushes his way to the front and takes over by singing the classic John Williams score.
His two siblings stand stunned next to him, as the audience can be heard first laughing and then cheering the (death) star turn by the little boy.
In a caption underneath the video, posted on May 26, Gibson says, "Sometimes when I need to laugh, I think about the time my cousin's son took over a group rendition of Twinkle Twinkle Little Star to sing the Imperial March."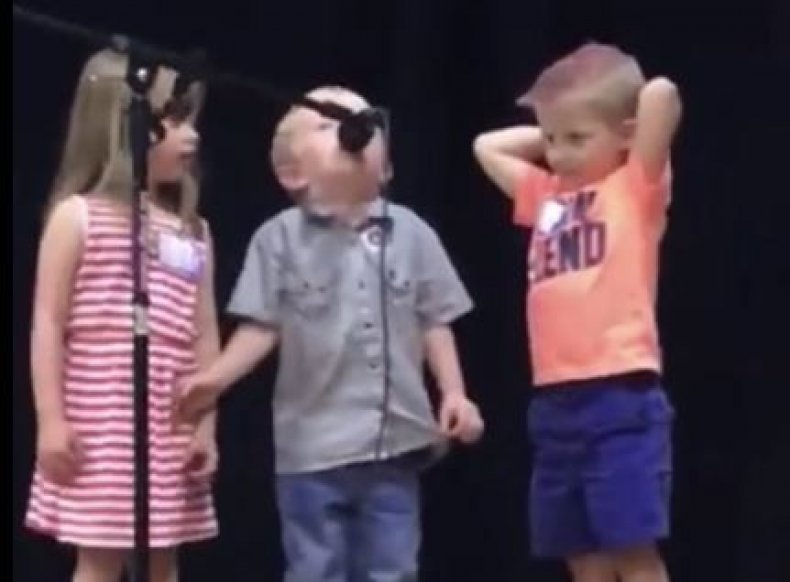 She also confirmed that the incident happened over a year ago. "I've been sitting on this gem for almost a year… I really should've put it out there with more gusto much sooner!" she said.
Erin also noted that it was not particularly noticed when she originally posted the video a year ago. "It happened last summer and I bet I've watched it 1,000 times since then. I tweeted it last year when it happened and it got like... 30ish? likes hahaha," she said.
Her post has since gone viral on Twitter, being watched more than 7 million times and liked by more than half a million people. It even attracted the attention of a Star Wars cast member, with Jedi Luke Skywalker actor Mark Hamill saying on Twitter, "The Dark Side is strong in him! #anotherroyaltyforjohnwilliams." The cute clip was also retweeted by Chance the Rapper.
"The Imperial March," also known as "Darth Vader's Theme" was first used in the 1980 Star Wars sequel The Empire Strikes Back to mark the entrance of the iconic villain. The militaristic symphonic score has gone on to become one of the most famous movie leitmotifs of all time, which is a recurrent theme throughout a musical composition that is associated with a particular character or situation.
Outside of movies, the theme is played in a number of sporting fixtures. The New York Yankees plays the theme when presenting opposing players at Yankee Stadium, and the Montreal Canadians hockey team blast out the tune whenever they have a power play at their home stadium, the Bell Centre.