'Star Wars: The Last Jedi' Guide: 8 'Force Awakens' Scenes To Rewatch Before You See Episode VIII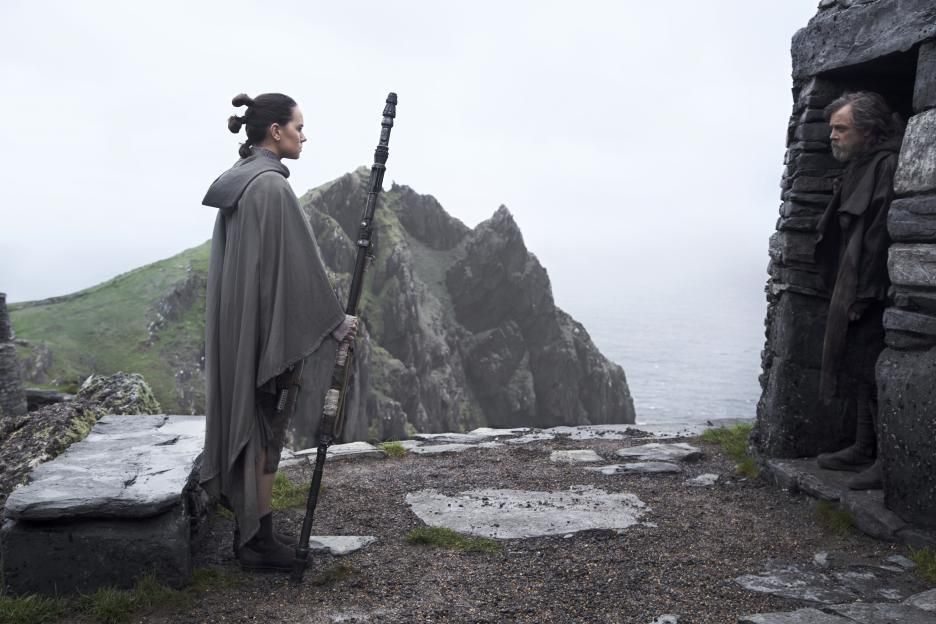 The hype for Rian Johnson's Star Wars: The Last Jedi has reached critical levels, thanks to the overwhelmingly positive reviews that flooded in after Monday night's press previews in New York, London and L.A. To avoid the inevitable spoilers that will be unavoidable after the film's release on Friday, super fans can check out Episode VIII at midnight screenings across the country this Thursday.
For the more casual fan, consider a rewatch of Episode VII, The Force Awakens—which came out two long years ago. Luckily, this reporter saw (and loved) The Last Jedi on Monday, too. Based on that, and without revealing any spoilers, here are eight critical The Force Awakens scenes to help you prepare for the latest installment.
Rey's vision
The first time Daisy Ridley's Rey connects with the force, by touching Luke's lightsaber, she gets bombarded with visions of her past and future. She sees Luke and R2D2 and she sees herself in a forest fighting Adam Driver's Kylo Ren (later the climax of the film). Finally, she sees herself as a little girl, screaming at her parents to come back as they leave her on Jakku. You'll want to remember this last vision for The Last Jedi.
Han Solo's death scene
Anyone that's seen a trailer knows Kylo Ren (AKA Ben Solo) is a major part of The Last Jedi. The best scene to rewatch to get a handle on this new Vader's emotional state would be the speech he gives to his father, Han Solo, before slaying with a lightsaber.
Finn's history with Captain Phasma
John Boyega's Finn used to be a Stormtrooper, remember? That's important to remember, but also keep in mind his specific history with his former superior officer, Gwendoline Christie's Captain Phasma, who brainwashed him and raised him as a child soldier. Phasma's no fan of Finn (or FN-2187, as Phasma calls him—child soldiers don't get names). In Force Awakens, Finn kidnaps Phasma and forces her to lower the First Order's defenses.
Kylo Ren interrogating Rey
It's the scene that launched a thousand fanfics: Kylo Ren interrogates Rey on the Starkiller Base and invades her mind briefly, mentioning that he sees an island surrounded by water. (We now know what that's all about, of course.) But Rey pushes back, telling him she can sense his fear—and that he will never be as strong as Darth Vader.
Rey and Kylo Ren's fight
Rewatch if only to remember that Kylo Ren offered to teach Rey the ways of the Force. Also pay attention to the injuries Rey gives him in this scene—the makeup department for The Last Jedi definitely did.
General Hux's speech
This short scene reminds you that Domnhall Gleeson's General Hux exists, and is basically an allegory for Nazi Germany, and that while the First Order is not technically "the empire," from the original Star Wars films, the mission is still the same: Destroy the galactic government of the New Republic.
Leia commanding the Resistance troops
That's General Organa to you, not Princess Leia (the late Carrie Fisher)! Even with just two short scenes of Leia interacting with Oscar Isaac's Poe Dameron and the rest of the Resistance fighters, it's a good reminder of Leia's place in this war: A general who is outnumbered and outgunned, but still has hope.
Han Solo reflects on Luke
After BB-8 finds the map to Luke Skywalker, Harrison Ford's Han Solo (RIP) explains what happened: Luke tried to rebuild the Jedi order but went into exile when a certain student turned to the dark side. We know the Jedi-in-training who turned against Luke was Kylo Ren, but listen again to Han's perspective on the story before The Last Jedi.