'Star Wars' in Politics: Hype for 'The Last Jedi' Hits Capitol Hill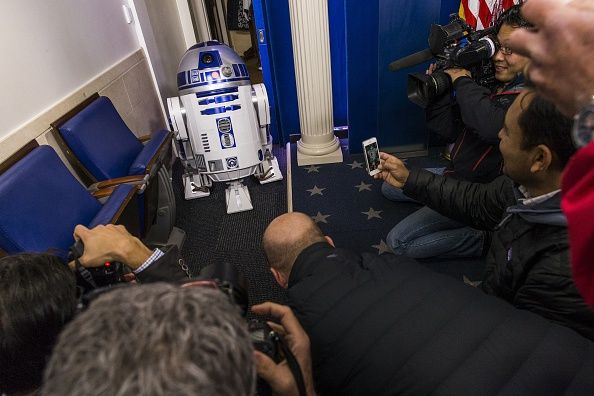 Hype for the newest installment of the Star Wars franchise is at an all-time high. The next chapter of the saga arrives on Friday, and fans are ready to line up to see what could be the most well-received Star Wars film of all time.
But fans of the fantasy films aren't just everyday moviegoers who will watch The Last Jedi and take to online fandom forums to discuss. Some fans are high-ranking politicians, and their declarations of love for the franchise can become a part of their very public platforms.
Last year, politicians got excited about Star Wars: The Force Awakens and weren't shy about expressing their excitement in public appearances and on social media.
Speaking to New Hampshire voters, Ted Cruz brandished a lightsaber and took questions involving the Death Star and the Jedi Pledge.
Darth Vader and a set of stormtroopers came to Capitol Hill in 2015, and lawmakers like Representative Marsha Blackburn (R-Tenn) made the most of the photo opportunity.
Perhaps Congress's biggest Star Wars fan, Representative Derek Kilmer (D-Wash.) has held Star Wars-themed fundraisers, screened The Force Awakens for donors, and frequently mentions the franchise, according to the Washington Post. He has shared photos of his fan gear, his family in costume, and cracked several jokes on social media, appealing to his constituents who are fellow fans.
Not all of the political attention has been positive. Conservatives were angry when filmmaker George Lucas said that George Bush was akin to Darth Vader.
Lucas has said that the Nixon era was a big influence on the films, but not everyone thinks the political tones should be so overt. The latest films have been produced by Disney, and the company's chief executive Bob Iger said that they will steer away from infusing politics into the storylines. That didn't stop some Trump supporters from boycotting Rogue One: A Star Wars Story after there were rumors that a scene was changed to offer commentary against then-president-elect Donald Trump.
For the most part, public Star Wars fandom is an innocuous way for politicians to look more relatable and share something personal with their constituents. Sometimes it's confusing where the fun ends and the serious political influence begins. A Twitter bot that monitors Wikipedia changes made from IP addresses inside Congress shared some edits that were made to "Star Wars" pages yesterday, one of which added "I am introducing legislation to make the release date of every Star Wars film a national holiday."
People also are pointing out Trump's apparent double standard for pop-culture infused politics. The president once criticized Obama for liking the franchise, even though his show "The Apprentice" once ran a themed episode.