'The Last Jedi' Has Highest Rotten Tomatoes Top Critic Score of Any 'Star Wars' Film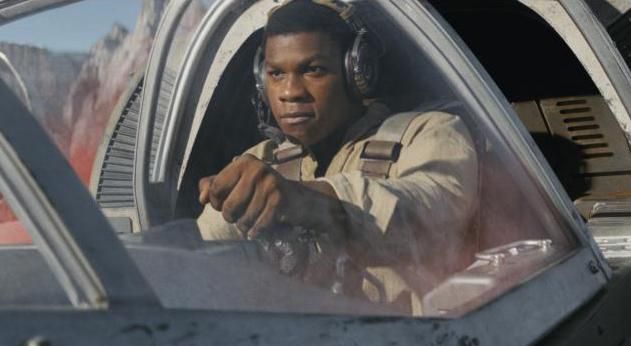 The reviews for Star Wars: The Last Jedi are rolling in, and Rotten Tomatoes is collecting them for its infamous tomatometer score. It's too early to make a final call, but things are looking good for the eighth installment in the Star Wars saga. The Last Jedi currently sits at a 93 percent "certified fresh" rating, according to 129 aggregated reviews. It's also at a 95 percent rating from just 35 "top critics" reviews—which marks the highest "top critics" Rotten Tomatoes score of all the Star Wars films.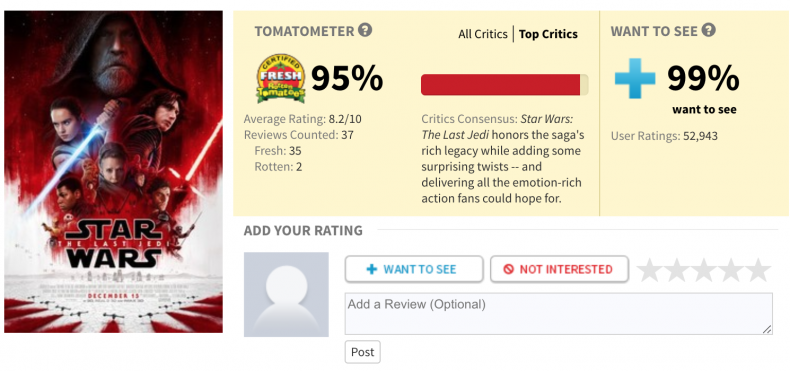 That honor was previously held by the 1977 film that started it all, A New Hope, which sits at a 90 percent rating from 39 top critics. The Force Awakens (2015) comes in third at 89 percent, closely followed by The Empire Strikes Back (1980) at 88 percent. It's worth noting that not all Last Jedi reviews are in yet, so there's still time for its top critic rating to drop. But for now, Rian Johnson holds the winner title over fellow Star Wars directors George Lucas, Irvin Kershner, Richard Marquand and J.J. Abrams.
For a few hours on Tuesday, The Last Jedi had the highest Star Wars score for all critics, not just top critics, as Rotten Tomatoes announced. But as the site gathered more and more reviews, Empire Strikes Back managed to edge its way back into first place with a 94 percent rating to The Last Jedi's 93 percent. There is a difference, though: 138 reviews were used for Last Jedi, while only 89 were used for Empire. So it's not an exact science.
Fans will not be surprised to learn the lowest rated Star Wars film is 1999's The Phantom Menace at 55 percent for all critics, and 41 percent for top critics.
Despite the majority positive feedback, there were a few critics who didn't love The Last Jedi. Variety dubbed the film "ultimately a disappointment" and "the longest and least essential chapter in the series." The New Yorker's Richard Brody slammed Johnson for creating a "tamed, tamped down, boxed in, neatly packaged" Star Wars universe.
But most gave the film generally positive—if not glowing—reviews. Manohla Dargis for The New York Times praised the "visual wit and a human touch, no small achievement for a seemingly indestructible machine that revved up 40 years ago," and Justin Chang at The Los Angeles Times wrote that it "nails the balance of novelty and nostalgia."
Of course, for the studio, kind words matter less than getting paying customers to buy those tickets. Lucikly for Disney, it doesn't look like that will be an issue. Early box office projections predict up to a $425 million worldwide opening weekend for the film.
With numbers like those, who needs review aggregators?