Major 'Star Wars' Spoiler for 'The Last Jedi' Accidentally Revealed in John Boyega Live TV Interview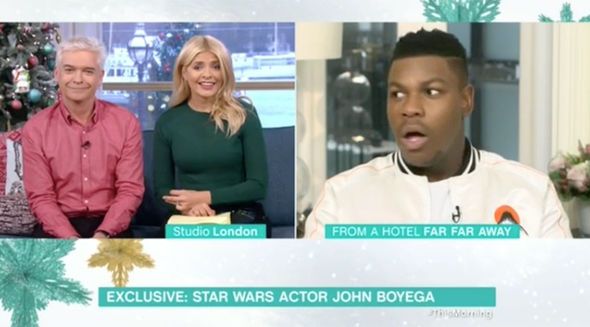 Well, that didn't take long. Star Wars: The Last Jedi spoilers are getting out on live TV, and the film hasn't even officially opened yet.
John Boyega, no doubt thanks to some very strict orders from Disney, has kept a tight lid on any potential plot spoilers. Unfortunately for him, ITV's This Morning host Holly Willoughby had other ideas when the 25-year-old star stopped by the British daytime talk show on Wednesday.
Willoughby and her co-host Phillip Schofield were interviewing Boyega via a live video stream, and things were going fairly well until Willoughby—who clearly got to see an early press screening—said, "Fans will be very excited because [spoiler] is back!"
SPOILER WARNING: If you want to hear a Star Wars: The Last Jedi spoiler, click play on the 'This Morning' clip below. But seriously, it's a big one.
Boyega froze, gasped and looked behind him as if a Disney exec was about to burst into his hotel and arrest. "H-Holly! Holly. I mean... You can't tell the fans exactly what happens."
Willoughby attempted to backtrack by saying, "I don't know what happens! That is out there?" Unfortunately, that detail had not been out there (until now). At this point, Boyega started laughing and rubbing his temple. "You know what," he said wearily, "things happen. Get your ticket! Get your ticket!"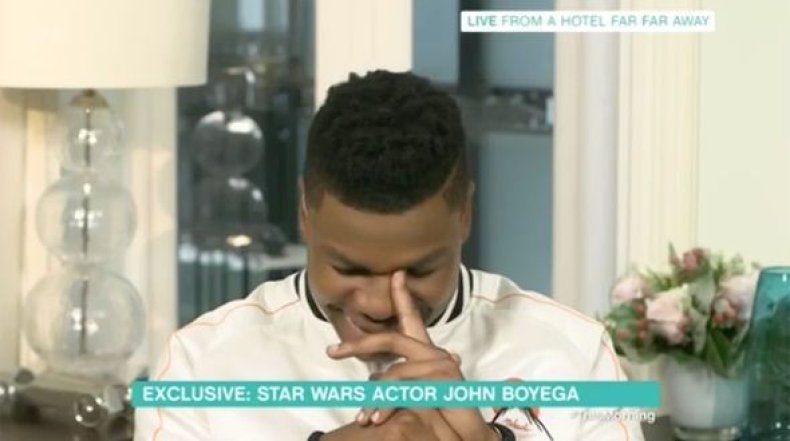 Hopefully Boyega won't face heat from Disney for this one—but ITV might. Fans watching This Morning live were not too happy about getting that unexpected Star Wars spoiler before the film even hits theaters. Many took to Twitter to lodge some strongly worded complaints about Willoughby.
"I very rarely watch #ThisMorning the one occassion [sic] it's on and Holly drops a HUGE(!) #StarWarsTheLastJedi spoiler!!," one user wrote.
"Not seen a single spoiler for Star Wars, considering it's not even out yet, but watch #ThisMorning and see Holly f*cking drop a massive spoiler??? Like why would do such a thing?[sic]" wrote another.
May the force be with Holly Willoughby as she battles the wrath of both Star Wars fan boys girls and Disney executives.
But we shouldn't be too disappointed—there are plenty of big surprises left in Rian Johnson's film.
Star Wars: The Last Jedi officially opens nationwide Friday, December 15.