'Star Wars' Resistance' Isn't the Mythical Space Opera You're Used To
Star Wars: Resistance, premiering on Disney Channel and DisneyNow on Sunday, follows star pilot Kazuda "Kaz" Xiono as he gathers intel for the Resistance. Joined by a cast of rebels, fighter pilots and BB-8, and set six months before the events of The Force Awakens, Kaz embarks on a journey to become the best pilot in the galaxy. It's a universe still reeling from the fall of the Empire and the rise of the First Order. Donald Faison and Bobby Moynihan are coming along for the ride.
Faison, star of Scrubs and self-proclaimed Star Wars superfan, plays smooth-talking pilot Hype Fazon, a role was written just for him. "(Director) Dave Filoni hit me up and said 'hey, I named a character after you, do you want to play it'" Faison told Newsweek. Faison had been creating a series of stop-motion Star Wars cartoons that had caught Filoni's attention. "He said that he really enjoyed (the shorts) and had something for me but it wasn't going to be for a while." It took a few years, but Faison eventually got to head into the recording booth and become Fazon, being immortalized into Star Wars canon.
Also joining the cast of Resistance is Moynihan, Saturday Night Live alum who says that he "can go pretty deep in the Star Wars lore, but there are still better people." Moynihan said he auditioned for a role in the previous Disney Channel show Star Wars: Rebels , but wasn't right for the part. Filoni, who also directed Rebels, "sent me a letter saying it wasn't right, but let's do something soon." A couple months later Moynihan received a script for a secret project, leading him to join Community principal Jim Rash as part of the junk salesman duo, Orka and Flix. Moynihan plays the former, a bat-like Chadra-Fan with robotic legs.
Resistance doesn't focus on the grand space opera between main franchise characters. The first episode features star pilot Poe Dameron, but you won't see Chewbacca running around the Colossus refueling the Millenium Falcon (though Moynihan would love to see the furry Wookie make a cameo.)
"It's great to know the everyday man in the Star Wars universe," Faison said. "We know so much about these extraordinary characters, now you are going to meet the players that make them extraordinary."
Both actors consider being part of a Star Wars project an unbelievable honor. Faison started acting because his favorite actor growing up was Harrison Ford, specifically his performance as Han Solo. "Some people look to religion or other things for guidance. I just watch Star Wars and know how I want to live my life," Faison said. His five-year-old son still believes that Hoth is a real planet and the Daboga System exists ("It did, it was just a long, long time ago," Moynihan joked.)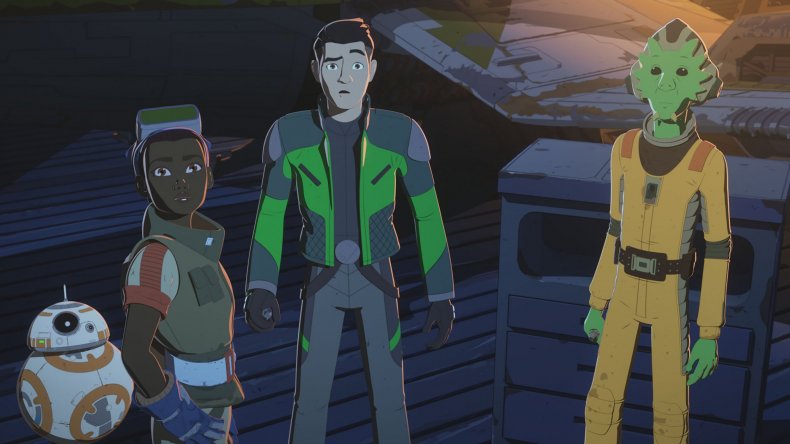 The two met for the first time in the recording booth and became instant friends. They debate whether they'd make better action figures or plushies. "I've had this thought alone at home. Donald is going to get a ship and an action figure while we'll have a two-pack that come with our droid," Moynihan laughed. "By the way we are adult men."
They consider themselves real Star Wars fans; a term that's soured in recent years. An extremely vocal minority has been attempting to remake The Last Jedi to be less "SJW," while others bullied Kelly Marie Tran off of Instagram. "These are not fans of Star Wars, they are fans of 'winning' and keeping people down," Moynihan said. "Being a Star Wars fan, you get this thing that your childhood was ruined. I'm a grown enough man to know that Star Wars is for kids, but I enjoy it also."
Being a part of the Star Wars universe means you are going to have to deal with people who may not like your contribution to the galaxy far, far away. "I'm ready to deal with Star Wars fans because I am one," Moynihan said. "All of those people who have dedicated their lives to Star Wars and really care about it, those are the people I want to make happy. Those people who see the show are going to be happy. I love the idea of fighting over something that doesn't even exist."
Star Wars Resistance premieres on Oct. 7 at 10 p.m. EDT on Disney Channel.