'Star Wars Rise of Skywalker' Disney Plus Release Date: When Will Episode IX Be Streaming?
Disney+ may currently be missing a couple of Star Wars films, but all of them including the just-released Star Wars: The Rise of Skywalker should be on the streaming service by summer 2020.
Currently, Disney+ is missing The Last Jedi, The Rise of Skywalker and the prequel Solo: A Star Wars Story. The first of these is one Disney+ very soon, due to move from Netflix to Disney+ on December 26. There is then a long gap before the latter two will be streaming.
Solo is likely to be the first, and is confirmed to drop of Disney+ on July 9, 2020. Around the same time, however, we should also get Star Wars: The Rise of Skywalker on streaming services.
Though an exact Disney+ release date for the movie has not been confirmed, the streaming service follows the same release schedule that Disney films had when they were streaming on Netflix rather than the new streamer.
Generally speaking, all Disney films, which include the Marvel films and those in the Star Wars universe, first get a roughly 90-day cinematic release, which for The Rise of Skywalker began on December 19 and is likely to come to a close at the end of March. A few weeks later, the ninth movie in the Star Wars saga will come to DVD, BluRay and other home entertainment platforms. Films then come to Disney+ up to four months after that physical media release, meaning that we should get the movie on the streamer at some point in August 2020.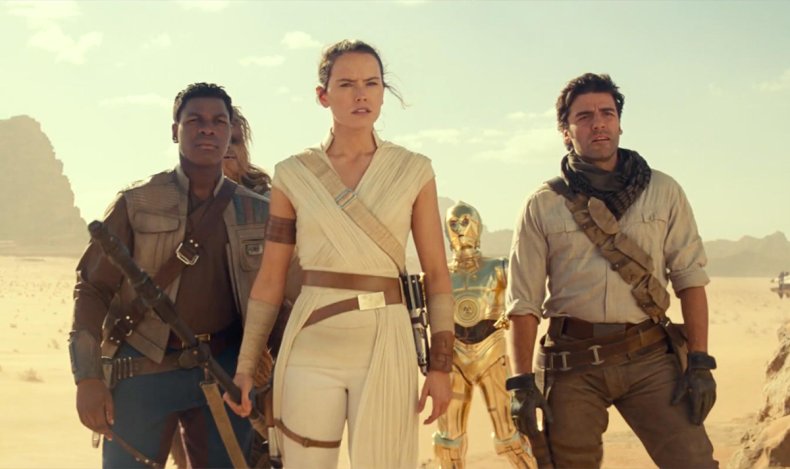 We also get an idea of the timeline between cinematic release and the Disney+ release date from the schedule that The Last Jedi took to go from cinemas to Netflix. The movie was first released on December 14, 2017, followed by a DVD release on April 9. The movie then came to Netflix at the end of June, just under three months after its physical release.
As such, we should expect Rise of Skywalker on Disney+ at any point from late June to early August, with the release date likely to be confirmed at some point in 2020. Although there is no confirmation yet, it may be that Disney aims to release The Rise of Skywalker and Solo together, completing their Star Wars catalog on a single day.
Newsweek has contacted Disney+ for clarification about when we might expect The Rise of Skywalker to come to Disney+ and we will update this article when we get a response.
Star Wars: The Rise of Skywalker is streaming now on Disney+