'Star Wars: The Rise of Skywalker' Features First Gay Kiss in a Galaxy Far, Far Away
Star Wars: The Rise of Skywalker may not have Baby Yoda, but it does feature the first-ever gay kiss in the 40-plus year history of the franchise.
According to The Hollywood Reporter and other media outlets, the same-sex scene is a minor one, however, and not the big Poe Dameron (Oscar Isaac) and Finn (John Boyega) romance many fans have been calling for since 2015's The Force Awakens hit theaters.
The same-sex kiss is between two female members of the Resistance during a celebration scene. The Hollywood Reporter says the women are minor characters in the movie.
The inclusion of a same-sex couple, however subtle, is still progressive for the beloved space-set movie series, which has not previously featured LGBT+ characters in eight Skywalker saga films or its various spin-offs.
The Rise of Skywalker director J.J. Abrams teased the needle-moving moment in the film in an interview with Variety earlier in December. Abrams hinted that there would be some LGBT+ representation, saying: "In the case of the LGBTQ community, it was important to me that people who go to see this movie feel that they're being represented in the film."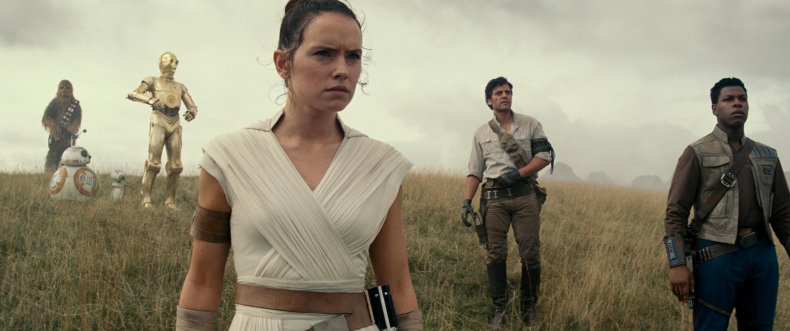 "I will say I'm giving away nothing about what happens in the movie ... But I did just say what I just said," Abrams added.
In the same interview, Abrams explained why the bromance between Resistance fighters Finn and Poe Dameron won't turn romantic. "That relationship to me is a far deeper one than a romantic one," said Abrams. "It is a deep bond that these two have, not just because of the trial by fire in which they met, but also because of their willingness to be as intimate as they are, as afraid as they, as unsure as they are, and still be bold, and still be daring and brave."
For his part, actor Oscar Isaac—who plays Dameron—said he "hoped and wished that maybe that would've been taken further in the other films," referring to the apparent chemistry between Finn and Dameron.
"It seemed like a natural progression, but sadly enough it's a time when people are too afraid, I think, of... I don't know what," said Isaac.
He added: "But if they would've been boyfriends, that would have been fun."
In March 2018, John Boyega let fans down gently, suggesting it was unlikely his character, Finn, would be anything more than platonic pals with Dameron.
"I don't know if that's going to happen. I think we already established a love between Finn and Rey, and now a sneaky kiss from Rose," Boyega told HuffPost.