'Star Wars: The Rise of Skywalker' Leaks Suggest Death Stars Are Back
Before revealing the return of Darth Sidious — Emperor Sheev Palpatine — the first trailer for Star Wars: The Rise of Skywalker shows the ruination of his evil design for the galaxy, with a shot of Rey (Daisy Ridley), Finn (John Boyega) and Poe Dameron (Oscar Isaac) looking across alien waters at the wreckage of the second Death Star, destroyed by the Rebel Alliance at the end of 1983's Return of the Jedi. But while planet-destroying starbases have failed both the Galactic Empire and the New Order, new leaks suggest they still haven't given up on the technology.
According to Making Star Wars, which has assembled parts of The Rise of Skywalker plot from leaks attributed to multiple anonymous sources, Episode IX won't feature another cumbersome space station, but will see the return of Death Star technology. The leaks include major spoilers for the next Star Wars, particularly surrounding a mysterious fleet, which may belong to a resurrected Emperor Palpatine.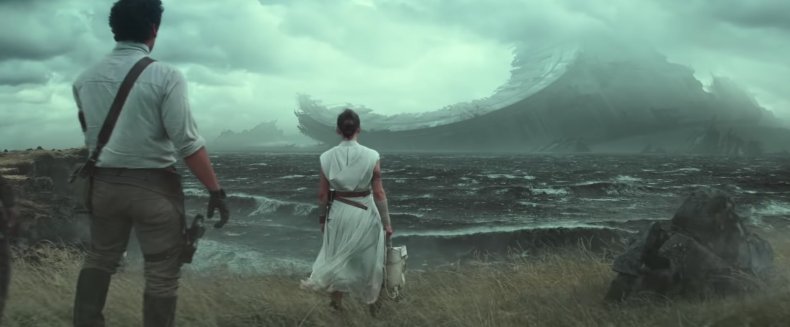 The fleet has been hiding in the Unknown Regions, surviving in the galaxy's most dangerous regions in pursuance of Palpatine's final orders. Fleet personnel includes the red Sith Stormtroopers introduced at San Diego Comic-Con, with leaks suggesting there's also a "Sith Jump Trooper" variant equipped with red TIE Fighters and jetpacks. Like the elite Stormtroopers, the fleet's Star Destroyers are also enhanced, with each ship equipped with "planet-destroying weapons like the one on the Death Star itself," according to one of Making Star Wars' anonymous sources.
The Force Awakens' Starkiller Base became emblematic of the Star Wars Sequel Trilogy's surplus of callbacks and nostalgic retreads. Even the characters in the movie acted exasperated at the technology's return, with one Resistance officer lamenting, "it's another Death Star" (Dameron rebuts by pointing out that this one is very large). So it seems unlikely that director J.J. Abrams, who also directed The Force Awakens, would once again put planet-destroying lasers at the center of the plot. But it does indicate the strength of this new threat.
Additional details from The Rise of Skywalker leaks suggest it could be Kylo Ren who prompts the fleet's return to charted realms of the Star Wars galaxy, by pursuing something called the "Wayfinder Device," which Ren believes is key to unlocking the legacy left to him by Darth Vader.
How Emperor Palpatine relates to the super-charged Death Star fleet and/or the Wayfinder Device will have to wait until Star Wars: The Rise of Skywalker is out in theaters on December 20.