'Star Wars: The Rise of Skywalker' Plot Leaks Reveal Emperor Palpatine and Dark Rey Spoilers
Star Wars: The Rise of Skywalker will see Rey and Kylo Ren take on deposed emperor Shiv Palpatine, multiple Star Wars rumor sites have discovered, citing anonymous leaks from within the production.
According to the latest Rise of Skywalker leaks, much of the plot will be motivated by something called a "wayfinder device," which was once owned by Darth Vader and leads Kylo Ren (Adam Driver) to Palpatine in the Unknown Regions, where he pledges to help the exiled emperor turn Rey to the Dark Side of the Force. The Star Destroyers seen in the latest Rise of Skywalker trailer are part of Palpatine's Sith Fleet.
Over the Labor Day weekend, Reddit user JediPraxis provided a spoiler-filled synopsis of The Rise of Skywalker, citing multiple unnamed sources. Bespin Bulletin and Jason Ward of the Making Star Wars fan site separately verified several elements of the leaked plot, citing their own sources.
In pursuit of their own wayfinder, Rey (Daisy Ridley) and her Resistance allies journey to Endor, where they hope to recover the device from the ruins of the second Death Star. But Kylo is there, waiting. In the aftermath of the duel, Rey fears the power of her hatred while Kylo reconsiders his own path. It is after this duel, when she lays hands on the wayfinder, that Rey has a vision of a dark possible future — the Dark Rey moment seen in the latest trailer for Episode IX.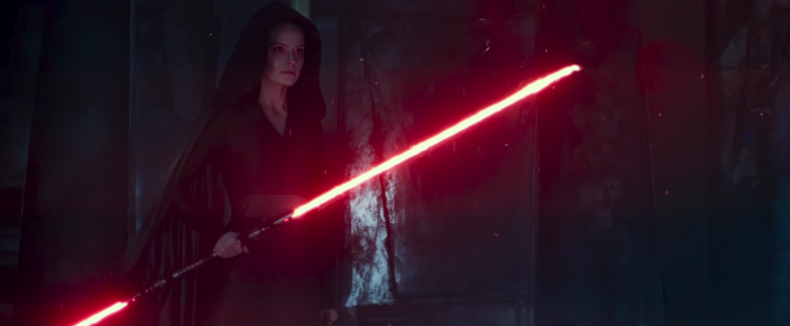 But together, they will take on the Emperor in a climactic duel.
Numerous other details, both large and small, are incorporated in the JediPraxis, Bespin Bulletin and Making Star Wars leaks. Multiple sources have uncovered details, like the rumored opening of the movie, which involves a flashback to Luke and Leia training together. Both Bespin Bulletin and Making Star Wars also makes mention of strange machinery, including something like a giant, mechanical arm, that appeared on the set alongside Ian McDiarmid, who is rumored to return to the role of Palpatine.
Ward even raised the possibility of a young Palpatine clone appearing alongside the aged emperor, reigniting the long-rumored inclusion of actor Matt Smith as a young version of Palpatine in The Rise of Skywalker.
"All signs are pointing towards Matt Smith having a role as a young Palpatine, or something like that," Ward said in a video.
Leaks of previous plot points from Star Wars movies like The Last Jedi have been surprisingly accurate, though were often wrong on minor points, or otherwise misinterpreted genuine leaked information. Fully verifying the plot of Star Wars: The Rise of Skywalker will have to wait for the movie's December 20 release date.