The Internet's War Against 'Star Wars' Spoilers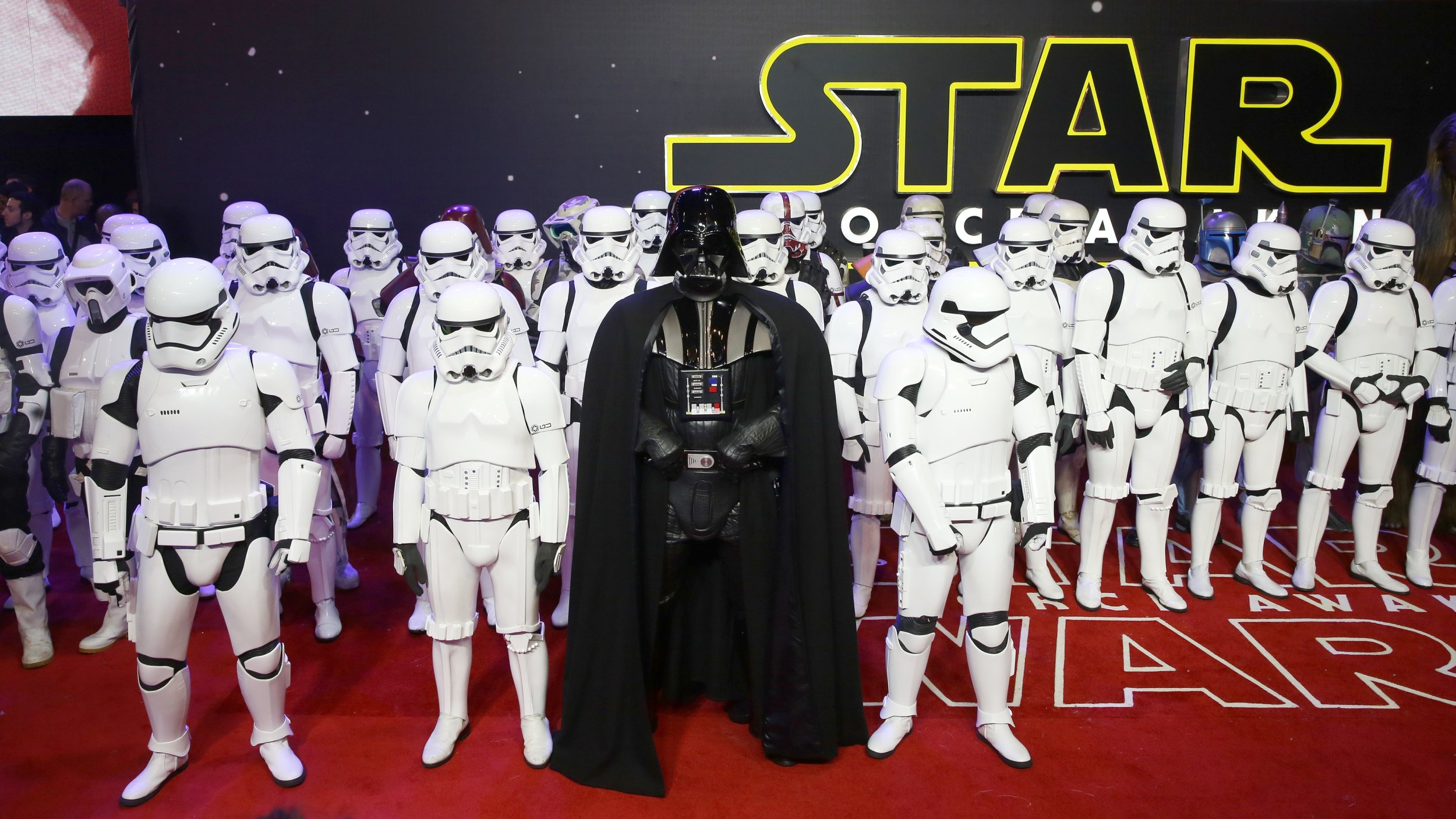 There are just two more days until the new Star Wars movie premiere, and adherents of the dark side—with some actually calling themselves spoiler jihadists—are trying to spoil the fun.
Since the first worldwide premieres in Los Angeles and Sydney, spoilers have been floating around on social media websites everywhere. Reddit's voluntary moderators, for one, have been busy cleaning up spoilers left on the site.
Subreddits for the movie have been taking the brunt of the spoiler bombardments, and moderators have banned dozens of users. In this struggle for the greater good, there was collateral damage: The moderators know every secret that J.J. Abrams prepped for the series' seventh film, The Force Awakens.
"I think all the mods have had it spoiled for them by now," writes one moderator of Reddit's r/movies. "We'll do our best to make sure you guys don't suffer the same fate."
"You're doing God's work, we all really appreciate it, I can tell you that," replied one commenter.
There are booby traps everywhere on Reddit and social media right now, looking to snag and corrupt innocent Star Wars fans. For those who want to ruin the experience of viewing the movie with fresh eyes, there is the conveniently named Star Wars Leaks subreddit, where early moviegoers can chat all they want within their echo chamber.
Beyond Reddit, Twitter and 4chan (the premier breeding ground for Internet trolls) are also packed with users trying self-indulgently to ruin people's excitement for their own amusement.
One private online group, called the Alliance to Preserve the Expanded Universe, has threatened action, in a "spoiler jihadi," on social media in retribution for the end of a Star Wars narrative called the Expanded Universe. To fit the new movie into the larger Star Wars universe, LucasFilms announced in April that the Expanded Universe canon—built over 35 years through books, comic books and other media—was nonofficial, demoting the entire narrative down to glorified fan fiction.
There are ways to circumvent the spoiler attacks without leaving the Internet for a few days. For one, a few Google Chrome plug-ins will display spoiler warnings over a Web page after detecting Star Wars-related buzzwords in the text.
Even with safeguards, the Internet is a perilous place for any Star Wars fans looking for a spoiler-free experience. With the review embargo lifted early Wednesday, expect more and more noise on social media.