'Star Wars: Squadrons' Revealed: Get Ready to Customize Your Ship for Multiplayer Battles
After a week of teases and leaks, the first trailer for Star Wars: Squadrons has been revealed. Developed BY EA, Motive Studios and LucasFilm, the latest entry in the storied space franchise brings players to the stars.
Continuing the legacy that the Rogue Squadron series started in 1998, the first-person dog-fighting experience will let you enter the cockpit of some of the most famous ships in the entire galaxy. The trailer featured a large assortment of vehicles from both the New Republic and the Empire, giving us glimpses at TIE Fighters, A-Wings and Imperial Star Destroyers.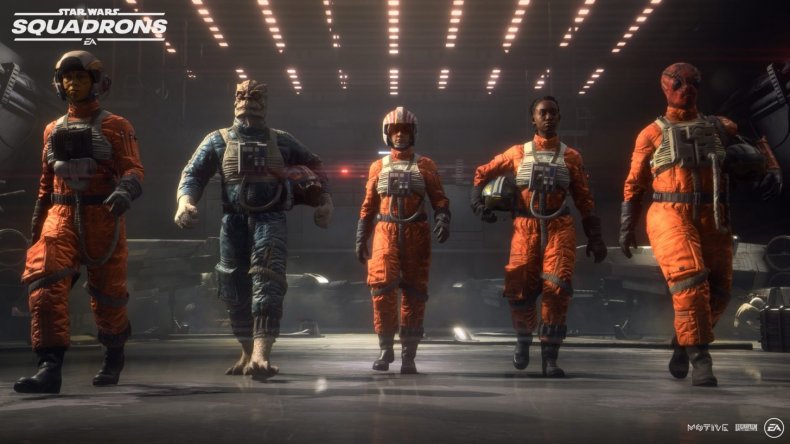 "We created this game for every Star Wars fan who has ever dreamt about soaring across the galaxy in their favorite starfighter," said Ian Frazier, Creative Director of Motive Studios in the press release. He also mentions that the player will get to experience "an authentic storyline that invites Star Wars fans to explore never-before-seen corners of the galaxy in their own ship."
Areas like Yavin Prime and the shattered moon of Galitan, which have been fairly undiscovered in Star Wars media, will be featured prominently in the game's dogfights.
The single player story mode will feature popular moments in Star Wars history, like the Battle of Endor where the second Death Star fell. You'll be able to play through the campaign on either side of the intergalactic squabble, joining the New Republic's heroic Vanguard Squadron, or the Galactic Empire's Titan Squadron.
Both pilots and ships will be customizable, allowing you to put yourself into a galaxy far, far away. Gameplay and cosmetic options will be able to be earned through gameplay by moving up the ranks and completing in-game opportunities. The inside of a cockpit, as well as the exterior weapons, hulls, engines and shields, can be fitted to each player's unique playstyle.
Like most multiplayer games, Squadrons will have unique game modes to fly around in. Fleet Battles will have players entering five-versus-five aerial battles where the goal is to destroy the enemy flagship. In Dogfights, the goal is to destroy as many enemy ships as possible, with the team with the most kills getting the win.
As a fan of the original Rogue Squadron and fighting in the world of Star Wars space, I couldn't be more excited. Space battles with classic franchise staples like the X-Wing or Y-Wing are hard to come by, so hopefully this game doesn't leave me feeling lower than the gut of a Sarlac pit.
Star Wars: Squadrons releases on PC, Xbox One and PlayStation 4 on October 2.