Starbucks has partnered with BTS for their latest menu as part of a new initiative supporting disadvantaged youth in South Korea.
The popular coffee chain is offering a limited edition collection of food, drinks and merchandise, which will be available at Starbucks shops in South Korea between January 21 and February 6 as part of the "Be the Brightest Stars" campaign.
The company teamed up with BTS given they are "known for their positive support for young people in South Korea and around the world," the company said in a statement.
"During the campaign period, BTS's beloved song 'Make it Right' from their album Map of the Soul: Persona will be played at Starbucks stores across South Korea, so that customers can enjoy the BTS collaboration as part of the in-store music experience," the company said.
The items from the new menu will follow a purple color scheme, which is meant to be reminiscent of a starry night sky. The campaign's feature beverage will be the "Blooming Purple Vin Chaud," flavored with elderflower, grape juice and fruit, which will be available both hot and iced.
Featured sweet treats will include the "Blueberry Star Macaroon, Purple Berry Cheesecake and Purple Star Cupcake," the company said.
Among the merchandise on offer are mugs and glassware "designed with real gold," as well as pouches for tablets, laptops, and key chains. A starry purple pattern will also be featured on Starbucks shopping bags and cup sleeves.
Part of the proceeds from the sale of these new items will go towards supporting the Opportunity Youth Independence Project from the Beautiful Foundation, a South Korean non-profit organization. The project offers career and educational programs for youth who leave children's homes to embark on their adult lives.
"We're extremely excited to collaborate with global artists like BTS to create a bright future for the youth of South Korea," said David Song, the chief executive officer of Starbucks Coffee Korea.
"I hope that our customers will be inspired by BTS and the Beautiful Foundation, and help us draw more attention to these essential programs for young people in Korea, who are truly shining stars," he adds.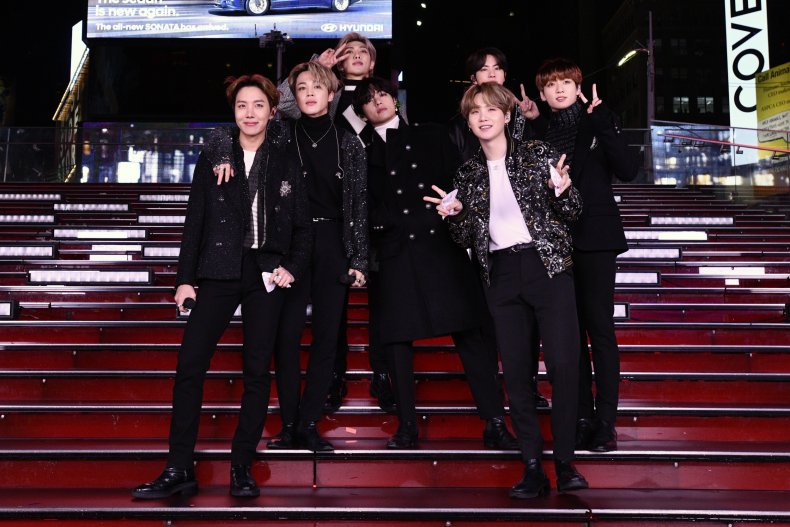 Earlier this week, BTS launched another initiative to connect with artists around the world. The band has curated a global art project titled Connect, BTS showcasing the work of 22 artists.
A temporary exhibition featuring the work of an artist chosen by the band will be exhibited in five different cities including London, where the first of the exhibition series was unveiled on Tuesday. New exhibitions will also be unveiled in Berlin, Buenos Aires, Seoul and New York in the coming months.
Last November, the group also launched a collaboration with Louis Vuitton and '90s pop culture phenomenon Lisa Frank.
The project saw the band members clad in clothes and accessories from the luxury fashion label inside colorful technicolor drawings by Frank, which was captured in a picture spread for Paper Magazine.