Starbucks Across U.S. Closed for Racial Bias Training. Here's What Employees Will Learn
Dedicated Starbucks customers will have to get their morning java elsewhere on Tuesday: The coffee shop giant is closing more than 8,000 locations across the U.S. for a day of "racial bias education" aimed at all employees.
The training comes after Starbucks faced widespread backlash when a manager called police on two black men, accusing them of "trespassing" because they had been waiting in the café for a friend before buying something.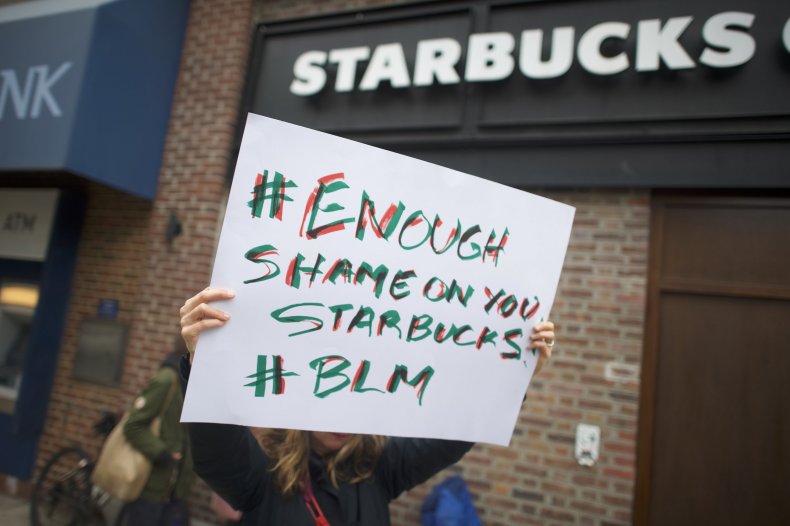 Company leaders have since apologized for the incident and have agreed on a financial settlement for an undisclosed amount with the two men, Rashon Nelson and Donte Robinson, who are both 23 and who recently settled with the city of Philadelphia for a symbolic $2 payment and a promise that the city will put $200,000 toward a program supporting young entrepreneurs.
As part of its commitment to ensuring an incident like the one on April 12 never happens again, Starbucks also vowed to shut down all of its stores in the U.S. for a four-hour anti-bias training session for its nearly 175,000 employees.
What Will Starbucks Employees Learn?
During anti-bias training, Starbucks employees are expected to learn how to "address implicit bias, promote conscious inclusion, prevent discrimination and ensure everyone inside a Starbucks store feels safe and welcome," the company said in a statement.
The "curriculum" for the training day has been developed "with guidance from several national and local experts" in confronting racial bias, including Sherrilyn Ifill, president and director-council of the NAACP Legal Defense and Education Fund; Bryan Stevenson, executive director of the Equal Justice Initiative; Heather McGhee, president of the public policy organization Demos; and Eric Holder, the former U.S. attorney general, Starbucks said.
Anti-Defamation League CEO Jonathan Greenblatt had also been slated to take part in the course, but Starbucks dropped the ADL from its program after receiving backlash from campaigners.
A video released by Starbucks ahead of the training day revealed that the course will be led in part by rapper and activist Common, who says he will be there to help "people see each other fully, completely, respectfully."
Emmy award-winning documentarian Stanley Nelson Jr. will also take part in the training and present his film You're Welcome, which focuses on the experiences of black people in public spaces, to employees.
Once employees are "warmed up," the video said they will "start to explore the third place and its relation to our mission" in a talk led by Howard Schultz, chairman and founder of Starbucks.
The third place is a term that refers to the shared social environment that exists outside of the home, which is known as the first place, and the workplace, which is regarded as the second place. Cafés like Starbucks are considered the third place, alongside other venues such as parks, public libraries and churches.
"In an ever-changing America, we will be the kind of company, the kind of third place, where our values, our love, our humanity, our respect and our dignity for everyone will create the most welcoming environment for every single person," Schultz says in a excerpt shared from the video.
After discussing what the third place means, employees will "move into a real and honest exploration of bias," prompted by a video of a discussion between Starbucks board member Mellody Hobson, experts from the Perception Institute and at least one café manager.
Employees will also be asked to discuss the "realities and impact" of racial discrimination in public accommodations "from the civil rights movement all the way to today."
The Employers Network for Equality and Inclusion, a charity based in the U.K., has said such training also typically includes an implicit association test, which involves matching words and pictures to "positive" and "negative" categories to reveal potential biases. However, it is unclear whether such an activity will be part of Starbucks's employees' training.
Does Unconscious Bias Training Work?
While the full details of the coffee chain's unconscious bias training program have yet to be revealed, the company has said it will make the full curriculum available to the public after its May 29 training day.
Starbucks will not be the first major brand to move ahead with such training, however, with tech giants including Facebook and Google implementing similar training in 2015 after riots in Ferguson, Missouri, erupted over the police shooting of Michael Brown, an unarmed black man.
Whether unconscious bias programs are effective in combating bias and racism in the workplace remains to be seen, however.
A study by the Queen Mary University of London​ published in September 2017 found that the intervention was "based on unproven suppositions and is unlikely to eliminate racism in the workplace."
"Knowing about bias does not automatically result in changes in behavior by managers and employees," researchers wrote in an abstract.
"Even if those deemed racist are motivated to change behavior, structural constraints can militate against pro-diversity actions," they said, adding that overall the training "looks pointless" from a "critical diversity perspective."
A 2016 paper by Frank Dobbin and Alexandra Kalev​ published in the Harvard Business Review looked at data on diversity efforts made by more than 800 companies and came to a similar conclusion, finding that not only did the positive effects of such training often fade after two days, but that it could also further entrench biases and deepen divides in the workplace.
Related: Starbucks faces fresh racism allegations after Latino customer handed cup with slur on label
"The positive effects of diversity training rarely last beyond a day or two, and a number of studies suggest that it can activate bias or spark a backlash. Nonetheless, nearly half of midsize companies use it, as do nearly all the Fortune 500," Dobbin and Kalev wrote in an article on their findings.
"Many firms see adverse effects. One reason is that three-quarters use negative messages in their training. By headlining the legal case for diversity and trotting out stories of huge settlements, they issue an implied threat: Discriminate, and the company will pay the price." the researchers explained.
Dobbin and Kalev said that workplaces saw more positive results when employees were not made to feel that such training was "remedial" or "mandatory" and were offered "voluntary training."
"Trainers tell us that people often respond to compulsory courses with anger and resistance—and many participants actually report more animosity toward other groups afterward," they wrote, adding: "But voluntary training evokes the opposite response ('I chose to show up, so I must be pro-diversity'), leading to better results."
"It's a First Step"
Starbucks appears to admit in its video that a four-hour training session is unlikely to eliminate the issue of bias from its cafés.
"Today, when we close down our stores to get more training and hopefully come away with more learnings around bias, can we structurally change the organization?" Hobson asked Rachel Godsil, director of research at the Perception Institute, in the video shared by Starbucks.
"I think we would say the structural work is something that has to be done for far longer than the four-hour day," Godsil said.
"That's the work the company has to do to support the [employees] in the individual work, because one of the things we don't want to see is for each person to have to bear this burden alone," she added.
In a statement shared online by Starbucks, Rosann Williams, the company's executive vice president of U.S. retail, admitted, "May 29 isn't a solution—it's a first step."
"By educating ourselves on understanding bias and how it affects our lives and the lives of the people we encounter and serve, we renew our commitment to making the third place welcoming and safe for everyone," Williams said.
While Starbucks is closing its 8,000 company-operated stores, most of its 7,000 licensed stores, which include those operated by grocery stores, hotels, universities and airports, are expected to remain open.