A Starbucks barista earned himself quite the pay day for simply enforcing the store's face mask policy.
Lenin Gutierrez, who works at the Starbucks location in San Diego, was publicly admonished by a woman named Amber Lynn Gilles in a Facebook post on Monday after Gutierrez refused to serve her for not wearing a mask inside of the coffee shop.
Giles shared a photograph of Gutierrez wearing his Starbucks apron and a face mask with the caption: "Meet lenen [sic] from Starbucks who refused to serve me cause I'm not wearing a mask. Next time I will wait for cops and bring a medical exemption."
Since the post has gone viral, Giles' attempt to spark outrage against Gutierrez backfired. While there were some who agreed with Giles, hundreds of the more than 133,000 people who have commented on the post largely took Gutierrez's side, including a man named Matt Cowan who organized a GoFundMe on Gutierrez's behalf.
"Raising money for Lenin for his honorable effort standing his ground when faced with a Karen in the wild," the campaign's statement read, accompanied by a screenshot of Giles' post.
More than $31,000 was raised for Gutierrez's troubles as of Friday morning.
Gutierrez, who also taught dance to kids before California's quarantine went into effect, thanked his supporters with his own message on Facebook. He said he'd be using the donations launch his own community dance program.
Newsweek has reached out to Gutierrez for comment. This article will be updated should a response be received.
Due to the coronavirus pandemic, which has led to the deaths of more than 126,000 Americans, Starbucks workers are now required to wear facial coverings during their shifts. Under the company's new health regulations listed on its website, employees are also now subject to temperature checks before each shift and are expected to wash their hands frequently.
Although the company's website requested customers to wear facial coverings when entering Starbucks stores, health protocols vary depending on location. At the San Diego Starbucks where Gutierrez works, however, customers are required to wear a face mask under California's statewide order, making face masks in public settings mandatory.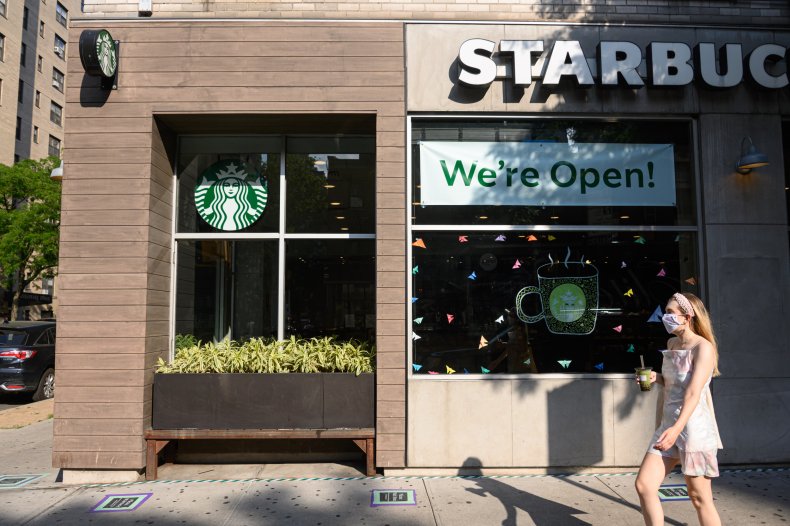 California Governor Gavin Newsom issued the order on June 18 amid the reopening of many businesses across the state.
"NEW: Californians are now REQUIRED to wear face coverings in public spaces. Together—we can slow the spread. Do your part. Wear a mask," he wrote in a Twitter post at the time.
California isn't alone in its face covering order: in addition to the District of Columbia, 14 states have also instituted similar guidelines, including Connecticut, Delaware, Illinois, Maine, Maryland, Massachusetts, Michigan, Nevada, New Mexico, New York, North Carolina, Pennsylvania, Rhode Island and Washington.