Starbucks Cup in 'Game of Thrones' Wasn't the Only Mistake in the Show
Game of Thrones fans are nothing if not observant and after Sunday's episode, Twitter users came out in droves to point out an object, which appeared to be a Starbucks cup, appeared in a scene. Some viewers even pointed out that it wasn't the first time a cup wandered onto the set.
Regarded as one of the most internationally popular shows on television, millions of viewers tune in each week. However, the eighth and final season has been marred with a series of gaffes, including leaked episodes, filming that proved too dark for the ordinary viewer and, most recently, the appearance of an inappropriate item.
During Sunday's episode, placed on a table in front of Queen Daenerys Targaryen, was what appeared to be a coffee cup with a white plastic lid. Many immediately identified it as a Starbucks cup, presumably because of the seemingly green logo on the cup, although, the coffee giant has not confirmed it was one of their own.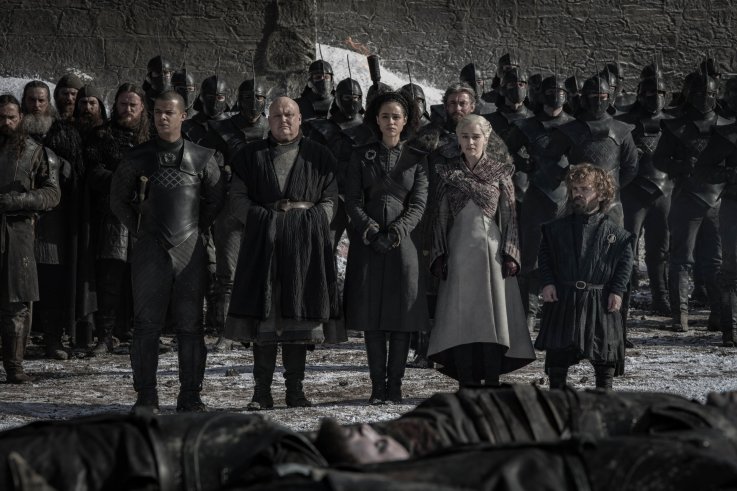 Several Twitter users noted the time lapse between the final episode of Season 7, which aired on August 27, 2017, and the premiere of Season 8, which began on April 14.
Others joked about Starbucks' barista's having to fit Targaryen's name on a cup.
Several people also joked that the cup was fitting for the episode because it was either a different brand or the coffee chain existed during the Game of Thrones era.
However, it wasn't the first time Game of Thrones was in this situation and several users on Twitter pointed out that fans may have forgotten about other beverages that ended up in final scenes.
After viewers complained that "The Long Night" episode was too dark for proper viewing, cinematographer Fabian Wagner defended the aesthetic. He explained that he wanted viewers to have a "cool episode to watch" and reasoned that television settings and sub-optimal viewing situations were likely more to blame than the creative team. He noted that he knew the shooting of the show wasn't too dark, because he shot the scene.
In light of the most recent backlash, some users on Twitter used Wagner's own words to predict the show's defense of keeping the modern cup in the scene.
When Game of Thrones Season 8 premiered, an estimated 17.4 million people tuned in, which NBC News reported made it the most-watched one-day event in the history of cable network since 1978.
Starbucks Cup in 'Game of Thrones' Wasn't the Only Mistake in the Show | U.S.