Starbucks Employee Reveals Chaos of 'Red Cup Day' in Viral Video: 'I Survived Y'all'
A TikToker published a video of the hectic environment that Starbucks employees were working in as they filled orders for customers that received the latest reusable seasonal red cup.
The video, posted by hellokittyluvr24, showed a counter full of the free cups before it panned over to a crowd of people waiting for their drinks and numerous orders waiting to be filled. Countless drinks lined the countertops as employees bustled around the kitchen.
"Just clocked out. I survived, [y'all] stay safe though," one commenter wrote under the video, which has since earned more than 148,000 views.
Another commenter said, "Red cup day should be time and a half I [swear to god] it's the worst."
Newsweek recently reported that the cup was made available for free on November 18 while supplies lasted. The cup was made from 50 percent recycled materials and it honored the chain's 50th anniversary.
"The reusable red cup has become a tradition for customers each holiday season and is a step toward reducing single-use cup waste as we work toward our planet-sensitive goals," the chief marketing officer for Starbucks Brady Brewer said.
In addition to the reusable cup, Starbucks also came out with four designs for the red disposable cups and new drinks available during the holiday season.
Many of the commenters under the viral TikTok expressed their gratitude for Starbucks employees.
"Thank you for your service," one person wrote. "My job at a small coffee shop was dead today and I could finally breathe."
A commenter who claimed to work for Starbucks shared that she had a difficult day.
"Today was exhausting. I wanted to cry. I hate red cup day," they wrote.
However, other people who said they worked for the coffee chain said they were relieved they were not scheduled to work that day.
"Pls I didn't work today but everyone said it was HELL," one viewer wrote.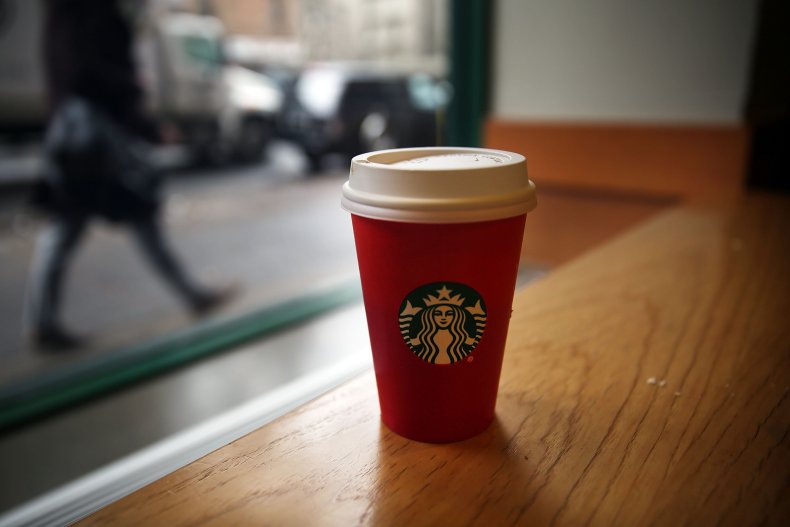 Others shared their disbelief in the magnitude of demand for the reusable cups.
"Just for a freaking cup. Y'all wild," one TikTok viewer wrote.
Another said, "The fact it was that it was this buys AND WE STILL HAVE LEFT OVER CUPS."
This is not the only instance a video has gone viral that shows the pressure that employees at a fast-food establishment face when filling large orders.
An employee with McDonald's posted a TikTok video and claimed she prepared a 6,400-item order. Newsweek reported that Brittani Marie Curtis explained a customer asked for the food to be prepared and ready to pick up within four hours.
Curtis said the restaurant regularly fills orders for the customer, which is a local prison, and they typically expect the orders to be large.
"We do business with them a lot," she said. "They're very credible. It's usually never such short notice though."
Newsweek reached out to hellokittyluvr24 for comment.