Starbucks Ends Phase One of Race Together Initiative After Grande Fail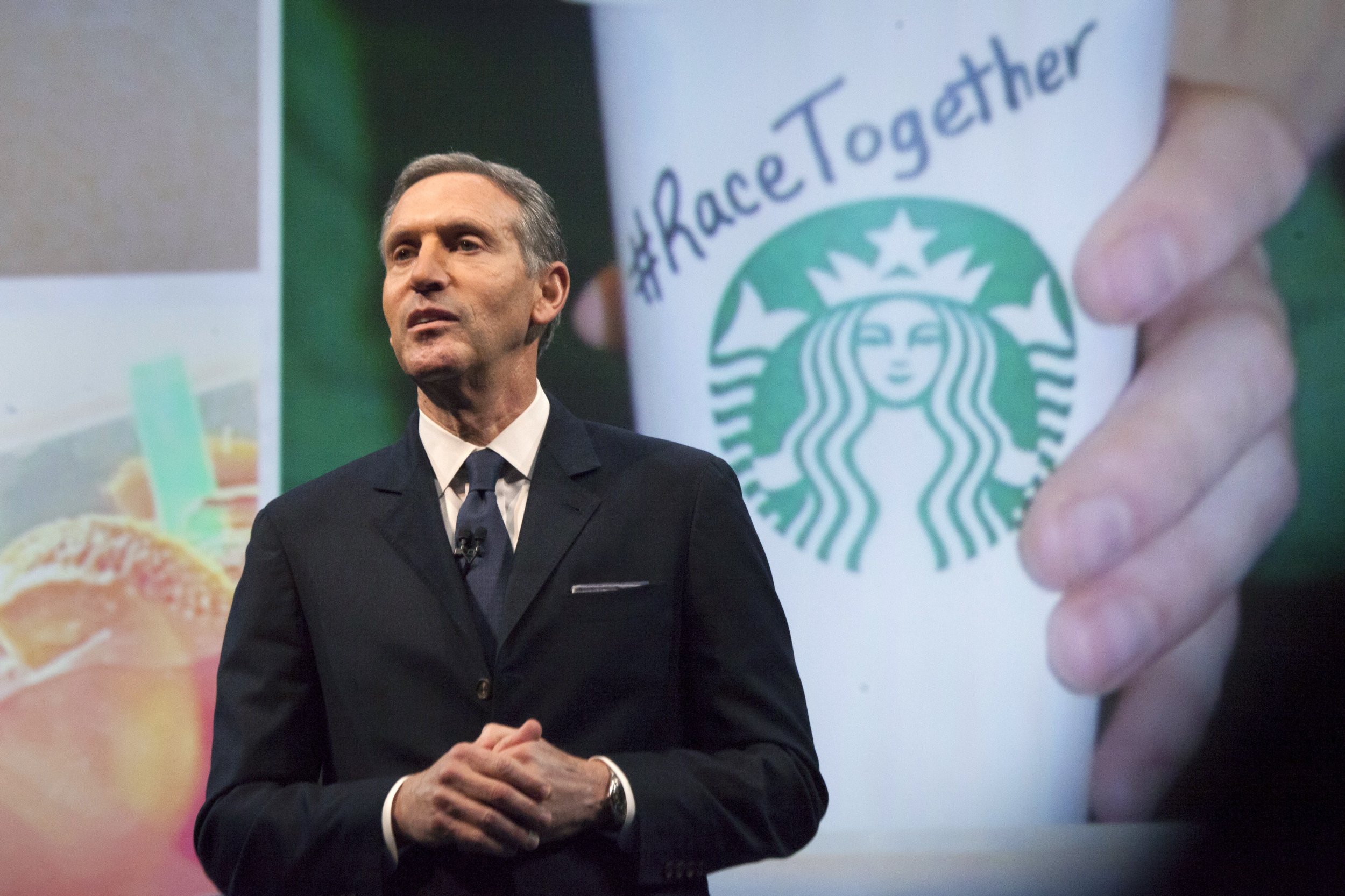 Starbucks has ended the first phase of its Race Together initiative almost as soon as it began, CEO Howard Schultz announced in a letter, after it was deluged with criticism over the last several days.
The campaign started last week with the company announcing that its baristas could voluntarily write "Race Together" or place stickers saying the same on customers' cups and, if they wished, engage customers in conversations about race. In a press release issued on March 16, Schultz called the initiative "an opportunity to begin to re-examine how we can create a more empathetic and inclusive society – one conversation at a time."
Criticism immediately began showering down on the company via social media and other channels.
The Race Together hashtag on Twitter became a collection of criticisms of the campaign, ridiculing what many felt was a misguided attempt to address complex issues, and a new hashtag was spawned to accompany it: Using #NewStarbucksDrinks, people mocked the kinds of everyday comments people make about race and privilege by fusing them with beverage names.
Many also used Twitter to barrage Starbucks senior vice president for communications Corey DuBrowa with critical questions, Mediaite reported, including:
Whose dumb idea was this? Did the corporate honchos at Starbucks take into consideration whether their employees were well-equipped to have difficult conversations about race? Were they aware that they could be placing their baristas into hostile situations that they're unprepared to diffuse? Was this the ultimate form of White Guilt? Or was the coffee company trying to capitalize off the growing news and discussion over racial issues in America?
After blocking a number of users who had tweeted at him, DuBrowa deleted his account.
"My Twitter account was targeted around midnight [on Tuesday], and the tweets represented a distraction from the respectful conversation we're trying to have around Race Together," he told PR Week, saying he was taking a temporary hiatus from the social network.
Some publications, including Newsweek and The Epoch Times, sent reporters to Starbucks locations in various cities last week to have a go at discussing race with the baristas on duty. Epoch Times reporter Annie Wu visited three branches in Manhattan. One barista, after asking her manager about the initiative, said "the company wanted to 'show empathy' for the racism that people face and would inform customers of that goal if they asked about the campaign," Wu writes. But that employee, like the others she encountered that day, "affirmed that there was no conversation to be had."
On Sunday, a letter penned by Schultz was released on Starbucks' website. "After...an initial push for much-needed national discussion around these difficult topics, it is time for us to take stock of where we are, what we have learned from our efforts so far, and what is next," he wrote. "This phase of the effort – writing "Race Together" (or placing stickers) on cups, which was always just the catalyst for a much broader and longer term conversation – will be completed as originally planned today, March 22." Actually, no end-date had been announced at the outset of the initiative.
He also vaguely addressed the criticism that had come pouring in since the initiative was announced:
While there has been criticism of the initiative – and I know this hasn't been easy for any of you – let me assure you that we didn't expect universal praise. The heart of Race Together has always been about humanity: the promise of the American Dream should be available to every person in this country, not just a select few. We leaned in because we believed that starting this dialogue is what matters most. We are learning a lot. And will always aim high in our efforts to make a difference on the issues that matter most.
But he also made clear that writing "Race Together" on cups and encouraging baristas to engage in conversations about race with their customers was only the first phase in a larger initiative. Starbucks is also planning to hold open forums with its partners, co-produce special sections to run in USA Today and honor its "commitment to hire 10,000 opportunity youth over the next three years," among other steps.
"An issue as tough as racial and ethnic inequality requires risk-taking and tough-minded action," Schultz wrote. "And let me reassure you that our conviction and commitment to the notion of equality and opportunity for all has never been stronger."