Need a Job? Starbucks to Hire 240,000 New Employees By 2021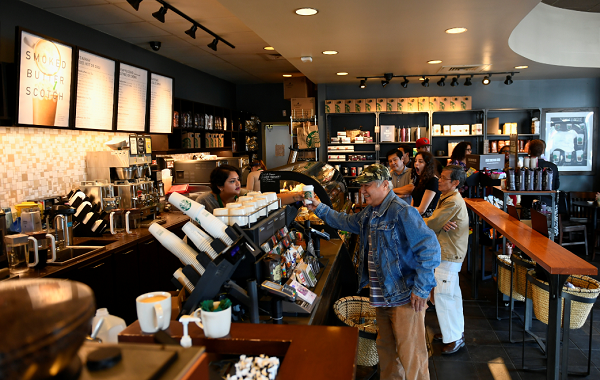 Starbucks announced plans to hire 240,000 people for jobs around the globe by 2021. In 2016, the international coffee house said it would open 12,000 new stores worldwide, and during the company's annual shareholders meeting Wednesday, CEO Howard Schultz said 3,400 of the stores would be opened in the U.S., creating 68,000 jobs across the nation.
Schultz, who will hand over his CEO title to the company's current president Kevin Johnson sometime during the spring, said Starbucks had already reached its goal to hire 10,000 U.S. military veterans and active-duty spouses a whole year ahead of schedule, resulting in the company's decision to expand its veteran employment program by hiring another 25,000 vets or their spouses by 2025.
More young Americans will also receive employment under the Starbucks umbrella. The company had a 2018 goal to hire 10,000 teens who are in school or don't already have jobs as an effort to encourage youth to enter the workforce. However, during the meeting, Schultz said Starbucks had already exceeded the company's goal by hiring 40,000 young people, resulting in the decision to expand the hiring goal to 100,000 young Americans by 2020.
Although the coffee company suffered a backlash after announcing plans to hire 10,000 refugees to fill positions at stores in 75 countries following President Donald Trump's temporary travel ban, during the meeting Schultz told the 3,300 Starbucks employees, shareholders and media outlets in attendance that the company would continue to work with the United Nations High Commissioner for Refugees, No One Left Behind, Tent Foundation and the International Rescue Committee to provide refugee candidates with skills training and job placement, because "not every decision in business is an economic one."
During an earlier interview with CNN, Schultz and Johnson said they worked side-by-side on the company's five-year plan to ensure things will run smoothly after Schultz steps down. Saying he had "venti shoes to fill," Johnson pledged to continue to adhere to Starbucks' values and many social causes the company has supported.
"Certainly, I think transitions from founders are particularly unique and sometimes challenging transitions to execute," he said. "Howard and I both have spent so much time on this in trying to do this the right way, do this is a thoughtful way, a planned way."