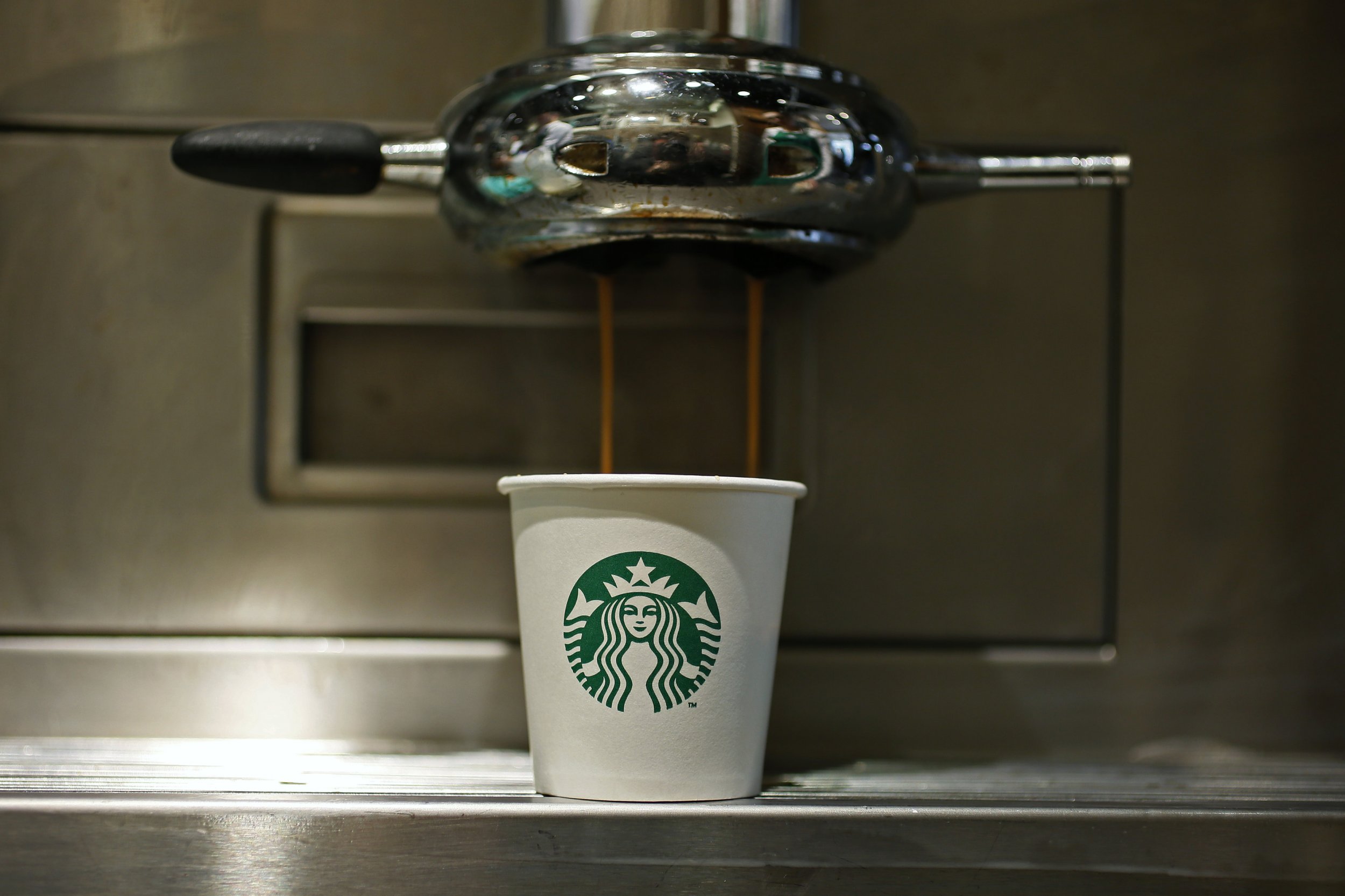 You may have heard by now that last week someone filed a lawsuit against Starbucks for, essentially, putting ice in their iced drinks. Yes, Stacy Pincus of Chicago is suing the coffee chain for $5 million, claiming that it is not delivering the advertised number of fluid ounces of beverage to their paying customers. Starbucks lists a Venti iced drink as containing 24 fluid ounces. When ice is taken into account, however, thirsty customer like Pincus are only able to down around 14 fluid ounces of 'Bucks, while the rest of the cup is occupied by worthless frozen water.
"Starbucks' advertising practices are clearly meant to mislead consumers when combined with the standard practice of filling a cold drink cup with far less liquid than the cup can hold," says the lawsuit. "If Starbucks truly intended to provide the amount of fluid ounces in its Cold Drinks that it advertises, there would be simple ways to do so."
Starbucks responded by calling the lawsuit frivolous. "Our customers understand and expect that ice is an essential component of any 'iced' beverage," said a company spokesperson. "If a customer is not satisfied with their beverage preparation, we will gladly remake it."
This is of course only one of many, many lawsuits that have been filed against Starbucks since the coffee giant rose to prominence in the '90s. Some, like this one, are ridiculous, filed by consumers looking for a handout from a too-big-to-fail corporation that dispenses million-dollar settlements around like grande drips. But upon looking into the full list of suits brought against the company, it's clear that most are indicative of the pitfalls inherent in operating a corporation so large, with so many employees, not all of whom are model citizens. There are discrimination suits, sexual harassment suits and suits that result from freak accidents that enterprising lawyers are able to attribute to company negligence.
Taken together, the cases paint an interesting picture of the kinds of issues, ranging from the mundane to the exotic, that corporations face in an imperfect (and often quite litigious) country. Let's take a look:
Discrimination
Discrimination is the bread and butter of litigation against a corporate entity, and you bet there have been plenty of charges levied against Starbucks. In 2013, a group of 12 deaf people sued the company after a Manhattan location not only refused them service, but mocked them and called the police in an effort to get them kicked out of the store…which isn't even the only example of the chain discriminating against the hearing impaired. In 2015, a former barista sued Starbucks after saying she wasn't provided with sign language interpreters and other "reasonable accommodations" while she was employed.
Starbucks has also been sued for ageism, dwarf discrimination, tip discrimination, discrimination against a guy with half an arm, dyslexia discrimination, refusing to let someone with a prosthetic leg use the bathroom and telling a gay Brazilian porn star to "become a man."
Hidden Camera in the Bathroom
While taking his daughter to the bathroom in a Starbucks in a Norfolk, Virginia, mall, William Yockey discovered an activated camera hidden under the sink and pointed at the toilet. "I turned and looked, a little out of disbelief, and sure enough there was a small digital camcorder underneath the sink pointed directly at the toilet," said Yockey, who sued the chain for invasion of privacy, negligence and intentional infliction of emotional distress, among other charges. He was offered a free beverage when he mentioned the camera to the store's manager, though.
Crushed Penis
Back in 1999, a Toronto man crushed his penis in a Starbucks bathroom, and deemed the accident the result of an improperly installed toilet seat. While turning to reach the toilet paper on the back of the toilet, Edward Skwarek pinched…himself…between the porcelain and the seat, which was loosely affixed. It's hard to imagine exactly what this would have looked like, but the damage that resulted is so severe it's hard to believe. From Norwalk, Connecticut newspaper The Hour:
The accident left Skwarek with injured sperm ducts, scar tissue and a condition called Peyronie's disease, in which scar tissue contorts the penis.

The injured sperm ducts have caused retrograde ejaculation, a condition in which sperm cells are not discharged during intercourse, [Skwarek's lawyer Richard] Robbins said.

"It absolutely has affected his ability to perform sexually," Robbins said. "It's a tremendously painful event now."
Skwarek sought $1 million for himself and $500,000 for his poor wife.
Assault on the Job
More from Toronto: In September 2015, 23-year-old Shannon Mishimagi sued Starbucks Canada for scheduling her to work with a supervisor after she had complained to management that the supervisor had threatened her with violence and assaulted her. In a statement, Starbucks mentioned its "robust policies and procedures for investigating partner complaints." Isn't it nice that Starbucks can use the same adjective to describe its policies for looking into battery complaints as it does to describe its dark roast?
'Insatiable and Unchecked Ambition'
Back in 2006, Penny Stafford of Bellevue, Washington's Belvi Coffee and Tea Exchange sued its monolithic competitor for "insatiable and unchecked ambition," or, essentially, being a monopoly. In the era of Starbucks it's hard for a modest coffee establishment to make it, especially when its trying to do so right in the backyard of said monolithic chain.
Stealing Artwork
In 2015, Brooklyn artist Maya Hayuk sued Starbucks for $750,000 for stealing her designs to promote their Mini Frappacino campaign. Hayuk had been commissioned by companies like Sony, Microsoft and General Motors before Starbucks reached out, but the two sides were unable to reach an agreement. The chain went ahead and used designs that were "strikingly similar" to Hayuk's art anyway, and Hayuk sued.
Slick Floors
In 2011, Anthony Zaccaglin and his wife were awarded $7.5 million after Zaccaglin slipped on the floor of a San Diego-area Starbucks and knocked his head on the cash register. The floor was slick because of employee negligence, as a barista had just mopped the area without placing a cone close enough to the affected area. The employee later apologized for not "dry mopping," but an apology wasn't enough. Zaccaglin suffered complications following the incident that prevented him from returning to work. He also suffered from fatigue and headaches. "He's nothing like he used to be and he will never be the same," said his wife.
Sexual Harassment
If discrimination is the bread and butter of corporate lawsuits, sexual harassment is at least the chips and salsa. Starbucks, of course, has had plenty. In 2015, an Illinois woman sued after claiming she was sexually harassed while employed as a barista, and then she was fired for complaining about it. A year earlier, in 2014, a Manhattan woman sued the chain for pretty much the exact same reason. Another woman sued after claiming corporate deleted security video footage of her being sexually harassed after she complained about it. Yet another claimed her boss groped her, kissed her neck and asked her to call him "daddy." The list, sadly, goes on.
Rape
In 2010, Kati Moore of Orange County, California, sued Starbucks for a sexual relationship she had with her supervisor while working there as a 16-year-old. According to Moore, who told her story on ABC's 20/20, her 24-year-old boss, Tim Horton, demanded sex while the two worked at a Starbucks franchise in Irvine, California. Starbucks ultimately settled with Moore before the case could go to trial.
Patent Infringement
In 2012, Maxim Integrated Products Inc. sued Starbucks for infringing on four of their patents related to transferring information securely, which Starbucks had allegedly lifted for its mobile payment app. Patent law and the motivations behind patent lawsuits can be pretty murky, but it's something large corporations trying to use technology to keep up with the competition deal with on a regular basis.
Reneging on a Distribution Deal
In the late '90s, Starbucks and Kraft struck a distribution deal wherein Kraft would make sure Starbucks products found their way onto the shelves of other retailers. In 2010, Starbucks decided it was no longer interested, and tried to buy its way out of the contract for $750 million. Kraft didn't feel that was enough, and thus: lawsuit. Three years later, Starbucks agreed to pay Kraft $2.75 billion to end the the contentious relationship once and for all.
Unpaid Overtime
After a three-year legal battle, Starbucks settled with 356 workers after they claimed they were forced to work outside of their scheduled hours without being compensated. Damn right.
Serving Heroin in Lattes and Racial Slurs
In July 2014, Vernon Charles Allen Merriweather of Buffalo, New York, filed a federal suit for $15 million after claiming an Oprah Chai Tea latte he ordered was spiked with heroin and Ambien. The suit also claimed that when he tried to apply for a job in the same Starbucks he was told, "We don't hire n******." The suit had little chance of succeeding, as Starbucks didn't even offer Oprah Chai Tea lattes until six months after Merriweather claimed he was served the laced beverage.
Serving Coffee With Cleaning Solution
A year after Merriweather's bogus coffee-with-heroin lawsuit, Starbucks was sued for serving coffee with cleaning chemicals. In July 2015, Cheryl Kingery of Clinton, Utah, filed a suit claiming that the coffee-con-detergent damaged her mouth and throat and caused chronic mouth pain. She sought $1.5 million for medical expenses and lost wages, and another $500,000 for the emotional stress she suffered as a result of downing the tainted cup of espresso.
Coffee Too Hot
But the most common—or at least the most commonly publicized—lawsuits against Starbucks are those that claim the coffee was too dang hot. The most recent such case to garner headlines came in 2015, when a North Carolina police officer was given a free cup of coffee for his service, proceeded to spill that coffee on himself and went on to deem Starbucks responsible. He did not win the suit.
Other heat-related claims have ranged from the coffee simply being too hot for human consumption, the hot coffee being spilled on the plaintiff by a Starbucks employee, cups' lids not being properly secured and the hot beverage in question not being served with a protective sleeve.
Since the rise of Starbucks, suing over "hot coffee" has become something of a trope for frivolous lawsuits. Maybe it's simply because with its billions of dollars, Starbucks is an easy target, but we like to think Seinfeld has something to do with it:
Hopefully the wrongfully burned coffee drinkers of America have a little more luck than Kramer. Just remember: Never put the balm on.