Starbucks Red Cup 2019: A Look at Every Winter Holiday Cup By Year from 1997 to 2019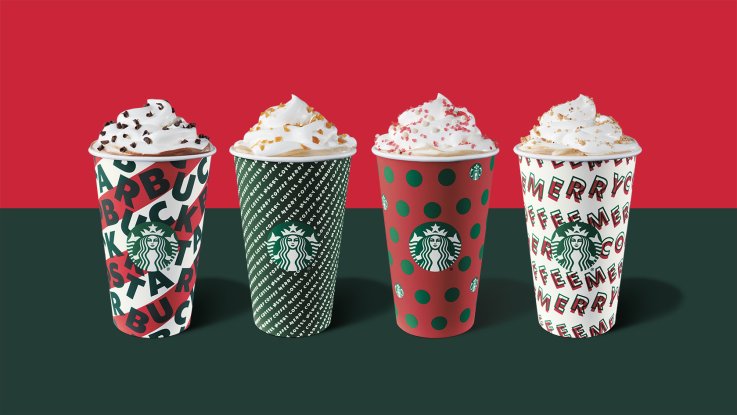 Today (November 7) Starbucks releases its 2019 Christmas Red Cups in North America, continuing a 22-year tradition.
To celebrate the milestone, Newsweek has gone back through the archives to stir-up memories of designs from Christmases past.
Back in 1997, designer Sandy Nelson created the first holiday cup design, which featured swirls and hand-drawn holly leaves flecked with coffee beans. It was picked by former chief executive Howard Schultz off a wall of a hundred designs. Unfortunately, finding one of the first cup designs in the wild is rare as few were saved and the electronic design files were lost during an earthquake in 2001.
Interestingly, even though many affectionately call them the Red Cups, the first two designs were not the traditional Santa Claus red. They were closer to magenta and came in other colors such as sapphire, emerald and amethyst. It wasn't until 1999 that the first "red" Red Cup was launched.
Since its creation, the Winter Holiday cup has stirred up controversy and creativity across the world. For the 2016 cup collection, Starbucks invited consumers across the world to put forward their designs on Instagram, using the white cups that are available throughout the year. In total, 13 designs from six countries were chosen for the collection. The following year, Starbucks launched its first color-in cup to encourage customers to express themselves throughout the Holidays.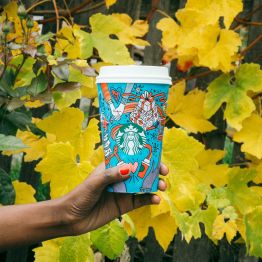 Not everyone has loved the Starbucks approach to its cup designs. In 2015, Starbucks launched a two-tone ombre cup, which sparked a response from Joshua Feuerstein, a Christian internet evangelist. In a video, Feuerstein accused the company of trying "to take Christ and Christmas off of their...cups." According to Eater, he also rallied people to tell baristas their name was "Merry Christmas," which would be written on their cup and called out when the drink was ready.
Following his viral video, soon-to-be President Donald Trump gave a speech at a rally, telling supporters that the cups were evidence of the "war on Christmas", according to CNN.
In 2018, Starbucks launched its first reusable red cup to help reduce the use of single-use plastic and non-recyclable materials. Today, it will be giving away these reusable cups to customers at participating stores and will be offering 50 cents off beverages when the cup is used between November 7, 2019 (after 2:00 p.m.) until January 7, 2020.
The seasonal food and drink menu is also launching today with favorites such as the Gingerbread Latte and the Holiday Turkey Panini.