Starbucks Red Cups 2019: What Christmas Holiday Drinks are Available This Year?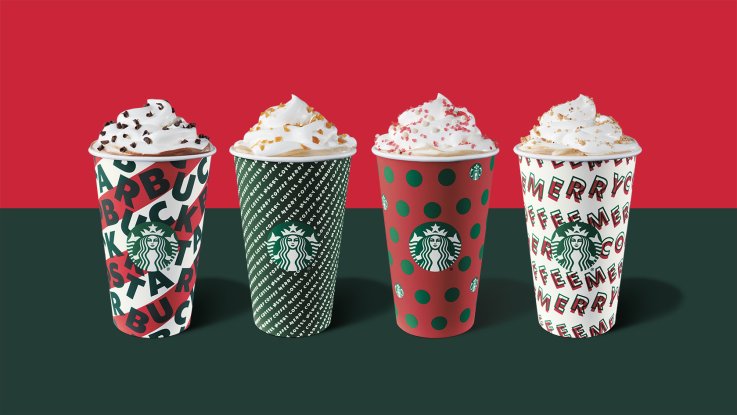 Christmas is around the corner, which can mean only one thing: Starbucks is launching its new Red Cups range, along with its seasonal food and drinks menu.
Celebrating the tradition's 22nd year, the coffee chain will officially embrace the Holiday season on Thursday, November 7. Customers can pick up their first Red Cup and enjoy holiday beverages such as the peppermint mocha, toasted White chocolate, caramel brulee latte, chestnut praline latte and eggnog latte.
Not content with one design, Starbucks will be releasing four new cup designs that "evoke mini moments of joy." These four designs are Polka Dots, Merry Dance, Merry Stripes and Candy Cane Stripe.
Starbucks Christmas Red Cups 2019
Polka Dots: The traditional Starbucks red cup is dotted with green, with the Siren logo playfully popping in here and there
Merry Stripes: From a distance, this cup looks like it's wrapped in green vintage wrapping paper. But up close, its tiny type offers a happy sentiment
Merry Dance: A lively pairing of red and green letters jazz up a snowy white cup with a joyful expression
Candy Cane Stripes: The colors of the holiday all come together with this design as the Starbucks wordmark falls like snow against stripes of candy cane red and white
The original cup was in magenta rather than the now-familiar Santa red, and was also released in sapphire, emerald and amethyst. The cups have also caused controversy in the past; in 2015, Starbucks launched a two-tone ombre cup, which sparked a response from Joshua Feuerstein, a Christian internet evangelist personality. Following his viral video, soon-to-be President Donald Trump gave a speech at a rally, telling supporters that the cups were evidence of the "war on Christmas."
With concerns regarding climate change and the impact that single-use cups have on the environment, Starbucks is also launching a Christmas reusable cup. The free limited edition reusable Red Cup is part of a giveaway in Starbucks stores in the U.S. and Canada. On November 7, customers who order a holiday beverage at participating stores will receive a reusable cup while supplies last. To encourage continued use of the cup, customers who bring back their 2019 reusable red cup after 2:00 p.m. on November 7 through to January 7 at participating stores, will get 50 cents off their grande (16-ounce) holiday beverage.
If that wasn't enough, Starbucks is also launching its festive food and bakery menu. Available items include the Holiday Turkey & Stuffing Panini, Cranberry Bliss Bar, Sugar Plum Danish, Snowman Cookie, Gingerbread Loaf, Peppermint Brownie Cake Pop and Snowman Cake Pop.
Correction: The original article stated that Gingerbread Lattes were returning to the U.S. food and drink menu for the 2019 Winter Holiday, however, Starbucks has confirmed that they aren't.