Starbucks Red Cups 2019: When do Christmas Holiday Drinks Start Going on Sale?
Every American knows Christmas is just around the corner when Starbucks announces its seasonal drinks menu and Christmas cups, a tradition that started in 1997. Now with locations across the world, fans are anticipating the launch of the "red cups" marketing campaign, with #RedCups trending on social media sites.
This year, the red cups are rumored to make their comeback on November 7, 2019, according to fan website Countdown to Red Cups. Newsweek has contacted Starbucks for confirmation. In previous years, the Christmas cups and seasonal menus have been launched in the first week of November, following the end of Halloween.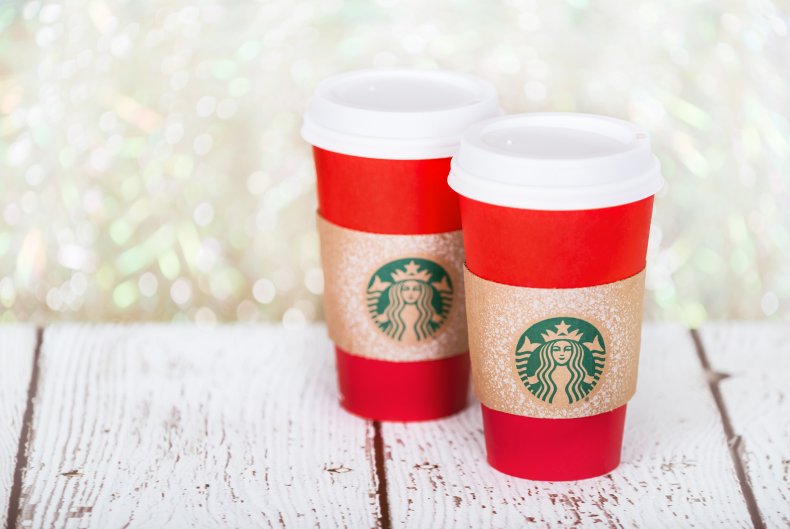 Some years the cup has diverted from the traditional Christmas red, with the first cup being designed in magenta. The designer of the 1997 cup, Sandy Nelson, who has since left Starbucks, said on the Starbucks blog that her design was picked from 100 hopefuls pinned on a wall by former chief executive and chairman, Howard Schultz.
The cup also came in three more colors; sapphire, emerald and amethyst. Unfortunately, not many of the cups from 1997 were saved and the electronic design files were lost in an earthquake in 2001, according to Starbucks.
In other years, the cups have also been green or white, with some controversy around the designs. In 2015, Starbucks launched a two-tone ombre cup, which sparked a response from Joshua Feuerstein, a Christian internet evangelist personality. Following his viral video, soon-to-be President Donald Trump gave a speech at a rally, telling supporters that the cups were evidence of the "war on Christmas", according to CNN.
The launch of the red cup also signifies the return of the Christmas seasonal drinks menu. Starbucks' regulars are hoping for the return of favorites such as the Peppermint Mocha, Gingerbread Latte, Chestnut Praline Latte, Caramel Brulée Latte and Eggnog Latte. However, the menu itself is still to be announced.
However, some are not as happy about the launch as others. Critics are voicing their opinions to Starbucks on social media over environmental concerns and tax controversies. One Twitter user wrote: "They should just sell a reusable version of the #RedCups with a different design each year. They'd become collector items and stop waste."
Another user commented: "Wow. @StarbucksUK paying money to advertise single use cups as though they are a good thing. #redcups."
In its report Social Global Impact Report 2018, Starbucks talks about how it is a leader in sustainability and eco-friendly products, specifically focusing on its coffee beans. The report states: "We now source 99 percent of our coffee [through our ethical coffee sourcing program], promoting quality, economic transparency and social and environmental impact with a vision to make coffee the world's first sustainable agricultural product in the world."
When it comes to its cups, the company admits that along with packaging, cups remain one of its biggest environmental challenges: "We are looking for new ways to promote reusable cups and better manage the lifecycles of disposable ones," the report says.
"We are testing a variety of greener cups that are both recyclable and compostable in select cities through the NextGen Cup Challenge and are launching a lightweight strawless lid with a hope to eliminate 1 billion single-use plastic straws annually."
In terms of its contribution to the economy and environment in the U.S, according to its Global Social Report, Starbucks has committed to over $140 million in renewable energy to power its stores and to reduce its environmental impact. "It's enough to power 100 percent of more than 9,000 company operated stores in the U.S, and 77 percent of our global operations," the report states.