Starbucks Red Cups 2020: What Christmas Holiday Drinks are Available This Year?
Christmas came early: Starbucks has announced its 2020 line-up of festive-themed drinks and its 2020 red cup.
From November 6, 2020, the coffee house chain is making available drinks such as the Peppermint Mocha, Toasted White Chocolate Mocha, Caramel Brulee Latte, Chestnut Praline Latte and Eggnog Latte. They will also launch new holiday cups, food items and gifts.
According to the Starbucks website, the theme behind its red cups "Carry the Merry" is about bringing little moments of brightness into our lives. This is especially resonant for Americans and other people over the world with the coronavirus pandemic affecting our day-to-day lives with lockdowns, self-isolation and rises in unemployment.
"Sometimes a Peppermint Mocha is more than just a beverage," the company said in a blog post. "It's a moment of joy, a familiar ritual that connects holidays past and present."
Creative director for Starbucks, Jeff Wilkson, said that the cups are about making people "messengers of joy." "In a way, that message deepened as we got further and further into this year," he said. "We want to be that beacon for people, a brief moment that they can look forward to."
To bring that sentiment to life on the cups, the design team started with iconic brand elements and mixed in holiday themes and colors—the typical Christmasy red and green.
"Early in our exploration, one of our designers had started making these little ribbons that almost looked like washi tape," Wilkson said, explaining the design process. "We had this one session where we were so inspired by these different patterns that we cut them out with scissors and started wrapping them in different ways on cups." The shade of red is a little brighter than the shade Starbucks might be known for—Wilkson explained that this would be the cups an "extra pop."
The cups have four different designs, like the first designs released in 1997. They are: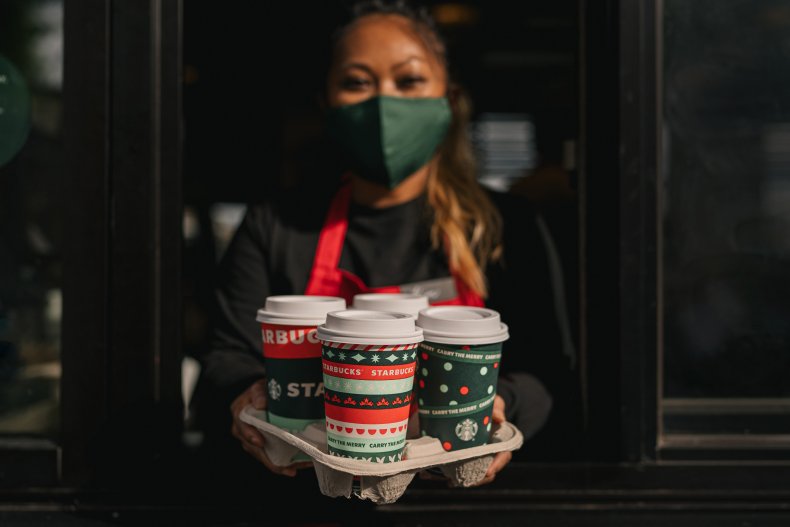 Ribbon: This design brings forward joyful elements of the holiday season in ribbons of brand greens and a jolly red wrapped like a cozy holiday sweater. "Look closely and you'll see a familiar crown, tail, and scales," the company said.
Dot: Stripes swirl around a field of Starbucks house green punctuated by playful polka dots, sharing the sentiment to "carry the merry."
Sparkle: This red cup has vintage vibes, with cutout shapes in green like glittering holiday ornaments. The motif is repeated in a snowy white on Starbucks cold beverage cups.
Brand Wrap: This modern, scaled-up version of the ribbon design features bold bands of holiday color and the Starbucks wordmark, designer street style.
Of course, Starbucks wouldn't be Starbucks without its collectibles. On November 6, the company is gifting customers a free collectible red holiday cup at participating Starbucks stores in the U.S. The offer is available for orders picked up in stores, including cafes, drive-thrus and curbside and Starbucks Delivers. The offer is open while supplies last.
Festive food treats will also arrive on the same day including the new Cranberry Orange Scone, Cranberry Bliss Bar, Sugar Plum Cheese Danish, Snowman Cookie and Snowman Cake Pop. The company is also selling its Starbucks Christmas Blend whole bean coffee, marking its annual return along with Starbucks Christmas Blend Espresso Roast, Starbucks Holiday Blend and Starbucks Reserve Christmas 2020. These are available in select stores.
If you'd like to order from Starbucks online, you can read its how-to guide for digital ordering.