Starbucks Unionization Drive Expands to 6 States
The drive to establish labor unions for Starbucks employees has expanded into six more states across the U.S.
Workers United, the group that recently spearheaded the landmark unionization effort for Starbucks stores in Buffalo, New York, announced on Monday that it had filed a further 15 union petitions with the National Labor Relations Board. This latest wave of petitions follows dozens of others in the past few weeks.
These newly filed petitions expand Workers United's effort to unionize the popular coffee chain to more locations in California, Kansas, Missouri, New York, Oregon, and Washington state. Starbucks was founded in Seattle, Washington, in 1971.
Following a successful vote in December, three Starbucks locations in Buffalo formed the first employee union in the chain's history, impacting 64 employees. Collective bargaining talks at these stores began on Monday, the union said. Pro-union Starbucks workers have called for better pay, training, and staffing practices, as well as the establishment of a more direct line of communication with company management.
As of Monday, a total of 54 stores across 19 states have begun the process of unionizing, according to NPR. Around 30 employees at Starbucks locations in Mesa, Arizona, are nearing the end of voting on a potential union. The company attempted to block this effort with an appeal to federal labor officials, arguing that all Mesa locations should be involved in the vote, not just one. NPR noted that the company lost similar appeals during the unionization process in Buffalo. Three more locations in Buffalo are also in the process of considering a union.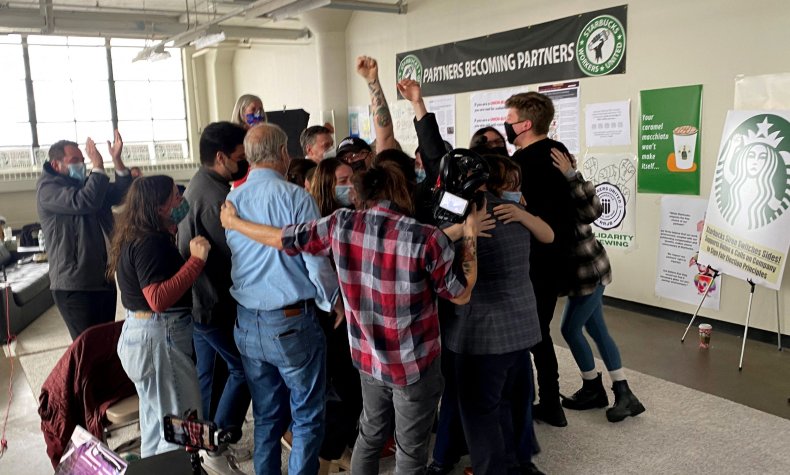 While heralded as a landmark for worker's rights, these efforts still only apply to a small percentage of Starbucks' roughly 9,000 locations across the U.S. As NPR noted, restaurants chains are among the least unionized industries in the country.
"We are listening and learning from the partners in these stores as we always do across the country," a Starbucks spokesperson told Newsweek. "Our position hasn't changed: Starbucks success—past, present, and future—is built on how we partner together, always with Our Mission and Values at our core.
"As Rossann Williams, evp and president, North America, recently shared with our partners 'the vote outcomes will not change our shared purpose or how we will show up for each other....We will keep listening, we will keep connecting and we will keep being in service of one another because that's what we've always done and what it means to be partner.'"
"We do not want a union between us as partners," Williams also said in a letter to employees from December. She did note, however, that the company would respect the unionization process and intended to negotiate in good faith with the locations in Buffalo.
Nelson Lichtenstein, a historian at the University of Southern California at Santa Barbara, noted in December that the unionization process would start to become unmanageable for Starbucks if it spread to around 50 to 100 locations.
"When and if that happens, it will be much more difficult for Starbucks and its anti-union law firms to scurry about the country suppressing these insurrections," Lichtenstein recently told Al Jazeera.
Update, 02/01/22, 4:30 p.m. ET: This story has been updated with a statement from Starbucks.