#StarbucksCupGiveaway Trends As Coffee Chain Gives Away Free Reusable Red Cups
It's finally here: Starbucks has launched its Winter Holiday cups and seasonal menu for 2019 today, and social media has gone wild for them. The coffee chain has also been giving away reusable red cups with purchases of holiday drinks.
The coffee chain announced yesterday that it was releasing four designs, as well as a reusable red cup. The reusable cup is to help customers be more conscious of the environment and will get them 50 cents off drinks if they use their cup over a disposable one.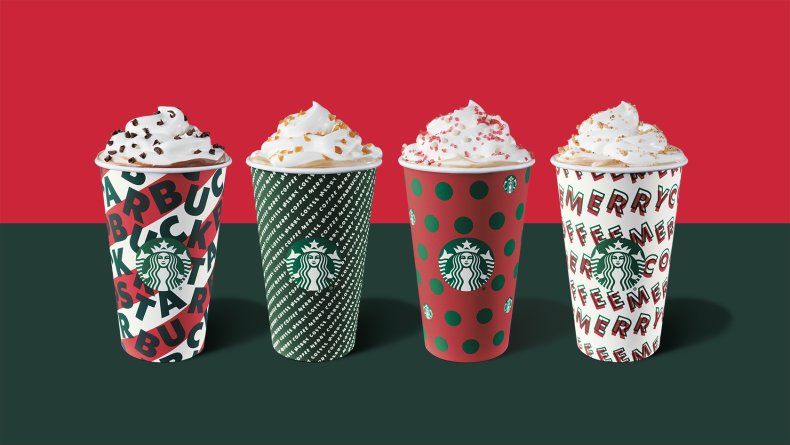 Customers were lining up as early as 4:30 a.m. to get their hands on a free cup. Twitter user @rocio4423 shares her excitement on being an early bird customer: "Second customer of the day at one of your stores located in Merced, CA!"
For many, the launch of the designs and seasonal menu signifies the start of the holiday season, with some going all out and buying the range of holiday gifts. Twitter user @organicsana says: "I went overboard. Also, we bought two extra pinks ones and one extra silver. So if you don't get one, I'll let y'all know when we sell them."
Other Starbucks lovers will be getting priority boarding today, as well as a free reusable cup. The company has joined forces with Alaska Airlines, allowing anyone traveling with a Starbucks holiday cup to have priority boarding on all Alaska Airlines flights between November 7 and 10.
Passengers only need to purchase a Starbucks beverage (hot or cold) in any Starbucks holiday cup, including reusable holiday cups. Any guests with First Class tickets or airline status will board first in their typical fashion.
Some Twitter users got creative with their holiday cup posts. @MyDollyPat writes: "Speaking of Starbucks, I don't know how I forgot to share this picture of great things to come!" posting a picture of a baby scan. "This child will be as in love with the sweet morning nectar as we are!"
Some coffee lovers used their post to voice their dismay regarding the Gingerbread Latte not appearing on the U.S. seasonal drinks menu. User @ActorSabrina tweets: "I got my #StarbucksCupGiveaway #redcup but why is the gingerbread latte available on in Canada?"
However, other favorites such as the Peppermint Hot Chocolate and Eggnog Latte are available to Starbucks fans.
The free cup was also a warm welcome for some early risers. @bmekelburg found solace in her freebie after being woken up a little too early: "Perks of having a toddler wake you up extra early? You make it to Starbucks early for the #StarbucksCupGiveaway."
Free cups are only on offer for a limited time, while stocks last, at participating stores.