Starburst Is the Top Halloween Candy in These States
There's nothing quite as delightful as a pumpkin-shaped candy bucket loaded with sweet pieces of Starburst on Halloween—or, at least, that seems to be the general consensus for people in certain states across the country.
Despite the fact that trick-or-treating is canceled in light of the coronavirus pandemic, people are still piling up their sweet-treat supplies, and depending on where you live, you may be eating juicy Starbursts more than other types of candy. According to an analysis of Google Trends data complied by Zippia, an online job and career finder, Starburst is the most popular Halloween candy in six states.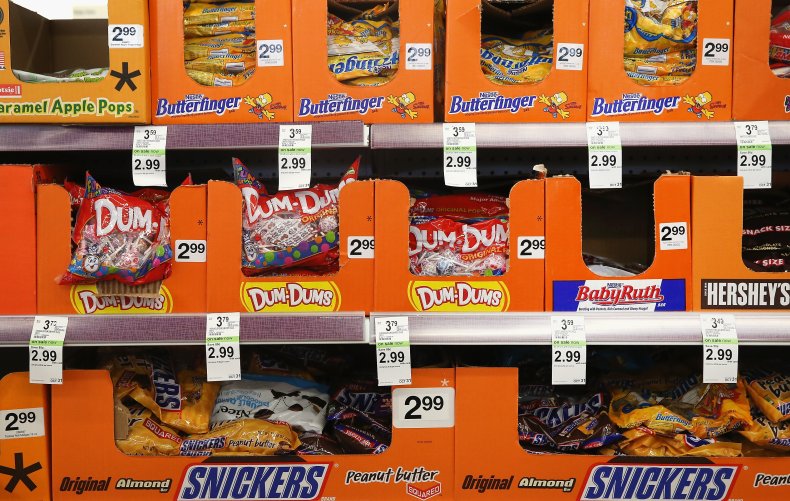 The research found Starburst was the fan favorite for people living in Texas, North Dakota, Iowa, Alabama, Georgia and South Carolina. Meanwhile, in other areas of the U.S., chocolate candies like Kit Kat, Hershey Crunch Bar, Snickers and Reeces Pieces and Reeces Cups ranked high on the list of favorite candies. Noticeably missing from Zippia's findings was the Halloween staple, candy corn.
Last year, Skittles was the most favored Halloween candy of the U.S., with sales data revealing the hard and chewy candy was the highest-selling candy in places like California, Delaware, Florida, Hawaii, Minnesota and South Carolina. However, in Zippia's 2020 finidings, Skittles only maintain an allure in the state of Arkansas.
To no one's surprise, chocolate has always held a relatively high-ranking placement on favorite candy lists across the U.S. In 2019, goodies like Reese's Cups, M&Ms and Snickers were the second-, third- and fourth-highest purchased Halloween candies, according to CandyStore.com.
No matter which sugary sweets Americans have deemed as their favorites, they're already eating plenty of it in 2020. It's unclear how people will celebrate the holiday, but Halloween candy sales were already up more than 13 percent in September, compared to what they were in 2019.
The candy industry isn't expecting to bank as much as it did last year, though, considering the effect the pandemic will likely have on celebrations: Sales are only expected to reach about $2.4 billion in 2020, down a bit from 2019's $2.6 billion.
State officials have already issued advisories against handing out candy and attending massive Halloween parties in cities like Antigo, Wisconsin, and Springfield, Massachusetts. The Centers for Disease Control have also warned citizens of participating in traditional trick-or-treating, visiting haunted houses or taking candy from Halloween trunks outside of individual households, noting that it was a high-risk activity and could lead to the further spread of COVID-19.