'Stardew Valley' Update 1.4 Has Release Date, Improves 'Nearly Every Aspect of the Game'
Stardew Valley creator Eric "ConcernedApe" Barone announced a release date for the highly anticipated 1.4 update to the farming (and romance!) simulator on Tuesday, while describing several changes coming to the game when the update arrives on PC November 26.
"One of my main goals with 1.4 was to finally 'polish' the game to the degree that I've always wanted," Barone posted to the Stardew Valley Developer Blog. "I wanted to fix all the bugs that have been lingering in the game, to fix a lot of weird or annoying things about the controls and feel of the game and add in a lot of 'quality of life' features that will make the game more seamless to play."
"I feel pretty confident that this goal has been met!" Barone added.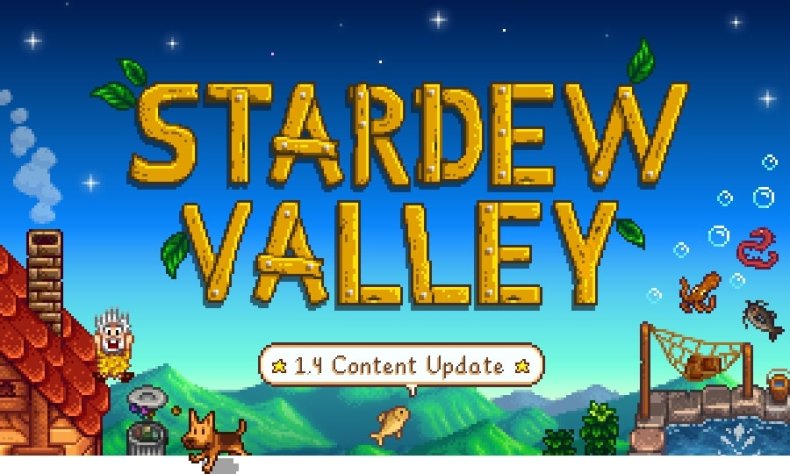 Newsweek subscription offers >
Some of the small tweaks coming to Stardew Valley in the new update are improved performance and stability on platforms, an option to screenshot your whole farm in the PC version and bug fixes for in-game items like the jukebox and artifacts. Interface improvements are also included in patch 1.4, such as the ability to hover over an item in your inventory to see whether it can be included in a community center bundle (the restoration of which is a major in-game goal). Players will also be able to recover items lost down in the deadly mines and more easily find elusive dinoaur eggs, which can be raised alongside your farm's chickens.
Newsweek subscription offers >
But while the Stardew Valley 1.4 update boasts a multitude of fixes and additions which expand and improve upon "nearly every aspect of the game," it's much more than a bug patch, which is probably why Barone has been describing it as the "everything" update. It also adds new crops, new things to build on your farmland and additional late-game content, including new relationship goals for you and your spouse—assuming you chose to marry one of the fine villagers of Pelican Town. Many of the changes are intended to provide more to do for players who have already exhausted everything there is to do and see in the current game.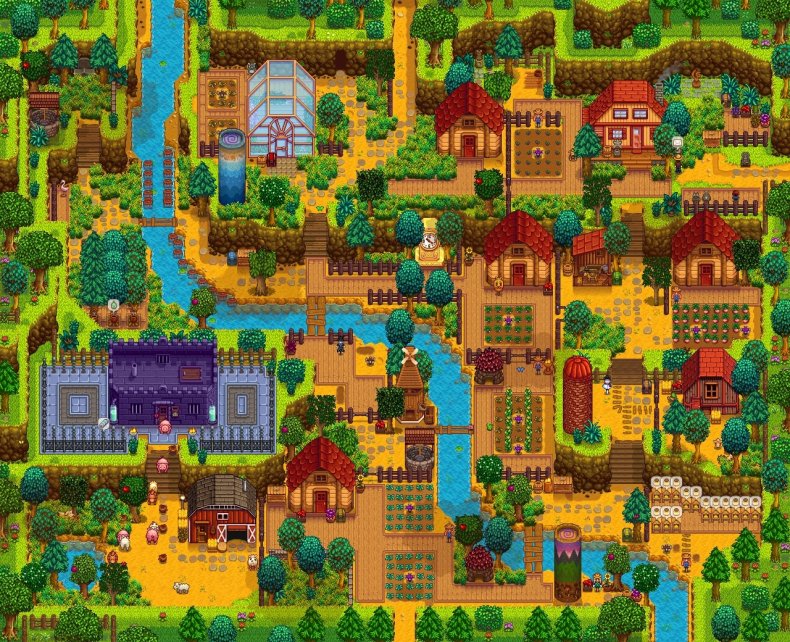 One major new addition is a "14-heart event," deepening the system of relationships players manage throughout the game. In Stardew Valley, visiting locals and doling out gifts can deepen your connection to them, measured in hearts. As you become closer friends with each of the townsfolk, you unlock cutscenes, the ability to visit their private room and other relationship bonuses. While you can have up to a 10-heart connection with local friends, choosing to marry opens up the potential for a deeper, 12-heart relationship. With the passage of time and attentiveness to your spouse, the 1.4 update will intensify your marriage even further.
Of course, the 1.4 update also expands on Stardew Valley's central goal of building a succesful farm, with new crops and other fixes to how you harvest, fish and collect resources. Barone previously revealed new, buildable fish ponds, in which players can farm fish and harvest roe. Fishing seems to be one area that will be immensely improved in 1.4, with Barone revealing that the game's craftable "Wild Bait" will now have a bonus chance to catch two fish instead of one.
While Barone announced a PC release date for the upcoming update, there is not yet an official release date for when 1.4 will become available on Nintendo Switch, Xbox One, PlayStation 4 and mobile farmers. However, Barone said he hopes to release the upcoming version of Stardew Valley on console and mobile simultaneously, "a few weeks" after the PC version comes out.
The announced improvements coming to Stardew Valley are far from everything coming to the game in Update 1.4. Barone also alluded to "more end-game stuff" which will extend Stardew Valley for those who've done everything in the game. But further details will have to wait until 1.4 comes to PC on November 26.
"I don't want to spoil very much, so you'll just have to wait and see for yourself!" Barone said.
'Stardew Valley' Update 1.4 Has Release Date, Improves 'Nearly Every Aspect of the Game' | Newsgeek