'Stardew Valley' Multiplayer Update Releases On Switch This Week, PS4 and Xbox One Update Coming Later
The Stardew Valley multiplayer update has been available on PC for a few months, but the jump to the Nintendo Switch comes later this week. This information comes by way of a blog post on the official Stardew Valley website.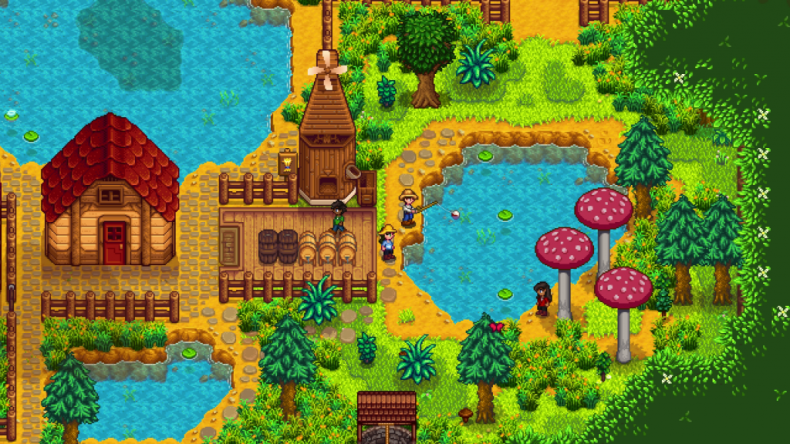 The 1.3 update for Stardew Valley will be available for Switch owners in North America, Europe and Japan on Wednesday, December 12. The update allows up to four players to team up in one farm on Stardew Valley. The update is already available for PC gamers, but adds some unique Switch features for Nintendo's latest console.
Stardew Valley for Switch allows for players to talk to each other using the Nintendo Online voice chat service, or with the new chat box feature. The chat box adds colored text so you can easily see who is typing what, and there are nearly 200 Stardew Valley emojis for players to use.
Newsweek subscription offers >
Players will need active Nintendo Switch Online subscriptions in order to play multiplayer online. It is possible to play Stardew Valley in multiplayer via local communications play if you do not have a Nintendo Switch Online account, but all players must be physically close by for this to work.
When playing Stardew Valley with friends, all players collaborate on one farm with a shared bank account. Players can work together, like if you want to have a big mining expedition, or a more "divide and conquer" route by having players all do different tasks. Two players can even get married to each other instead of one of the townsfolk.
New single-player content is also coming in the 1.3 update for Switch. This content can already be found on the PC version and includes a new traveling festival during the Winter called the Night Market, new character events to uncover and a new 'secret' type of collection. Oh yeah, and the most important part: horses can now wear hats. What more do you want?
Stardew Valley developer ConcernedApe mentioned the multiplayer update for PS4 and Xbox One is now the top priority. The developer is working with another company to ensure this product is completed in a timely manner. ConcernedApe also mentioned new information will be announced shortly after the Switch update releases.
Newsweek subscription offers >
The Stardew Valley 1.3 multiplayer update for Nintendo Switch is available on Wednesday, Dec. 12. It is a free update.
So what do you think? Are you excited to see Stardew Valley multiplayer on the Switch? What do you think the teased announcement will be? Let us know your thoughts in the comments section below.
'Stardew Valley' Multiplayer Update Releases On Switch This Week, PS4 and Xbox One Update Coming Later | Gaming