'Stardew Valley' PS4 Update Is More Than Multiplayer: Night Market, Horse Hats and More Love
Multiplayer is now available for PlayStation 4 players of Stardew Valley, but that's not all that's new in the latest update, released late Tuesday evening.
While released for PC and Nintendo Switch in 2018, the Stardew Valley multiplayer update has struggled to pass the certification process on Xbox and PlayStation 4.
"Good news and bad," Stardew Valley creator Eric "ConcernedApe" Barone said in a Tuesday tweet, regarding the long-anticipated arrival of the Stardew Valley multiplayer mode on PlayStation 4 and Xbox One. "The PS4 multiplayer update is going live as we speak, it should be available in a half hour. Xbox, however, has failed cert again."
Now available for PS4, the multiplayer update to Stardew Valley allows up to four players to work a farm at once. Each player must have their own copy of the game, while also subscribing to PlayStation Plus.
Stardew Valley Multiplayer Update Guide for PS4
Players can either build cabins to welcome new players to their existing farm, or start a new co-op campaign, which allows you to start with a fresh farm with cabins already built for multiplayer. To build new cabins, simply speak to Robin at the Carpenter's Shop, where cabins can be purchased for 100 gold and a trivial amount of resources (depending on the design: stone, wood or fiber). Unlike most other farm buildings, the cabins are erected instantly.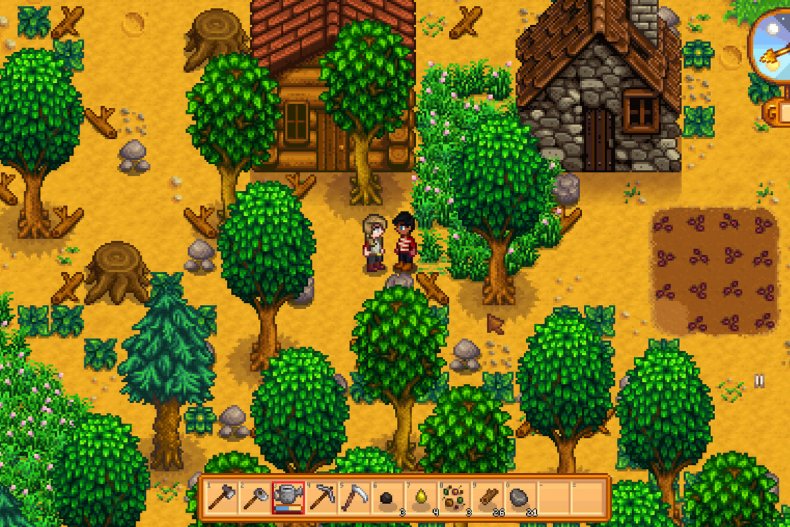 The multiplayer mode also allows you to adjust the in-game economy, since you can get up to four times the work done in a typical day. By changing the "profit margin," the value of goods can be set at three-quarters, half or one-quarter the standard values to provide an extra challenge, instead of stockpiling vast gold reserves (all gold is pooled and shared between players).
New to Stardew Valley in PlayStation 4 Update 1.3
The new update also adds a number of elements to the single-player Stardew Valley campaign that makes the patch a worthwhile upgrade for all players.
Night Market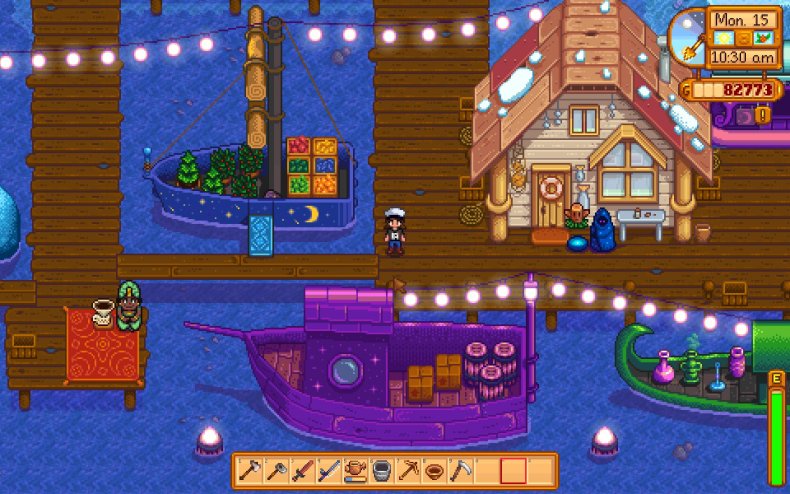 The Night Market is a new winter festival held every year between the 15th and 17th, from 5 p.m. to 2 a.m. at the beach. At the brightly-lit market, you can slurp free coffee, buy paintings, deep sea fish with the help of a submarine and see a mermaid dance.
Help Out Pam
The latest update also significantly expands late-game content, giving players who have already collected all the bundles and upgraded their farmhouse even more to do. The Carpenter's Shop will now have a new purchase option: the Community Upgrade, which costs 500,000 gold and 960 wood. What you get for the extravagant price is a new house built in the center of Pelican Town for Pam and Penny, replacing the mobile home they otherwise occupy.
Buildable Shipping Bins
This is self-explanatory, but also incredibly useful. Instead of lugging all your goods to the shipping bin by the farmhouse, players can now build shipping bins all over the place. They build instantly, instead of taking Robin days. The first time you get halfway through collecting eggs and find your inventory is full, you'll be glad you built that new shipping bin right outside the barn door.
Deeper Relationships
The 1.3 patch for the PS4 version of Stardew Valley also deepens the in-game romances, adding new heart events for your relationships with Jas, Linus, Pam, Vincent and Willy. It also adds a new encounter with Abigail, which will see the local goth appear on level 20 of the Mines. The new update even adds a surprise heart event for players who try and woo all bachelors or bachelorettes in town. Hand out bouquets to all potential romantic partners of a single gender to activate this surprise scene.
Deeper Dungeons
PlayStation 4 farmers won't just get new romance options in the update, but also expanded combat. Skull Cavern will now have rare treasure chest rooms, plus new monsters like the Carbon Ghost, Iridium Bat and Iridium Crab. The update also adds several minor changes for after players reach the bottom of The Mines, like a rare chance for monsters to drop prismatic shards or diamonds, slightly stronger monsters and gems or mushrooms hidden in trash bins. If you conquer The Mines before getting married, the Dwarf will even show up for your wedding!
Secret Notes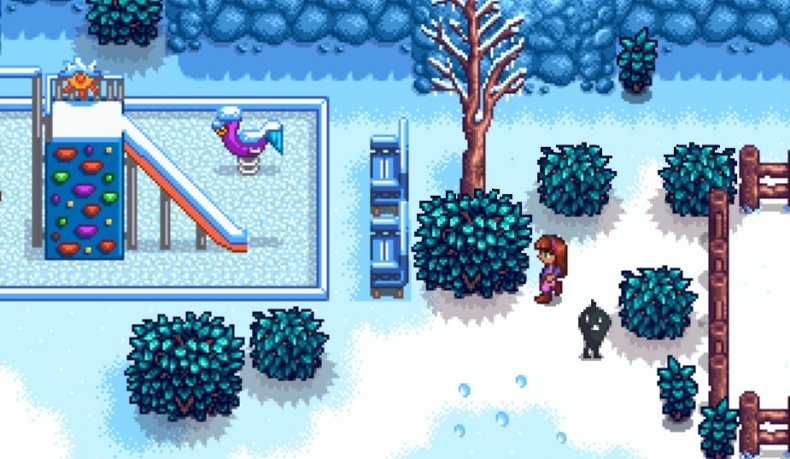 Secret Notes are new collectible items that can help the player solve puzzles or learn more about the Stardew Valley villagers. To begin searching for the 23 Secret Notes, players first need to visit the Bus Stop between 6 a.m. and 4 p.m. in the Winter. Doing so will surprise a shadowy figure, who runs away from the player. Solve the "A Winter Mystery" quest and you'll earn a Magnifying Glass that can be used to hunt down Secret Notes while digging, chopping, fishing or fighting. Certain Secret Notes can even lead to permanent character improvements, like an increase in Luck or an increase to the value of certain foraged items.
New Items, Knowledge and Magic
The update adds a smattering of new items, including the Auto-Grabber (which does your milking for you!), Cactus Seeds, Garden Pot, Wood Sign, Stone Sign, Solid Gold Lewis Statue, Pearl and Wedding Ring, plus new paintings and other decorative items.
Change Professions
Some of the hardest decisions in Stardew Valley come when levelling up certain skills, which sometimes offer players a choice between two different professions, like Rancher vs. Tiller or Coopmaster vs. Artisan. But now there's no need for regrets: check out The Sewers for a new addition, the Statue of Uncertainty, which lets players change their professions.
Horse Hats!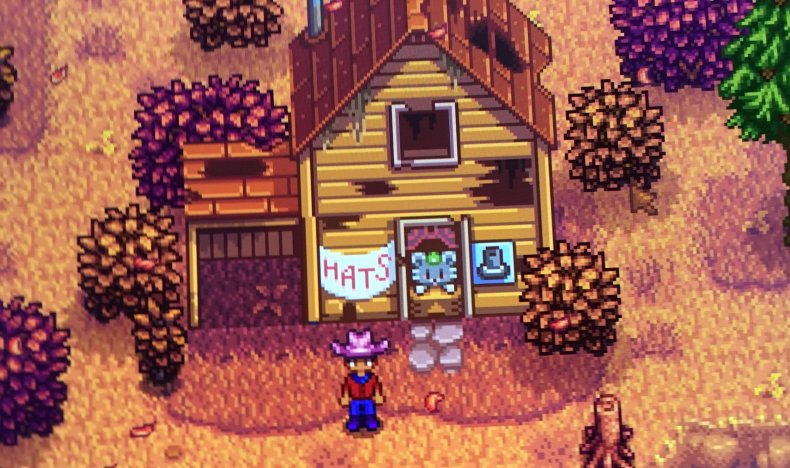 This is pretty self-explanatory. Now you can place hats on your horse. But you better be certain, because while you can replace a hat with a different hat, once your horse is into hats, there's no going back to a hatless horse.
Higher Prices
A major change to the the in-game economy also comes with the new update, which drastically increases the price of wood, stone, ores and coal in your second year on the farm. It can make building much more expensive, but you should have the funds for it by Year 2.
The Stardew Valley 1.3 update also includes a number of tweaks, expanded language accessibility and gameplay balance fixes, including:
French, Korean, Italian, Hungarian and Turkish languages
Receive foraging XP for breaking tree stumps
Tubs o' Flowers are now cheaper
Golden Pumpkin now a universally loved gift
Fire Quartz can be used in furnace to produce Refined Quartz
Working kitchen sink (can now refill Watering Can)
Fireplaces are now moveable and buildable
Improved performance
Bug fixes to animal moods, honey gathering, Junimos, Community Center bundles and more
The latest update for Stardew Valley brings the PS4 version of the game up to 1.3, which is approximately equivalent to PC version 1.3.36. Official patch notes for the latest PS4 update have yet to be released, so changes have been compiled by users of the Stardew Valley wiki.
While PlayStation 4 players can check out all the new additions to Stardew Valley, including the new multiplayer mode, Xbox players still have an indeterminate wait ahead of them.
"I am doing everything within my power to work with the porting company to figure out what's going on with the Xbox update, to resolve the issue and get it out as soon as possible," Barone continued. "I apologize to the Xbox players for this delay and thank you very much for your patience."