'Starfield': 'The Journey Begins' Trailer Shows New Images and Story Details
A new trailer for Starfield has been uploaded to YouTube by Bethesda UK's official channel and shows off additional concept art, while teasing fresh details about the story.
The focus of the latest video is how the team are developing their first new universe in 25 years. Over the past quarter-century, Bethesda has mainly stuck to developing Fallout and Elder Scrolls sequels, having not created an original IP since the latter franchise debuted back in 1994.
For this reason, there is a lot of excitement surrounding Starfield, as it promises to immerse players in a fictional universe totally unlike anything they have seen before. The new trailer is all about this aspect of world-building, depicting the concept artists, musicians and programmers who all hard at work on the game.
While the sizzle reel is largely comprised of people sitting at desks, scribbling on sheets of paper, and typing away at their computers, we do get a few glimpses of never-before-seen materials.
For instance, around 50 seconds into the video we can see a beautifully illustrated landscape of an uncharted world, with rocky terrain, fungi sprouting from the ground, and a crab-like monster lurking in the distance.
In general, it looks like there will be a wide range of interplanetary flora and fauna here, with a variety of topographies that rivals Star Wars. Judging by the concept art, there are going to be lush alien jungles, remote dessert outposts and futuristic cities to explore.
If these striking environments all make it into the finished product, then it will certainly emerge as Bethesda's most ambitious title to date.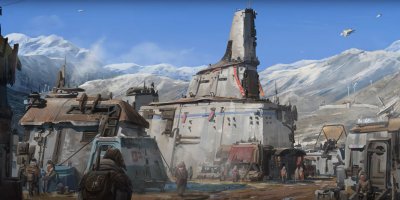 In addition to the concept art, we are also treated to footage of designers titivating character models and even some behind-the-scenes motion capture work.
Layered over everything is a voiceover from Todd Howard, who provides a little more context on the game's narrative. A transcript of this is provided below.
"Starfield is our first new universe in over 25 years. It's a game we've dreamt of playing, and it's only now that we have the hardware, the technology, and the experience to push our creative boundaries even further.
"In it, we invite you to join constellation, the last group of space explorers. It's a next-generation role playing game where you will be who you want, go where you want, experience our stories and forge your own. More than that, Starfield is about hope, our shared humanity, and searching for answers to life's greatest mystery."
The trailer ends with an invitation for players to join the in-game constellation faction, by visiting starfieldgame.com. Here, you can sign-up for updates on the inspiration and process behind Starfield, in what will presumably take the form of a seires of development diaries.
Starfield was announced as an Xbox exclusive at this year's E3 conference. The presentation also revealed that the game will be debuting on Microsoft's Game Pass service on launch day.