'Stargirl' on The CW Cast: Who Plays Stargirl? Meet Actress Brec Bassinger
Brec Bassinger is the latest actor to join the Arrowverse's legion of superheroes. After a brief appearance in the Crisis on Infinite Earths crossover, the former Nickelodeon actor is about to lead the cast of Stargirl, premiering on The CW Tuesday, May 19, at 8 p.m. ET.
In the new series, which is airing on The CW after premiering on DC Universe, Bassinger (who turns 21 on May 25) plays Courtney Whitmore, a teenager who has to move from Los Angeles to a small Nebraska town when her mother remarries. However, when she discovers her new stepdad (played by Luke Wilson) has a superhero past, she embarks on a journey of her own.
The character first appeared in Geoff Johns' Stars and S.T.R.I.P.E comic in May 1999, which by coincidence is the same month that Bassinger was born. She said of this to Brief Take: "The number of connections that I have with Stargirl on a personal level is insane. Geoff emailed me a week after I booked the role and said: 'Oh my gosh, the first time that Stargirl was ever in a comic was May 1999. Brec, you were born in May 1999.' It's little things such as that, that I'm in the right place and I'm doing the right thing: destiny!"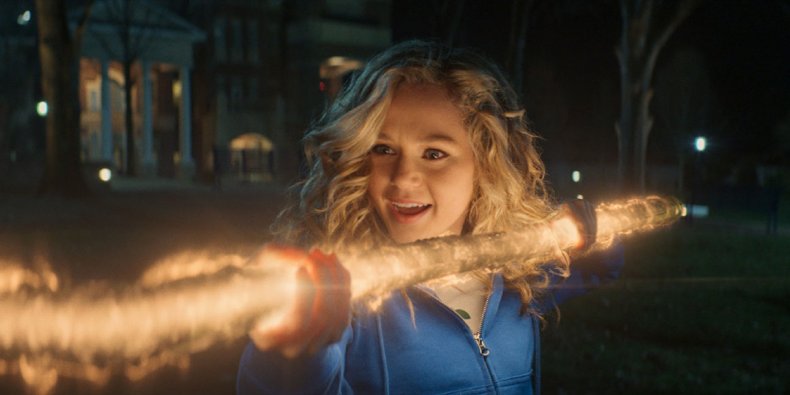 Prior to her role in Stargirl, Bassinger was best known as the lead in Nickelodeon's Bella and the Bulldogs, in which she played a cheerleader who goes on to become her school's quarterback. Bassinger had previously been a competitive cheerleader in her native Texas. Cheerleaders are often known for their energy and exuberance, and it was this that bagged her the role of Courtney Whitmore.
Johns said of her casting to CBR: "I looked at hundreds and hundreds of people but right when I saw Brec, she was just Stargirl; she was Courtney Whitmore.
She was funny, dramatic, she could do it all and she just had this life within her that embodied the character to me immediately. I watched the [audition] tape and was like, 'That's her, bring her in.'"
He added in an IGN interview: "She has the humor, she has the enthusiasm, the energy, the innate optimism, and Brec really embodies who Stargirl is, off-set as well as on. She's just perfect. She made me laugh and she made me cry and she made me feel things in her audition, and it was great."
Bassinger has been appearing on TV since she has 14. She made her debut in a recurring role in The Haunted Hathaways, Nickelodeon's sitcom about a family living in a haunted house. Since Bella and the Bulldogs ended in 2016, the actor has had recurring roles in The Goldbergs, the TV spin-off of School of Rock and Hulu's All Night. She also recently starred in horror sequel 47 Meters Down: Uncaged.
Stargirl episodes air on Mondays on DC Universe and Tuesdays at 8 p.m. ET on The CW.